Investors who are dependent on interest income from their savings have been on a desperate hunt for yield since the Federal Reserve cut interest rates to near zero in late 2008. The Fed's aggressive interest rate response to the financial crisis has left savers with few traditional options for getting a return on their savings and investments.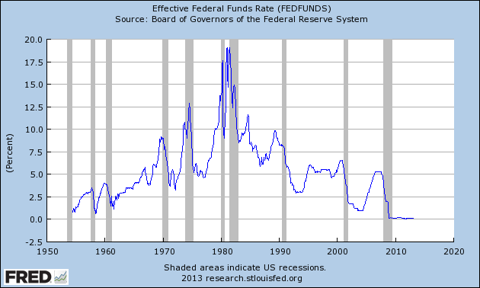 Click to enlarge
Baby Boomers who are on the edge of retirement are arguably among the hardest hit by the lack of traditional investment/interest yield. Real interest rates (adjusted for inflation) are actually negative, depending on where you are in the yield curve. This is evident in the Treasury Inflation Procted Securites or TIPS. A 10 year TIPS auction at the end of January 2013 yielded -0.63.
Lacking incentive to park savings and retirement money in traditional investments, such as; CDs, interest bearing savings accounts and quality bonds, it is only natural that the money will find its way into more unique areas.
As all of this idle cash looks for a profitable home, we should not overlook the possibility that franchises and franchise stocks stand to benefit. A proven pre-packaged business model with on-going support is a strong incentive to a new business owner that is seeking profitability and security.
Many of the franchise stocks appear overvalued, such as Nathan's Famous Inc. (hot dogs) (NASDAQ:NATH) and Jamba Juice (NASDAQ:JMBA).
The deal among the franchise bunch, looks to be 1-800 Flowers.com (NASDAQ:FLWS). Here is a link to the FLWS franchise site. After taking a big hit in 2008, the stock has formed a long bottom and appears to have just broken out to the upside in the last few days. It is currently trading at about 15 times forward P/E. This type of business should perform well under the demographic changes that are forecast for the U.S., such as an aging population. has a strong emphasis on harnessing technology in sales and advertising.
In an interview with Leaders Online, CEO Christopher G. McCann, said:
Today, we're experiencing what we call the fourth wave of change for our business. The four waves we have experienced are: growing a chain of brick-and-mortar retail stores; embracing 800# telephone commerce; the birth of the Internet and e-commerce; and now social commerce or the combination of social, local, and mobile. This fourth wave is allowing us to execute on the principles we learned 35 years ago when we had just one flower shop, specifically how to engage with our customers, how to be part of the local community, and how to get customers contributing input on how we run our business.
1-800 Flowers.com has recently launched a smartphone app that handles expedited mobile payments. They also do a significant amount of advertising on Facebook.
Regarding growth at 1-800 Flowers.com, Nasdaq says:
Revenues from continuing operations of $253.0 million for its fiscal 2013 second quarter were 5.5% higher than the prior year's $239.8 million, reflecting growth across all three of its business segments, driven mainly by its Gourmet Food and Gift Baskets segment, which rose by 8.9 percent year-on-year. Analysts estimated revenues of $254.31 million for the quarter. [Click here for more on FLWS earnings.]
From all appearances, this tech-savvy franchise company has the potential for solid long-term growth and the potential to capture market-share in it's space. Should the stock confirm the breakout above $4.00 per share over the next few weeks, I would seriously look at this company as a potential multi-year investment to the upside.
Disclosure: I have no positions in any stocks mentioned, and no plans to initiate any positions within the next 72 hours. I wrote this article myself, and it expresses my own opinions. I am not receiving compensation for it (other than from Seeking Alpha). I have no business relationship with any company whose stock is mentioned in this article.