Most people, if not all, would agree that the demand for commercial airplanes will increase in the future. The question, however, lies in how to capture this growth. Let's examine the environment surrounding the commercial aerospace industry and, more specifically, why Boeing (NYSE:BA) should be on the top of your list today.
No Harm Done
Yes, the battery problems are causing a headache for Boeing. But looking at its 2012 10-K, Boeing showed a $1.2 billion increase in earnings from its commercial airplane in 2012, representing a 35% jump. In the duopolistic environment that Boeing competes in, this increase comes at the cost of Airbus, which lost its position as the leading aircraft manufacturer by number of planes ordered and delivered in 2012. We can see foreshadows of this in 2011, when EADS's (OTCPK:EADSF) backlog of $700 million was more than twice that of Boeing's backlog of $293 million. 2012 backlog figures for EADS are not yet released, but Boeing stays steady at $317 million.
Even if Boeing has to compensate its clients for the 787 groundings and delays, planes are still being built. In 2012, Boeing increased its net orders by 49% to 1,203 while Airbus net orders decreased 41% to 833. In the commercial airplane manufacturing duopoly, orders may come and go quickly. However, a closer look at the companies' capabilities reveal why airlines chose Boeing over Airbus.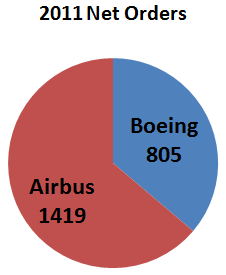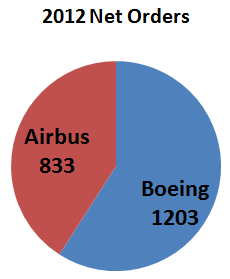 One Step Ahead
Just how did Boeing overtake Airbus in 2012? First, the 787 is at the cutting edge in fuel efficiency and passenger comfort innovations. Though Airbus came out with similar plans for the redesigned A350 XWB to compete with the 787, earliest expected deliveries for the A350 is in mid-2014.
Success can also be seen with Boeing's new 747-8 Intercontinental, introduced last year. Unlike Airbus, which came out with its still loss-making A380 in 2005, Boeing chose not to enter into the super jumbo jet niche. A strategic choice, as it turns out, since Airbus alone is left to bear the costs of modifying airports (among other costs) to accommodate the huge body of the A380. Furthermore, Boeing's updated 747-8 Freighter is running strong while Airbus's A380F is nowhere close to be seen.
It seems like Boeing is always one step ahead of Airbus. A look at the two companies' R&D figures shows that in 2009, Boeing spent about $2.8 billion more than Airbus and only recently eased its R&D expenditures to a level similar to (but still higher than) Airbus as it released the 787 and 747-8. Airbus's R&D expenditures have been steadily increasing, but there seems to be no effort to reclaim its leadership in the duopoly.
Industry Prospects
Going into the future, the market for Boeing is optimistic. Conservative numbers from the FAA predict that the number of fliers will reach 800 million in 2015 and 1 billion in 2024. In my opinion, with cases like the recent spikes in U.S. immigration of wealthy Chinese investors, the demand for Boeing's planes to bridge geographical gaps can only increase.
Bottom Line
The dynamic between Boeing and Airbus is proven historically. Boeing's 747 is a good example of an unbeaten 44-year-old safety record still in service. On the one hand, Airbus looks like it is learning from Boeing's "mistake" by dropping plans to use the lithium-ion battery in its A350 XWB. On the other hand, whatever "perfected" A350 Airbus comes out with, it will be at least more than a year later. Whether you are an investor worried about Boeing's 787 groundings or someone looking for a value stock to hold, Boeing's stock will not disappoint.
Disclosure: I have no positions in any stocks mentioned, and no plans to initiate any positions within the next 72 hours. I wrote this article myself, and it expresses my own opinions. I am not receiving compensation for it (other than from Seeking Alpha). I have no business relationship with any company whose stock is mentioned in this article.
Additional disclosure: Business relationship disclosure: Capital Traders Group is a team of Proprietary Trading and Equity Research Analysts. This article was written by Derek Liu, one of our Equity Research Interns. We did not receive compensation for this article (other than from Seeking Alpha), and we have no business relationship with any company whose stock is mentioned in this article.