More and more investors are demanding dividends these days. Experienced investors want those dividends to be reliable. Savvy investors want those dividends to have a historical and future potential of growth. Experienced, savvy, greedy investors want reliable growing dividends delivered in shares that will grow.
With Compass Diversified Holdings (NYSE:CODI), you can have it all. This company has been delivering dividends with a growing distribution since its founding in 2005. The longest this company has gone without increasing its dividend is 10 quarters. It has now been 8 quarters since the last rise from $0.34 to $0.36 for its quarterly distribution. With a share price of $15.54 as I write this article, the current dividend yield is 9.1%.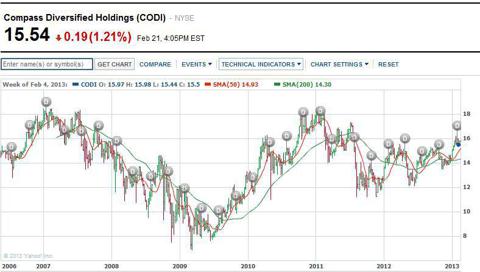 Click to enlarge
(source: yahoo.com)
As you can see from the chart, the stock has traded across a wide range. Indeed, historically it has been common to see 10% or greater swings in share price during intraday trading. This volatility has narrowed considerably since January 1 of this year as seen on the 6 month chart below.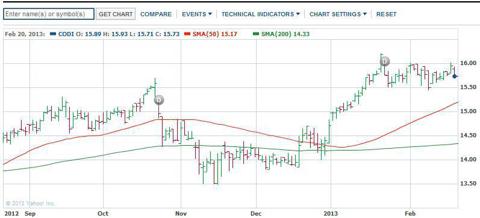 Click to enlarge
(source: yahoo.com)
The dividend growth history has been impressive since its inception.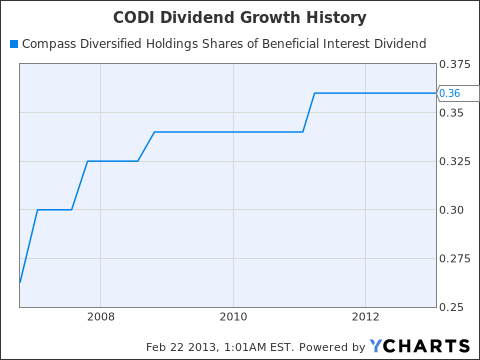 CODI Dividend data by YCharts
Yield has fluctuated with share price but remains above 10% most of the time.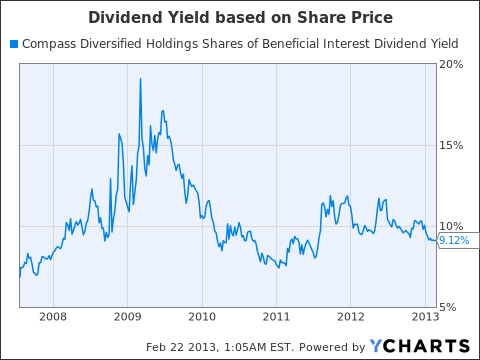 CODI Dividend Yield data by YCharts
CODI's payout ratio is initially disturbing, being rarely below 100%. This is not a reflection of a company with large free cash flow and low net income due to being capital intensive and having large amortization and depreciation expenses but lots of cash. This is entirely due to the nature of the business and how it earns its money. An investor must understand this in order to have any confidence in the sustainability of the dividends. CODI distributes income and capital gains from its returns on the profitable operation and sale of its portfolio of captive company investments. This is the source of its funds for dividend payout and may be supplemented by debt financed between sales of these captive properties or by temporarily dilutive secondary offerings so as to provide for a consistent distribution to shareholders. Such a structure is common for Venture Capital ((NYSE:VC)) firms , Private Equity (NYSE:PE) investments, and Busines Development Companies ((NYSE:BDC)) like CODI. The company's dividend history is the record of reliability of those distributions.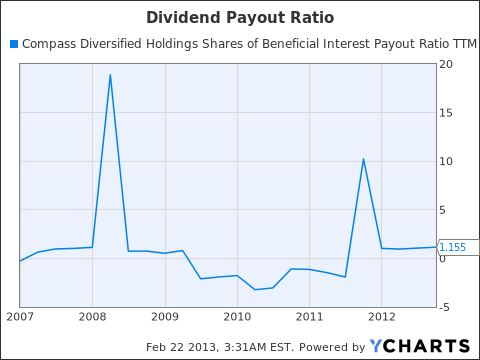 CODI Payout Ratio TTM data by YCharts
Compass Diversified is a business development company. BDC's are similar to venture capital and private equity (PE) companies. All of these invest directly in small and emerging companies, usually with a majority interest and control of the captive company's board of directors. If you liked playing Monopoly as a kid - buying railroads and investing in utilities, collecting $200 when you pass go, trading companies and properties to mobilize capital and pocket profits - then you are probably like me and dreamed of being a venture capitalist when you were young. Well, perhaps not.
Most of us are familiar with and have heard stories of the huge wealth made by venture capital firms which shepherd new technologies and creative business models through their early growth. These are companies that take on risk with the individual companies they have invested in but control that risk by owning a wide range of such companies. Since each of the successful companies returns huge rewards, often several 1000% of the investment, prudent screening by the VC, PE or BDC converts the risk from a gamble into a sound business. This is much the same task as I did for my career in the oil and gas exploration business. Risk management is big business and profitable business when done properly by competent managers. Most VC and PE firms are privately held or only open to ultra wealthy investors. Billionaires and hedge funds are the usual owners. Congress created the BDC in 1980 by amendment to the Investment Company Act of 1940 and with corresponding adjustments in the tax code. This legislative action provides a vehicle for individual investors of average means to participate in the lucrative field of business incubation which has previously been only open to the ultra rich. It also provides a liquid market to buy and sell such ownership, much like MLPs have done for another class of business investment.
BDCs are also very tax efficient vehicles, paying little or no corporate income tax. The BDC must distribute a minimum of 90% of all taxable income to investors. Most BDCs distribute 98% of all their taxable income to shareholders so as to avoid all corporate taxation. Distributions to investors are generally taxable when received based on the type of income earned by the BDC. For example, ordinary income to the BDC is taxable for investors at ordinary income rates, while capital gains income to the BDC is generally taxable for investors at capital gains rates. Investor income is treated in a manner similar to Master Limited Partnerships ((NYSE:MLP)) and Real Estate Investment Trusts (REIT). Due to the preferential tax treatment under the IRS codes, limits may apply to tax exempt and tax deferred treatment when held inside retirement accounts such as IRA, ROTH, SEP, SIMPLE or other tax deferred and tax exempt plans. Individuals should consult your tax professionals for advice about how to hold these vehicles.
At it's current price, CODI's yield is about 10% below its typical rate tied to share price. The variation in historic rate is caused mainly by share price volatility and thus its sub-10% yield rate at the moment suggests shares are currently at a slight premium. This may reflect the hunger for attractive yields in the current market, investor anticipation of rising returns from CODI's currently held portfolio, or overpricing at current levels. A cautious investor may want to wait for a pull back closer to the $15/share level or use a covered option writing strategy to reduce effective entry price at this time.
Company book value has remained rather flat since 2009 with share price oscillating above and below in correlation to that metric. This suggests the shares are currently at or near fair price based on historic market valuation.
CODI Book Value data by YCharts
Return on assets, equity and invested capital are all very similar and correlate loosely with share prices. Shares appear to have gotten ahead of these return metrics for 2010 and 2011 but have returned to traditional historic levels through 2012. This again indicates share prices to be at fair value based on historic market pricing.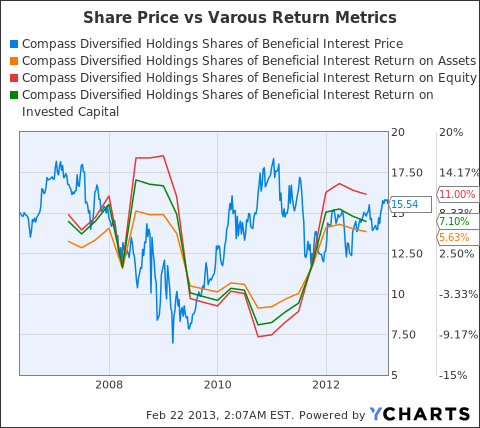 CODI is virtually unique in its field. Other BDCs include: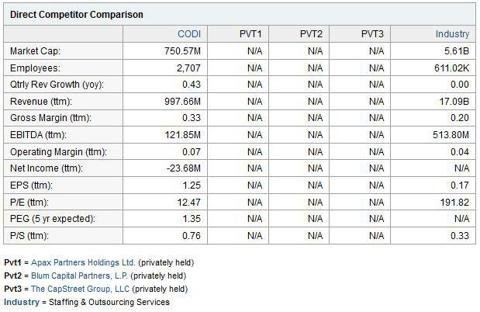 Click to enlarge
(source: yahoo.com)
Besides having its own unique mix of captive company investments, CODI is differs from these other BDCs in that the others are largely mezzanine finance companies that lend money to emerging companies and may hold direct equity interests or options to purchase them. These others do not generally participate in the management of those incubating companies nor control and decide when and how best to sell off those businesses.
Nineteen percent (19%) of shares are held by insiders and 5% owners. Thirty-four percent (34%) of holdings are institutions and mutual funds, Major holders at the close of 2012 are shown in the chart below.
Top Institutional Holders
| Holder | Shares | % Out | Value* | Reported |
| --- | --- | --- | --- | --- |
| Price (T.Rowe) Associates Inc | 2,288,310 | 4.74 | 33,661,040 | Dec 31, 2012 |
| Investment Counselors of Maryland | 1,487,650 | 3.08 | 21,883,331 | Dec 31, 2012 |
| Royal Bank of Canada | 1,419,073 | 2.94 | 20,874,563 | Dec 31, 2012 |
| River Road Asset Management, LLC | 1,186,885 | 2.46 | 17,459,078 | Dec 31, 2012 |
| Schroder Investment Management Group | 999,300 | 2.07 | 14,699,703 | Dec 31, 2012 |
| Zesiger Capital Group LLC | 745,010 | 1.54 | 10,959,097 | Dec 31, 2012 |
| Invesco Ltd. | 702,231 | 1.45 | 10,329,818 | Dec 31, 2012 |
| Yorktown Management & Research Company, Inc. | 548,000 | 1.13 | 8,061,080 | Dec 31, 2012 |
| Northern Trust Corporation | 416,615 | 0.86 | 6,128,406 | Dec 31, 2012 |
| RBO & Company, LLC | 351,457 | 0.73 | 5,169,932 | Dec 31, 2012 |
| Holder | Shares | % Out | Value* | Reported |
| --- | --- | --- | --- | --- |
| Price (T.Rowe) Small-Cap Value Fund (MUTF:PRSVX) | 1,666,500 | 3.45 | 24,630,870 | Sep 30, 2012 |
| Advisors Inner Circle Fund-ICM Small Company Portfolio (MUTF:ICSCX) | 981,100 | 2.03 | 14,127,840 | Oct 31, 2012 |
| American Pension Inv Tr-Efficent Frontier Income Fund (MUTF:AFFIX) | 430,500 | 0.89 | 6,199,200 | Oct 31, 2012 |
| Aston/River Road Dividend All Cap Value Fund (MUTF:ARDEX) | 388,595 | 0.80 | 5,716,232 | Dec 31, 2012 |
| Wells Fargo Advantage Small Cap Opportunities Fd (MUTF:NVSOX) | 279,900 | 0.58 | 3,952,188 | Nov 30, 2012 |
| First Trust Gallatin Specialty Finance & Financial Opportuniy (NYSE:FGB) | 216,200 | 0.45 | 3,180,302 | Aug 31, 2012 |
| RBC Fds Tr-RBC Enterprise Fd (TTIX) | 212,900 | 0.44 | 3,146,662 | Sep 30, 2012 |
| Northern Small Cap Value Fund (MUTF:NOSGX) | 198,951 | 0.41 | 2,926,569 | Dec 31, 2012 |
| American Century Small Cap Value Fund (MUTF:ASVIX) | 195,000 | 0.40 | 2,882,100 | Sep 30, 2012 |
| Powershares Exhg Traded Fd-Powershares Global Listed Private (NYSEARCA:PSP) | 156,584 | 0.32 | 2,303,350 | Dec 31, 2012 |
With a well established history of sustaining its dividends and at a current price that is a fair value based on comparisons with its historic market pricing metrics, CODI offers a near 9.1% yield to investors seeking yield for income or growth through reinvestment and compound growth. Shares may be slightly ahead of price at this time but are tempting for those wanting to lock in an attractive yield for income. Other investors may wish to wait for a pull back to the $15.00 50 day moving average range or even the $14.50 chart support level. They wait at the risk of the market moving away from them if investors continue to accumulate for the exceptional yields.
Disclaimer: I am not a licensed securities dealer or advisor. The views here are solely my own and should not be considered or used for investment advice. As always, individuals should determine the suitability for their own situation and perform their own due diligence before making any investment.
Disclosure: I am long CODI. I wrote this article myself, and it expresses my own opinions. I am not receiving compensation for it (other than from Seeking Alpha). I have no business relationship with any company whose stock is mentioned in this article.