Earnings season came to an end this week with Wal-Mart's (NYSE:WMT) report yesterday morning. Not only did the season end on a down note regarding the market, but the underlying earnings numbers fell hard this week as well.
As shown below, the final reading for the percentage of U.S. companies that beat Q4 earnings estimates was 61.4%. This is still a solid number compared to recent quarters, but it actually fell 2.2 percentage points this week. Of the 252 companies that reported this week, only 48% beat earnings estimates, causing the overall beat rate to drop from 63.6% down to 61.4%. While it hasn't been mentioned, maybe weak earnings has been a key reason for the market's drop this week.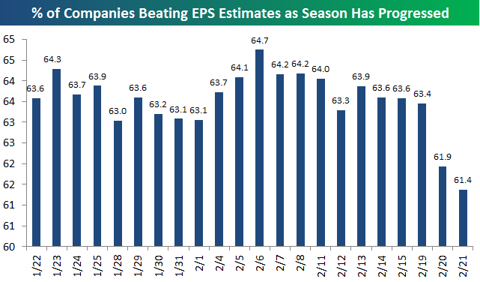 The revenue beat rate ended at 62.7% for the fourth-quarter reporting period. As shown below, this is much better than what was seen in the prior two quarters, and its the exact same beat rate that was seen during the Q1 2012 reporting period. Just like the earnings beat rate, the revenue beat rate also fell this week, dropping 1.3 percentage points from a reading of 64% last Friday.