By Siraj Sarwar
Invesco Mortgage Capital (IVR) is one of the top star players in the equity market. After collapsing to $12 in September of 2010, the stock made a remarkable recovery. As of the time of writing, the stock was trading for $20.44. While it lost about 5% in the last week, the stock returned almost 45% in the last year alone. This is a very high performance for a stock that offers double-digit yields. In this article, I look at the company's business model, investment strategy, financial reports and valuation metrics to see whether it can afford paying double-digit dividends in the future.
Business Model
Founded in 2008, Invesco, with its headquarters in Atlanta, operates as a mortgage real estate investment trust. As an mREIT, the company meets the criteria to avoid double taxation. It pays at least 90% of its taxable income as fat dividend checks. These dividends are subject to corporate taxes.
These companies also have a low-cost business model. As such, the operational expenses of mREITs are significantly low, especially when compared with other sectors. Thanks to these benefits, mREITs have become a popular choice among income-oriented investors.
However, the mREITs are experiencing some serious financial and economic challenges at present. FED's initiative to drop mortgage rates adversely impacted several mREITs. As a result, several mREITs had to reduce their dividends. IVR pays a quarterly dividend of 65 cents per share, but the company faces many risks as discussed below.
Risks
Since 2007, substantial adverse changes in financial markets resulted in a deleveraging of the entire global financial system. The difficult environment in the financial markets adversely impacted commercial mortgage and residential markets in the United States. Due to volatile environments, lenders tightened their lending standards. Additionally, they condensed their lending capacity and liquidated large portfolios. As a result, financing at appealing terms became difficult at present.
Additionally, the Fed is currently taking a number of initiatives to keep the mortgage rates lower. Recently the Fed has announced several programs. These include, Operation Twist, QE3 and QE4. With these programs, the Fed has managed to keep mortgage rates at a lower rate. As a result, many mREITs' spread rates have fallen significantly. In addition, the Fed's initiatives could also result in flattening in the yield curve. Lower long-term interest rates could result in enlarged prepayment rates and contraction of Invesco's net interest margin.
Investment Strategy
Invesco has a smart investment strategy. It is able to make quick changes to adjust with the market. Recently, it announced Q4 results, which clearly demonstrated a change in its investment strategy. As the housing market is currently growing, Invesco has focused more on Non-agency RMBS and CMBS. The mREIT plans to invest more in these securities as they are safer than agency RMBS.
The housing market is positioned to grow more in the future. Hence, Invesco is looking more at investments in non-agency RBMS and CBMS. At the end of Q4, the mREIT increased its portfolio of non agency RBMS and CBMS by $534 million and $297 million respectively. The mREIT has a large spread rates on these securities, though they are currently trading at a discount.
Increased volatility in the RMBS markets is putting pressure on both the market value and performance of the RMBS in which Invesco invests. In addition, the mREIT largely relies on financing to acquire, on a leveraged basis, the target assets in which it invests. Therefore, Invesco decreased its agency RMBS portfolio by $604 million at the end of Q4. The agency RMBS have become expensive due to the Fed's recent initiatives.
Dividend and Growth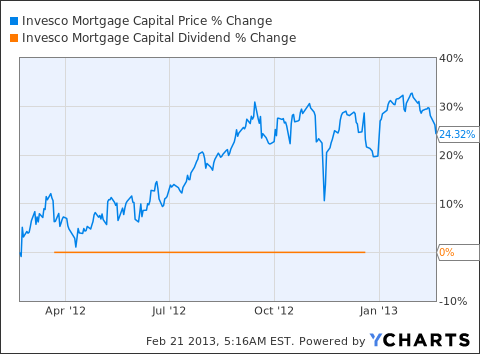 IVR data by YCharts
The mREITs' business mainly depends on the market conditions and the government polices. Due to the Operation Twist, the mREIT had to reduce dividends. It reduced its dividend from $1 per share to $0.65 at present. However, Invesco has had a sustained similar stable dividend of $0.65 per share for the last six quarters.
The mREIT has a diversified portfolio and smart investment strategy, which helped it to sustain dividends. Currently, the mREIT offers a gigantic annual dividend of $2.60 per share, yielding at 12.71%. In addition, Invesco has a strong payout ratio of 89.97%.
On the other hand, Invesco is providing substantial returns based on the price appreciation. As shown in the above chart, in the last year alone, the mREIT returned substantial capital gains to investors. Moreover, the stock trades at an attractive PE of 7.1.
Financials
Invesco generated incredible earnings in recent tough economic environments. Recently, the mREIT announced a Q4 net income of $90.6 million, or $0.77 per common share. The mREIT has thereby beaten the analysts' estimates of $0.65 per share. Moreover, Invesco managed to increase earnings compared with the past quarter of $84.1 million or $0.72 per common share. Furthermore, the mREITs' book value per common share stands at $20.83, a decrease of 0.5% over the past quarter.
At the end of Q4, its portfolio of mortgage-backed securities stands at $18.5 billion, a raise of $0.2 billion from the earlier quarter. The average earning assets were standing at $17.8 billion, showing an increase of $0.8 billion. Furthermore, it greatly increased its interest income by $4.9 million to $145.4 million.
On the whole, the fourth quarter was incredible even in the face of strong economic head winds. The mREIT has improved its book value by 0.5% while sustaining a stable dividend. In addition, Invesco's successful investment strategy led it to achieve massive earnings. It timely changed its portfolio to adjust with changing market environments. The mREIT also increased its capital in order to be able to generate enormous earnings.
Competition
Two of Invesco Mortgage Capital's industry peers are Capstead Mortgage Corporation (NYSE:CMO) and Annaly Capital Management (NYSE:NLY). The chart below lists key metrics.
| | | | |
| --- | --- | --- | --- |
| | IVR | NLY | CMO |
| Price/Earnings TTM | 7.4 | 10.6 | 7.4 |
| Price/Book | 1.0 | 0.9 | 0.9 |
| Price/Sales TTM | 6.5 | 8.6 | 6.0 |
| Operating Margin % TTM | 89.3 | 85.6 | 91.2 |
| Net Margin % TTM | 88.2 | 81.0 | 80.0 |
| ROE TTM | 15.0 | 9.1 | 12.2 |
Morningstar.com
Invesco is trading at attractive multiples currently. It displays both attractive profitability and valuation matrices. With a price-to sales ratio of 1.0, Invesco offers a dividend yield of above 12%. Invesco has a huge net margin over its group of peers. Above all, Invesco offers the highest ROE of 15%. All the mREITs mentioned above are currently offering substantial returns to shareholders.
In Conclusion
The mREIT has a flexible business strategy to tackle the depressed economy and volatile financial situations. Invesco has been displaying consistently strong growth over the years. The mREIT has returned a significant amount to shareholders in terms of dividends and price appreciation. I believe Invesco performed better than many of its peers as it sustained its dividends over the past six quarters.
Additionally, the mREIT has a smart investment strategy and is making quick changes to adjust with the market. I believe the shift to non-agency RBMS and CBMS can provide substantial returns as the housing market keeps growing. With recent changes in the Q4, the mREIT is well-positioned for another profitable year in a difficult macro-economic situation.
Disclosure: I have no positions in any stocks mentioned, and no plans to initiate any positions within the next 72 hours.
Business relationship disclosure: Efsinvestment is a team of analysts. This article was written by Siraj Sarwar, one of our equity analysts. We did not receive compensation for this article (other than from Seeking Alpha), and we have no business relationship with any company whose stock is mentioned in this article.