This week's oil inventory report seemed to justify traders' short covering in the overnight markets. Oil stocks, which analysts had forecast to rise by 2.7 million barrels, instead fell by 200,000 barrels according to the U.S. Energy Information Administration.
Lots of bear spreads unwound ahead of the report, shortening the quarterly carry by $5 a barrel. The recent volatility in the spread has got some traders wondering if, in fact, the carry trade's days are numbered. The three-month carry had fattened to as much as $14 in mid-January. But enthusiasm for the trade has been dampened, in part, by rising financing costs and the topping off of storage capacity at the Cushing, Okla. oil terminus.
EIA says refinery usage slightly exceeded barrel-counter expectations last week, yielding a 1.1 million-barrel build in gasoline inventories. Analysts had predicted a 400,000 drawdown in motor fuel supplies.
Traders walloped the RBOB crack ahead of this week's report, ratcheting down the 1-to-1 refining margin by about a third and shaving its premium over heating oil. Product cracks are near parity according to NYMEX pricing. Not surprising, given the 800,000 draw on distillate fuels-including diesel and heating oil.
NYMEX Nearby Crude Oil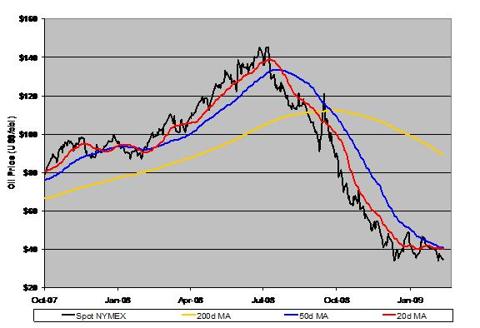 The nearby NYMEX contract has barely managed to hold above support levels established in December. Still, technical signals are hinting that a short-term low might be near. A close above the 20-day moving average at $40.14 would confirm a short-term turnaround.
Taking out the $33.87 December low, on the other hand, would point to lower prices and set traders' sights on psychological support at $30.