The land down under is looking up thanks to recent strength in commodities markets and the slight uptick in global growth. The iShares MSCI Australia Index (EWA) has gained 6.8% year-to-date and continues to a be global leader among the major developed economies.
"Over the long term, anticipated growth in the emerging markets, particularly in China, will help drive revenue growth for Australia's materials and energy sectors," according to a recent Morningstar report.
Australia's largest trading countries China and the United States are experiencing gradual economic recoveries which is supporting the demand for natural resources in Australia. The banking system in Australia remains healthy and showed resilience during the 2008 financial crisis, reports Scott Stoddard for Investor's Business Daily. Financials make up about 50% of EWA.
Materials and energy stocks are also dominant in EWA, contributing to about 30% of the portfolio. Core and iron ore supplies BHP Billiton is the largest holding. EWA can also be an indirect global commodity play within a portfolio.
Analysts say the biggest risk to the Australian economy is the local debt as consumers may pull back further in spending. Therefore, infrastructure spending in Australia has halted, but it has picked up in China to help close the gap.
The Reserve Bank in Australia projects the economy to grow 2.5% this year, down from the previous estimate of 2.75%, due to a peak in mining investment.
Also, any dip in the commodity market can impact EWA, as it is predominantly a commodity play.
Over the past year, EWA gained 17.6%, coming in a close second the Mexico ETF, which rose 20.5%.
iShares MSCI Australia Index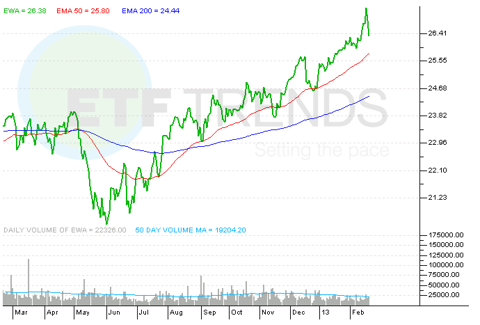 Tisha Guerrero contributed to this article.
Disclosure: I have no positions in any stocks mentioned, and no plans to initiate any positions within the next 72 hours. I wrote this article myself, and it expresses my own opinions. I am not receiving compensation for it. I have no business relationship with any company whose stock is mentioned in this article.