High Gas prices, lower take home pay due to expiration of payroll tax holiday and inflation are a recipe for an aggregate demand slowdown of goods and services in 2013 over 2012 and that spells recession.
Two days ago, Bloomberg news reported that the largest banks are seeing weak demand for loans due to poor economic demand.
The Bloomberg report says:
"The average loan-to-deposit ratio for the top eight commercial banks fell to 84 percent in the fourth quarter from 87 percent a year earlier and 101 percent in 2007, according to data compiled by Credit Suisse Group AG. Lending as a proportion of deposits dropped at five of the banks and was unchanged at two, the data show."
This is a tell on the very weak gross capital formation that has been on going in the U.S. since the last recession.
Loan demand is typically associated with investing in physical assets like real estate, office buildings, snow plows, tractors, etc. Here is a chart of gross capital formation in the U.S. post WWII: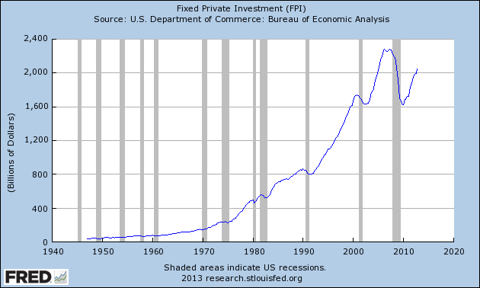 Gross capital formation is the amount of money that is spent on the physical economy like building roads, factories, schools, cars, computers, tools, tractors, snow plows, etc.
As a percent of GDP, our physical investment has collapsed: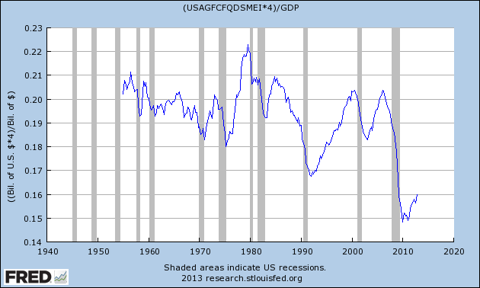 Gross capital formation spending on a year-over-year percent change basis looks like this: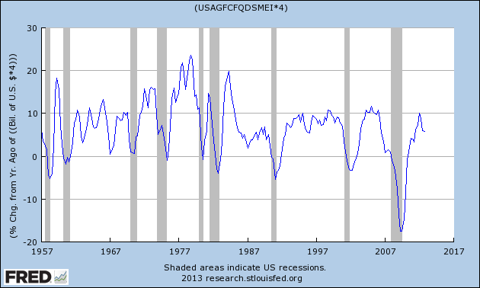 If we don't get our gross capital formation spending as a percent of our GDP up, our infrastructure is going to get into worse and worse shape and that will limit productivity gains. So we need to see this growth rate stay at a rate that is at least above the rate of GDP growth.
Here is just one example. Less than two weeks ago, most of the Northeast was slammed with a snow storm. I was spending time on Long Island last weekend and heard on the radio all about the frustration about the lack of snow removal, especially on the eastern part of Long Island. One of the complaints was that the snow plows were inadequate and broke down while plowing the snow.
Hence my point about the consequences of this lack of investment in gross capital formation. Not much economic activity will be had when folks can't leave their neighborhoods because their streets weren't plowed.
Aggregate credit in the U.S. has seen the lowest rates of growth in this post-WWII period. While total credit owed in the U.S. stands at $55.309 trillion as of the end of Q3 2012, the year-over-year growth chart looks like this: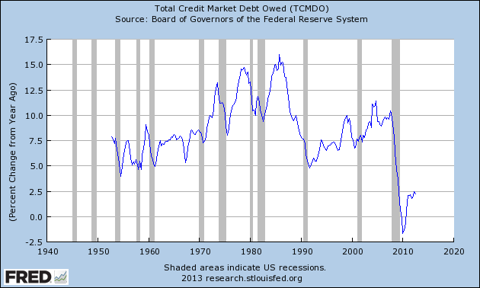 So despite the Federal Government running $1 trillion + deficits for four years in a row, the lack of credit growth in the private sectors has not been so aggressive making aggregate credit growth barely 2.5% year over year.
What is at stake now is the cyclical nature of the economy that is showing a clear downtrend in growth.
Here is a monthly chart of the aggregate number of hours worked per week in the U.S. since 1964: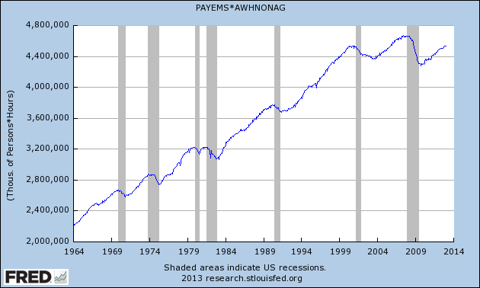 Here is a chart of the year-over-year growth rate of those aggregate hours worked: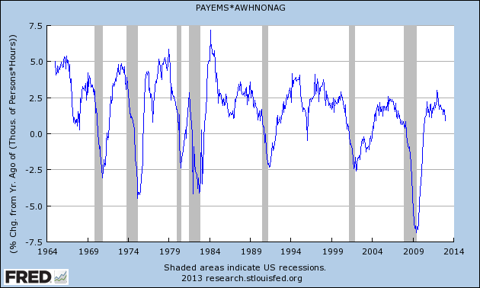 The trends in the growth rate of aggregate hours worked are relatively slow moving. Once it finds a direction, it tends to stay in that direction for months or years. The current trend is down.
If I was to include the population of America to get a sense of aggregate hours worked in the U.S. per capita, we get a chart that looks like this: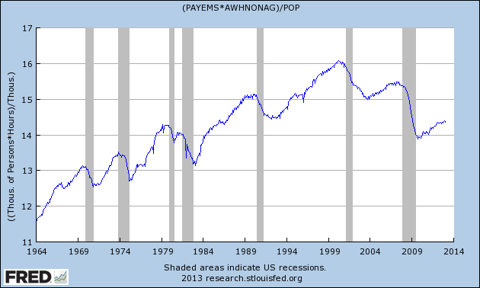 What this tells us is that employment in the U.S. today, based on aggregate hours worked per capita, although is lower than our peak in 2000, is still higher than anytime from 1964 until about 1985. This begs the question, "are we regressing back to working 12 hours per week per capita?" Perhaps we are. This won't be good for tax revenues for government finances.
This next wave is about to come crashing down on the U.S. economy this year.
This same chart above, on a year-over-year percent change basis looks like this: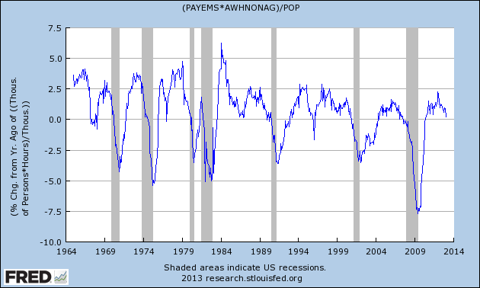 The next few months could see us having negative year-over-year growth in aggregate hours worked per capita, which is about the time when recessions usually start.
I think the writing is on the wall we are going to see a recession this year.
With that said, cash should be a fine place to be right now as patient investors wait for better buying opportunities in stocks, precious metals and real estate later in the year.
Disclosure: I have no positions in any stocks mentioned, and no plans to initiate any positions within the next 72 hours. I wrote this article myself, and it expresses my own opinions. I am not receiving compensation for it (other than from Seeking Alpha). I have no business relationship with any company whose stock is mentioned in this article.