With the British economy teetering on another recession, market observers are anticipating new stimulus measures from the Bank of England, driving the British pound currency, along with a related exchange traded fund, to a three-year low.
The CurrencyShares British Pound Sterling Trust (NYSEARCA:FXB) dropped 4.4% over the past three months.
The sterling pound hit a three-year low against the dollar this week as speculators increased bets that the central bank will reactive its quantitative easing policies in an attempt to stimulate the struggling economy, reports Gregor Stuart Hunter for The National.
The pound currently trades at around 1.53 U.S. dollars.
Three members of the Bank of England's rate-setting committee have called for an expansion of quantitative easing measures. Moreover, the income Bank of England governor, Mark Carney, is expected to favor aggressive actions to stimulate the economy.
"While the recent fall probably partly reflects concerns about inflation and expected changes in monetary policy - the so-called 'Carney short' - it has also reflected the growing view that the UK's economic outlook is nearly as bad as the euro zone's," analysts from Capital Economics said.
"Recent statements by the current and upcoming governors seemed like a battle between who could do the most easing," Ashraf Laidi, chief global strategist at City Index, said in a CNNMoney article. "This gave traders little choice but to sell sterling."
For instance, Soros Fund Management, Tudor Investment Corp., Caxton Associates and Moore Capital are shorting the pound, reports Ben Gersten for Business Insider.
CurrencyShares British Pound Sterling Trust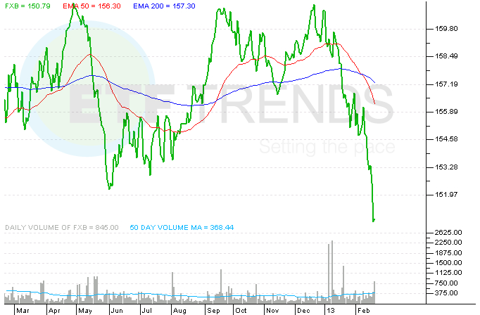 Click to enlarge
Max Chen contributed to this article.
Disclosure: I have no positions in any stocks mentioned, and no plans to initiate any positions within the next 72 hours. I wrote this article myself, and it expresses my own opinions. I am not receiving compensation for it. I have no business relationship with any company whose stock is mentioned in this article.
Additional disclosure: Mr. Lydon serves as an independent trustee of certain mutual funds and ETFs that are managed by Guggenheim Investments; however, any opinions or forecasts expressed herein are solely those of Mr. Lydon and not those of Guggenheim Funds, Guggenheim Investments, Guggenheim Specialized Products, LLC or any of their affiliates.