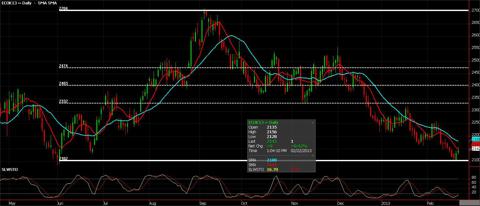 What the greenback does, ultimately, the cocoa market does the opposite. This is not definitive, but if you were to overlay the 2 charts, they would look like a mirror image. Being the U.S. dollar has appreciated 3.2% in the last 3 weeks, it is no surprise that cocoa has depreciated 7.8%. Of course, there are other underlying factors such as a large crop and potential seasonal factors, lack of demand, etc. What I have noticed over the years is there is an inverse relationship… I am not of the opinion this could be used as an effective tool on a day trade or scalps, but for overall trends, there seems to be an inverse relationship.
That being said, I do feel the dollar is over-extended to the upside and cocoa to the downside. I have advised scaling into bullish exposure in recent weeks. Stochastics on the daily chart, as seen above, are screaming over sold and as of this post, prices are probing the 9 day MA -- identified by the red line. Further confirmation would play out on a trade above the 20 day MA -- identified by the light blue line.
While I am not as bullish as I was several weeks ago, I do still see it as a viable possibility that we trade north of 2300 in May futures in the coming week/months. This would represent a 7.5% appreciation from current levels.
Risk Disclaimer: The opinions contained herein are for general information only and not tailored to any specific investor's needs or investment goals. Any opinions expressed in this article are as of the date indicated. Trading futures, options, and Forex involves substantial risk of loss and is not suitable for all investors. Past performance is not necessarily indicative of future results.
Disclosure: I have no positions in any stocks mentioned, and no plans to initiate any positions within the next 72 hours. I wrote this article myself, and it expresses my own opinions. I am not receiving compensation for it. I have no business relationship with any company whose stock is mentioned in this article.