The CPB Netherlands Bureau for Economic Policy Analysis released its monthly report yesterday on world trade and world industrial production for the month of December 2012.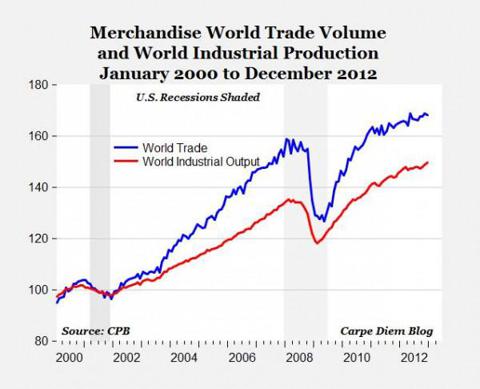 Here are some of the highlights:
1. World merchandise trade volume (adjusted for price changes) decreased in December by 0.5% on a monthly basis following a revised 0.7% increase in November, which brought the global trade index down to 168, just slightly below November's all-time record high of 168.8 for the index (see blue line in chart). Compared to a year earlier, the volume of world trade in December was 1.94% higher. Even with the monthly decline in December, world trade is almost 5% above the previous April 2008 peak of 160.2 in the early days of the US and global recessions, and world trade hasn't declined on a year-over-year basis since October 2009.
2. Annual growth in trade last year was led by the emerging economies with a 5.6% in exports and 8.3% increase in imports, while advanced economies experienced decreases in both exports (-3.5%) and imports (-3.5%).
3. World industrial production (adjusted for price changes) finished last year with another month of solid growth in December, bringing world output to a new record high at year-end (see red line in chart). World production increased by 0.6% in December on a monthly basis, following a 0.5% increase in November. On an annual basis, world industrial output expanded by 2.8% in 2012, with especially strong annual output growth in Emerging Asia (8.7%) and the U.S. (2.9%). Output declined in the euro area (-2.2%) and Japan (-6.1%) last year.
4. World industrial output, at an all-time high index level of 149.6 in December, is now almost 11% above its previous recession-era peak in February 2008 of 135.0, and 26.7% above the recessionary low of 118.1 in February 2009.
Bottom Line: World industrial output reached a new record monthly high in December, and world trade volume in December was down slightly from its record high level in November. The volumes of world output and world trade are now above their previous peaks (by almost 11% and 5%, respectively) during the early months of the global slowdown, providing evidence that the global economy has now made a complete recovery from the 2008-09 recession. At the forefront of the global recovery are the world's emerging economies, which experienced especially strong growth last year in trade and output.