U.S. Silica Holdings, Inc. (NYSE:SLCA) is a small-cap stock worth ~$1b, and one may therefore expect that it would be relatively volatile and illiquid. However, SLCA has experienced very wide price swings of almost 15% during intraday trading, and the company recently issued a press release confirming it has been contacted by the NYSE regarding the unusual market activity and will not comment further. These swings can offer a diligent investor a very attractive entry point for a unique company with strong barriers to entry and quickly growing cash flow.
SLCA is the second largest domestic producer of commercial silica - sand - and operates in two segments:
Oil & Gas Proppants
Industrial and Specialty Products
The industrial & specialty products segment is SLCA's traditional business, in which it has operated for over 110 years. Historically this segment has focused on glassmaking and chemical manufacturing, but the company is currently developing additional uses, such as solar panels, specialty coatings, etc.
The oil & gas proppants segment is newer and is a high-growth "picks & shovels" play on the hydraulic fracturing developments in the U.S. Frac sand is a required input as the sand is pumped down wells at high pressures to prop open rock fissures in order to increase flow from the wells. The sand may also be used to "re-fracture" the shale to keep the fractures open.
Rather than speculating on which oil company owns or acquires the most productive assets, you can take advantage of the strong growth in the US drilling sector by purchasing shares in a crucial supplier.

Per SLCA's most recent 10-K, the North American horizontal drill rig count is growing at a ~40% CAGR over the last ten years. This has resulted in strong demand for frac sand, the price of which, from 1970-2000, grew at an average of 4.5% according to the USGS. From 2000-2010, prices have subsequently increased at an average annual rate of 9%:

Over the last 3 years, SLCA's oil and gas revenue has tripled, from $35.8mm in 2009 to $107mm in 2011. Industrial & specialty is a mature business and has grown more slowly coming out of the recession, from $155.8mm in 2009 to $188.5mm in 2011. Through 3Q12, oil & gas revenue is up almost 150%, from $69.3mm through 3Q11 to $172.8mm through 3Q12. Industrial and specialty revenue is up 5% over the same period.
This revenue growth has quickly fallen to the bottom line; adjusted EBITDA as reported in company filings has grown from $50mm in 2009 to $93.6mm in 2011 and from $66.4mm through 3Q11 to $111mm in 3Q12. Cash flow from operations has grown from $13.8mm in 2009 to $42.6mm in 2011 and $22.4mm through 3Q11 to $79mm through 3Q12.
As of the 2/21/13 close at $17.81, SLCA trades at a 13.7x TTM P/E and a 10.6x forward P/E. Consensus estimates are $1.41/share for 2012 and $1.68/share for 2013. SLCA declared a $.50 special dividend in December 2012. Though the stock has risen from trading in the $10-$12 range this summer, it is still priced attractively given the growth potential with a PEG of just 0.35.
Besides the numbers, what else makes SLCA a good investment?
Barriers to entry
Attractive footprint
Low-cost structure
New products
Experienced management
Barriers to entry:
Entrants to the frac sand sector face a variety of challenges, including the difficulty of finding silica reserves both usable for frac sand and large enough to justify the capital investment of a mine and processing plant, a lack of industry-specific knowledge for identifying and developing high-quality silica reserves, and the challenge of securing all operating permits from the relevant authorities, which can require up to three years. SLCA management has indicated that supplies have not kept pace with demand over the last few years, and significant capacity has not come online during this time.
Attractive footprint:
SLCA has an attractive footprint, with locations in and near the major US shale basins where frac sand is required: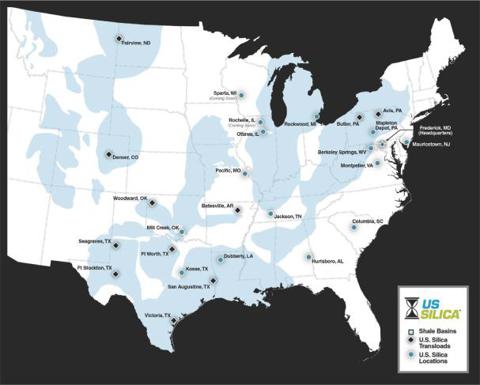 As shipping is a major expense in purchasing frac sand, close proximity to these locations minimizes costs for SLCA's customers.
Low-cost structure:
In addition to cost savings through the company's locations, SLCA enjoys a variety of additional competitive advantages to ensure structurally low costs:
Ownership of the vast majority of reserves, keeping mineral royalty rates <0.4% of sales in 2011.
Close proximity of mines to processing plants.
Processing and logistics expertise acquired through over 100 years of operation.
Large overall and plant-level operating scale.
Finally, SLCA has entered into some long-term contracts with oil & gas customers at what are now below-market rates given the steady increase in silica prices, increasing switching costs to any potential competitor or new entrant while still keeping revenue and income growth high.
New products:
In addition to the growth in frac sand, SLCA is continuing to invest in new products, including a resin-coated sand facility in Illinois, expanding low-iron silica production for maximized light transmission in advanced glasses and solar panels, and an increased presence in specialty coatings and polymer additives.
Concerns:
In both 2011 and 2012, FCF has declined due to elevated capex associated with the resin-coating plant in Illinois and a greenfield raw sand plant in Wisconsin; however, once these expansion projects are online, they are expected to generate an incremental $40mm of EBITDA, affirmed in SLCA's 3Q 2012 conference call. In addition, SLCA has been able to fund these projects with cash on hand, though the company has retained leverage following a 2007 LBO by Harbinger Capital Partners.
SLCA is currently rated B1/B+ by the ratings agencies, though these ratings are largely driven by the company's size, continued private equity ownership (72% of outstanding shares at 12/31/12), and conservatism regarding the competitive environment over the next 12 months. Debt/Adjusted EBITDA at 9/31/12 was 1.87x, with another .34x of pension and other retirement liabilities, which is very modest for a B+ rating.
As you can see on this candlestick chart, courtesy of stockcharts.com, there have been some days with large intraday ranges but mostly little change between the open and close prices, and, more recently this week, the stock has sold off ~15% from its high of $21: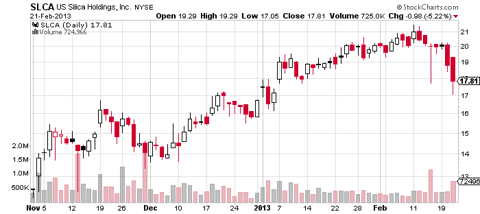 | | | | | | | |
| --- | --- | --- | --- | --- | --- | --- |
| Date: | Open: | Close: | % change: | High: | Low: | % range: |
| 11/12/12 | $14.88 | $14.63 | -1.68% | $14.88 | $12.75 | 14.31% |
| 11/28/12 | $15.94 | $14.82 | -7.03% | $16.18 | $14.55 | 10.07% |
| 11/30/12 | $14.99 | $14.52 | -3.14% | $15.10 | $13.77 | 8.81% |
| 12/07/12 | $14.75 | $14.98 | 1.56% | $15.98 | $14.75 | 7.70% |
| 02/14/13 | $20.00 | $20.03 | 0.15% | $20.20 | $17.68 | 12.48% |
One must act quickly to open a position at the very attractive intraday prices, but the recent selloff may offer a potential buyer more time to conduct additional due diligence and initiate either a long-term position in an excellent small-cap stock or a short-term bullish trade to take advantage of the volatility. I have used the pullback to acquire more shares.
For additional information, the most recent investor presentation from November 2012 can be found here. SLCA reports 2012 earnings before the market open on Tuesday, 2/26 and will attend an energy conference on 2/28 and 3/1 with an updated presentation.
Disclosure: I am long SLCA. I wrote this article myself, and it expresses my own opinions. I am not receiving compensation for it (other than from Seeking Alpha). I have no business relationship with any company whose stock is mentioned in this article.