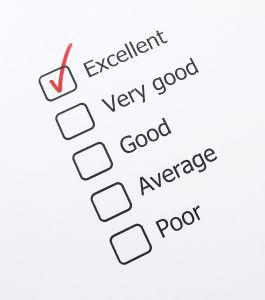 Prior to Friday's (2/22) stock market open, Cyberonics (NASDAQ:CYBX) reported $0.47 EPS for its fiscal 3rd quarter 2013, up 38% from one year ago, and almost 24% above estimated earnings (See Cyberonics Management Discusses Q3 2013 Results - Earnings Call Transcript and Cyberonics 3Q income rises, company boosts outlook). Revenues were almost $63 million, up 15% from last year and 3.5% better than expected. Today the stock rose 5.2% from yesterday's $44.33 close.
However, trading was volatile, ranging from its opening up to $48, down to $43.53, then back up to close at $46.65. That erratic behavior raises the question of "Now what?"
History holds a clue
To answer that question, let's first take a look at the stock's previous earnings report action. Here is the performance graph I included in Cyberonics: A 'Neglected' Health Technology Company Built For Future Growth. It shows the previous price jumps following each of the recent earnings reports.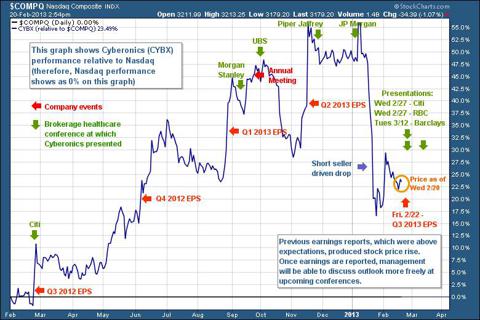 Click to enlarge
(Stock chart courtesy of StockCharts.com)
Next, let's focus on the stock performance immediately surrounding each of the past four quarterly reports along with today's report. Note (in the legend) that each report has been a positive surprise, with actual earnings exceeding estimates by the percentage amounts shown. (Also note that the current report's surprise is the largest of the five.)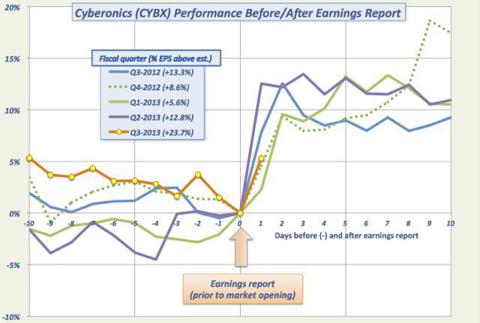 Click to enlarge
(Data courtesy of Yahoo! Financial)
Clearly, Cyberonics' stock has benefited from the company's good earnings reports, up about 10% on average. Importantly, note that the adjustment can take a day or two, longer than we might expect. That's because Cyberonics' smaller size and following (both analysts and investors) results in a slower response time. Therefore, we could see further gains next week as the company's results pique interest. Additionally, next Wednesday has the Cyberonics' CEO and CFO presenting separately at two major healthcare conferences in New York City.
That's all well and good, but why the volatility today and why wasn't the gain larger, especially with the stock market up nicely?
Compared to the previous report periods, CYBX is in an unusual situation from having suffered a sharp 25% drop, inflamed by a short seller report. The report was weak and even erroneous, so, as other investors did their own research, its direct effect likely has dissipated. However, a drop of that magnitude can cast a pall over a stock for a while. While the short sellers probably are mostly gone, the traders have moved in. As a result, we have seen fairly large volatility within the broad $42-48 trading range, including today's action.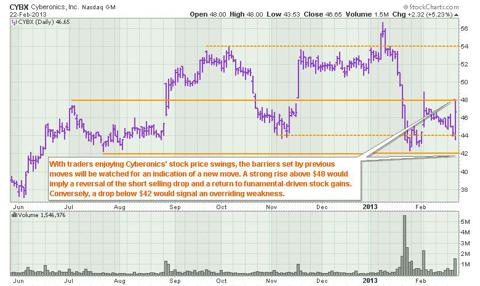 Click to enlarge
(Stock chart courtesy of StockCharts.com)
That clearly visible trading range gives CYBX both its potential return and risk. See-sawing at the bottom end of its recent drop, the question arises as to which way it is headed next. Is this a resting place from which the stock will fall lower? Or is it a foundation, upon which a new rise will be built?
I prefer the foundation-rise scenario, particularly following today's earnings report and outlook. The test will be how CYBX breaks above the trading range high of $48. A sustained move on good trading volume would be a classic signal that the stock has regained its footing.
The bottom line
An uncertainty was removed today as Cyberonics reported sales and earnings well above estimates, maintaining its recent record of success. Moreover, the discussion and outlook showed all the company's components to be operating well, including foreign sales and R&D results (which includes studies being done).
While the stock made a decent (5.2%) move today on the good news, it was less than what the outstanding earnings report would suggest. Moreover, with the stock well down from its 52-week high, there is ample room for simply regaining lost ground due to the overblown short seller scare.
Therefore, Cyberonics, the company, looks to be continuing its noteworthy growth. In the end, those fundamentals should drive CYBX, the stock.
Disclosure: I am long CYBX. I wrote this article myself, and it expresses my own opinions. I am not receiving compensation for it (other than from Seeking Alpha). I have no business relationship with any company whose stock is mentioned in this article.