The share price of Deere & Co (NYSE:DE) has recently dropped by 8.9% from its 52-week high of $95.60 achieved in January 2013. At $87.13 per share, the stock has only returned 3.4% over the past 12 months and offers a 2.1% dividend yield. Is a buying opportunity warranted by the current dip? In this article, I will elaborate on the stock valuation analysis which may assist you in formulating an appropriate investment decision.
From a relative valuation perspective, Deere appears to be attractively priced based on the firm's solid financial performance relative to its peers (see chart below). Consensus estimates on average predict the firm's revenue and EBITDA to grow at 2-year CAGRs of 4.6% and 8.4%, respectively, which are fairly comparable to averages of 4.1% and 8.4% for a group consisting of Deere's primary industry peers. However, the company's long-term EPS growth is forecasted to be 10.0%, underperforming the peer average at 13.1%. On the profit side, Deere demonstrates a superior performance as most of the firm's profitability margins and capital return metrics are notably above the par. In terms of leverage, Deere's debt level is markedly higher than the peer average as reflected by its above-average debt to capitalization and debt to EBITDA ratios. On the liquidity side, both the company's current and quick ratios are above the par, reflecting a healthy balance sheet condition.

To draw a conclusion, despite the lower long-term growth estimate, Deere's on-average near-term growth potential, strong profitability, as well as its solid corporate balance sheet should justify a stock valuation that trades near its peer-average level. Nevertheless, the current share valuations at 10.3x forward (next 12 months) EPS represents a 14.8% discount to the average P/E ratio of 12.1x for the peer group, suggesting that Deere stock is likely trading at the low end of its fair value range or even modestly undervalued (see chart above).
From a historical valuation standpoint, one would likely make a similar conclusion. Deere's trailing P/E multiple of 10.9x is trading close to its 3-year low (see chart below). The bottom valuation appears to be primarily driven by the company's declining growth trajectory in recent years (see chart below). However, given that Deere has been able to maintain steady profitability margins and capital return over the past 3 years and that the consensus growth estimates for 2013 reveal a stable trend, I believe the current valuation level presents a good entry point for long-term investors (see charts below).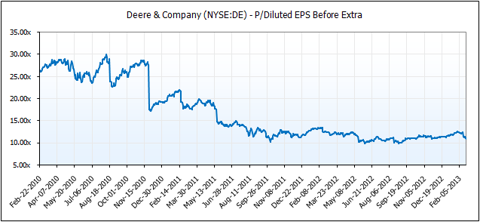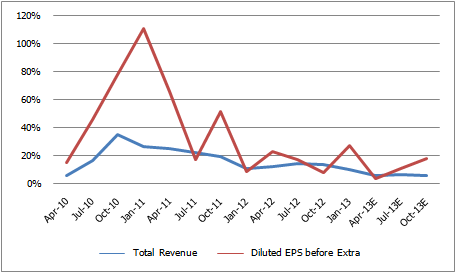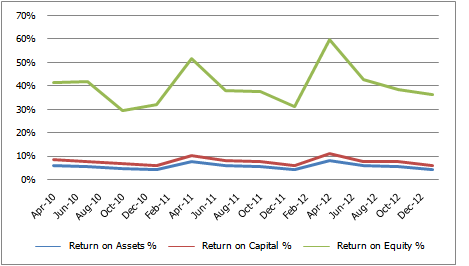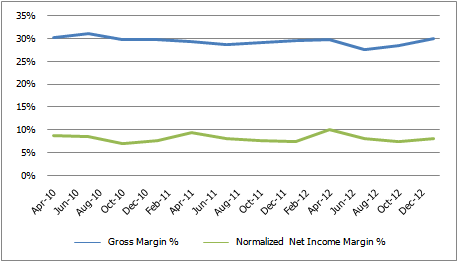 Further, Deere's forward P/E multiple of 10.3x is trading at a 27.2% discount to the same valuation multiple of the S&P 500 Index (see chart below). In my view, the stock's fair valuation should trade closer to the market level provided that 1) Deere's long-term estimated earnings growth rate of 10.0% is markedly above the average estimate of 8.2% for the S&P 500 companies; 2) the company offers healthy and steady profitability margins and possesses a decent market share in the global agriculture equipment sector; and 3) the stock's 2.1% dividend yield is fairly comparable to the average yield of 2.2% for the S&P 500 Index.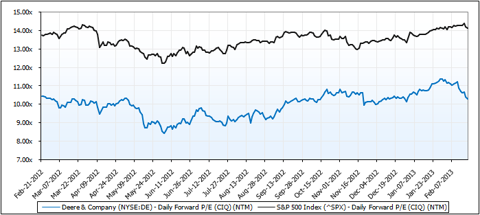 In early February, Deere released strong Q1 earnings results with both revenue and EPS exceeding market expectations driven by strong momentum in the agriculture and turf-equipment segment. The firm also raised the guidance for the current fiscal year due to higher equipment sales forecast. Despite the decline in share price following the upbeat earnings release, many sell-side analysts reiterated their buy ratings for the stock with higher target prices. In terms of the near-term growth prospects, Michael Cox, a research analyst at Piper Jaffray, wrote in a research note dated February 13, 2013 (sourced from Thomson One, Equity Research):
"In what feels like a repeat of last year, investors are already speculating on just how bad 2014 will be for farm equipment demand. As we formulate projections for FY14, we expect North America to remain relatively flat (assuming corn prices remain at $5/bushel), Europe to show recovery growth in the single digit range, and for Deere to continue its South America growth (despite a potential FINAME-induced hangover). Combining these factors - along with the growth in Construction that many had hoped for in 2013 - points to modest revenue growth and earnings growth approaching 10%."
Bottom line, in the light of Deere's solid financials, healthy growth prospects, and attractive valuations, the stock should deserve a buy rating and worth your consideration.
All charts are created by the author and all financial data used in the article and the charts is sourced from Capital IQ unless otherwise specified.
Disclosure: I have no positions in any stocks mentioned, but may initiate a long position in DE over the next 72 hours. I wrote this article myself, and it expresses my own opinions. I am not receiving compensation for it (other than from Seeking Alpha). I have no business relationship with any company whose stock is mentioned in this article.