Major banks and utilities are my favorite ways to invest in the BRICs. Brazil is my favorite BRIC since I choose to live here. The demographics are favorable in all the ways important to an investor. This includes growth in;
Economy
Population
Urban Population density
Middle class size
Per capita income
Discretionary income
Per capita energy use
Industrialization
Each of these fuels growth in energy demand, most particularly in electric demand. Furthermore, Brazil has some of the highest priced electricity in the world. Not good news for the consumer, but a pleasant statistic for shareholders of Brazilian electric utilities.
In this article, I analyze one of Brazil's largest and strongest electric utilities. CPFL Energia S.A. (NYSE:CPL), through its subsidiaries, engages in the generation, distribution, and sale of electric energy in Brazil. It generates electricity through hydroelectric, thermoelectric, sugarcane biomass, and wind power plants. The company currently has an installed generating capacity of 2,644 megawatts and is expanding. Founded in 1998, it is based in Sao Paulo.
Brazil's national growth is mirrored in the growth of CPL. Few companies in the world show such consistent trends in all the important metrics an investor wants.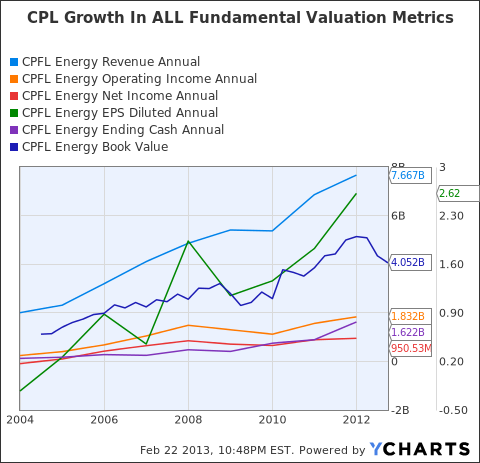 CPL Revenue Annual data by YCharts
Growth in:
Revenues
Operating income
Net annual income
Earnings per share
Cash on hand
Book value
Share price also has provided a strong historic growth trend with a few notable exceptions.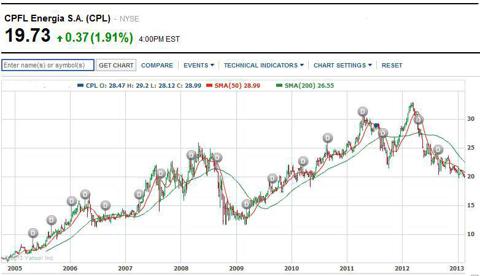 Click to enlarge
(source: schwab.com)
A lifetime history of growth was interrupted for a very short term by the global financial markets' collapse of late 2008. The strength of Brazil's economy and CPL had it back on track for more growth by January of 2009. This was a historic buying opportunity for bargain hunting investors created by external factors beyond the control of any company. Share prices fell from their all-time high of about $25.20 to $14.40, shedding 57% of its share price.
From January of 2009, shares advanced to reach a new all-time high of $32.98 in the week of March 5, 2012. Since that time, shares have declined sharply to their present level of $19.36 in a test of their 2010 support level. This 41.3% plummet in share prices is unfathomable. Shares did advance beyond conservative fair value metric pricing during the early part of 2012 but had pulled back to a reasonable $25.00 value by mid-May 2012. The fundamentals of CPL shown in the first chart and of Brazil's demographics remain those of continuing strong growth. Shares are now testing their support levels not seen since May 2010. Furthermore, they are doing so at a time the company continues to grow and expand at its historic trend rates. The plunge has been against a backdrop of solid fundamentals and performance metrics. This buying opportunity is even better than the one created back in 2008. In that prior window, the world was in the early stages of an unprecedented collapse of markets globally. Uncertainty, panic, and fear ruled the day. As such, that decline could be fully explained and justified as a normal reaction to uncertainty and the expectation of much a weaker economic environment ahead.
The current share decline has no such basis. It is contrary to all actual performance numbers and economic forecasts. Nonetheless, the slide has occurred. Prices now stand at the lowest conceivable support level they might have bottomed at. There is no more room down except to target sub-book value prices at $6.83 per share. A ridiculous price that there is no reason to even consider.
Let's take a look at dividends. The company has an excellent record of dividend yield and growth. Dividends began in 2005 and have continued semi-annually ever since. CPL pays two dividend disbursements per year. Generally the first in March or early April is the smaller of the 2 payments. A second payment made in August is somewhat larger. This semi-annual disbursement with asymmetric amounts accounts for why the chart looks a bit erratic.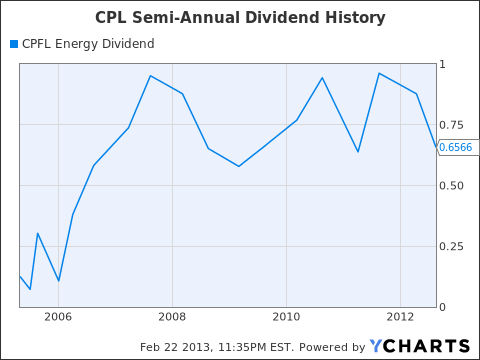 CPL Dividend data by YCharts
Dividend payouts per annum are actually much smoother and show good growth. The moderate decrease in annual payout for 2010-2012 is partly due to currency conversion rates and to greater use of funds by the company to accelerate expansion in preparation of for the 2014 World Cup and 2016 Olympic Games.
| | | | |
| --- | --- | --- | --- |
| Year | 1st Payment | 2nd Payment | Total for year |
| 2005 | 0.12233 | 0.306 | 0.42833 |
| 2006 | 0.097 | 0.365 | 0.462 |
| 2007 | 0.72467 | 0.897 | 1.59467 |
| 2008 | 0.894 | 0.777 | 1.671 |
| 2009 | 0.539 | 0.65433 | 1.1933 |
| 2010 | 0.76367 | 0.91467 | 1.67834 |
| 2011 | 0.60967 | 0.962 | 1.57167 |
| 2012 | 0.877 | 0.657 | 1.5340 |
Brazilian Real (BRL) exchange rate to U.S. Dollar (USD)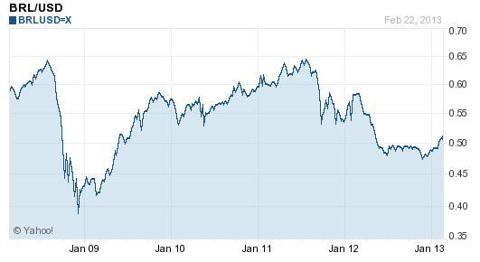 Click to enlarge
(source: schwab.com)
At the current share price, CPL has a trailing yield of 7.8%. This is slightly above its historic average of 7.5% yield. Most yield fluctuations have been due to share price fluctuation. On this metric, share price based on the trailing dividend could be expected to represent fair value at $20.45 per share. Based on revenue and net earnings growth at the same rate as in 2012, I forecast dividends for 2013 to total $1.93. A price of $25.73 is fair value for this $1.93 to represent the historic 7.5% yield on share price. The current trend of a weakening Brazilian Real exchange rate against the U.S. Dollar may further enhance the $1.93 projection once the favorable currency conversion is added in. This again confirms shares are deeply discounted at their present $19.73 price. At first look, the 94% dividend payout ratio to net income suggests current rates may not be sustainable. The utility industry is highly capital intensive and net income includes many non-cash depreciation and amortization items. Payout ratio based on cash flow is more meaningful for such an industry and is a comfortable 45% on that basis.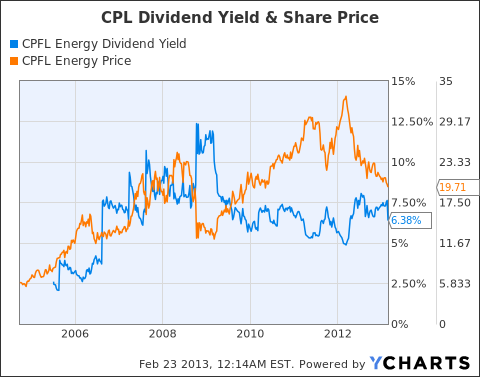 CPL Dividend Yield data by YCharts
In conclusion,
CPL is an excellent buy for value at its present $19.73 price
The present price represents a 7.8% yield on trailing 2012 dividend of $1.534
Yield on the forecast $1.93 2013 dividend is 9.8%
A forecast $1.93 dividend for 2013 represents a $25.73 price

based

on 7.5% dividend yield rate.
Share prices did get ahead of expected earnings and dividend yield for much of the 1st half of 2012 but their subsequent additional $8 decline makes them an excellent buy at this time.
Fair value at this time is in the $20.45 to $25.73 range, possibly even up to $26.50 with currency conversion benefits added into earnings projections.
At current market price the company makes an excellent takeover target and may attract suitors. This is especially true as the overall market cycle has reached a mergers and acquisitions phase at this time. Such activity would further enhance share price.
Given the abundance favorable factors and trends together with the lack of any negative outlook, investors should buy CPL right now for both yield and value. It represents one of the best opportunities on the globe for both income and growth at this time. Yields of 7.8% to 9.8% and rapid share price gains in the range of $0.72 (3.65%) to $6.00 (30.4%) should reward buyers that act now.
CPFL Energia S.A. can electrify your returns.
Disclaimer: I am not a licensed securities dealer or advisor. The views here are solely my own and should not be considered or used for investment advice. As always, individuals should determine the suitability for their own situation and perform their own due diligence before making any investment.
Disclosure: I have no positions in any stocks mentioned, but may initiate a long position in CPL over the next 72 hours. I wrote this article myself, and it expresses my own opinions. I am not receiving compensation for it (other than from Seeking Alpha). I have no business relationship with any company whose stock is mentioned in this article.