Harley-Davidson Inc. (NYSE:HOG) is the only large motorcycle manufacturing company in the United States. It has been around since the early 1900's, and has gathered a huge amount of fans since then.
HOG currently has a market cap of $11.59 billion, and is trading at $51.21/share (52-week range is $37.84-$54.62)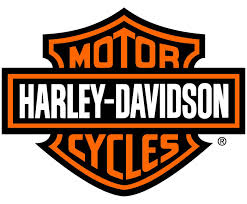 I will be looking at Harley's revenue and net income first. Then, I will examine the current liabilities and assets, followed by their assets and liabilities. To finish this article, I will look at the dividends Harley has paid out, and determine whether or not HOG is a good stock to own at current valuations.
All financial data is from Harley-Davidson's 10K-Forms, which can be found here. The graphs were all made by me, using Microsoft Excel.
Revenue and Income
Revenue for Harley-Davidson is mostly from motorcycles, with a smaller portion coming from its financial services.
HOG's total revenue was at $5.95 billion in 2008, but dropped to just $4.78 billion in 2009. It has been climbing back up ever since, reaching $5.58 billion in 2012.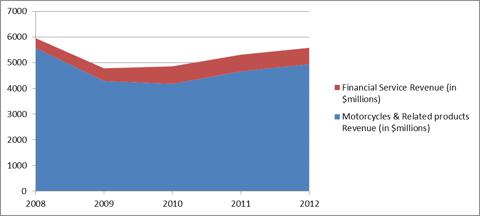 Harley's total revenue grew by 5.1% in 2012 (compared to 2011). This growth was entirely due to the motorcycle segment. Harley's financial service revenue dropped by 2% YoY.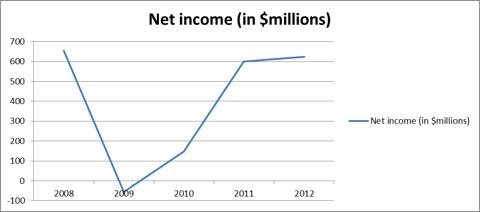 Even despite its rapid decline in earnings in the 2008-2010 period, the only year where HOG didn't have positive net income was 2009, when it was at a negative $55 million. Since then HOG has successfully climbed back up to close to the 2008 level (net income for 2012 was $624 million vs. $655 million in 2008)
Assets and Liabilities
Harley-Davidson had $5.4 billion in current assets in 2008, which has gone down to $4.1 billion in 2012. Fortunately, current liabilities have dropped from $2.6 billion to only $1.5 billion. This means that the Current ratio (a measure of a company's ability to meet creditors' demand, defined as current assets divided by current liabilities), has gone up from 2.07 in 2008, to 2.70 in 2012.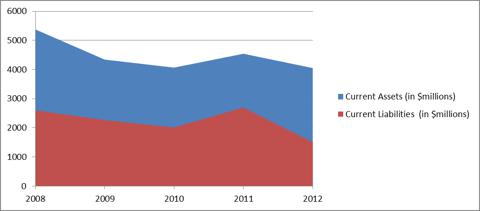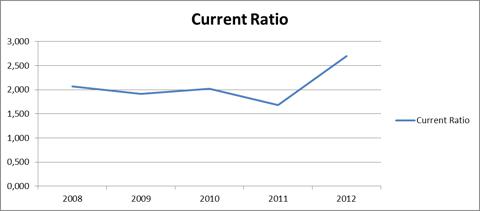 Last but not least, let's take a look at the dividend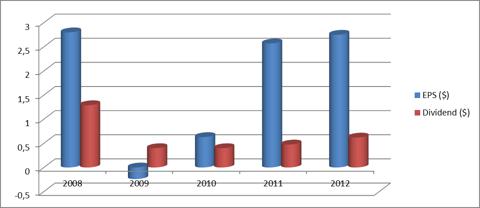 Harley's negative EPS in 2009 forced it to cut its dividend. It has been climbing back up ever since, going from $0.40 in 2009 to $0.62 in 2012. It's 2013 quarterly dividend will be $0.21, or $0.84 annually. At current stock prices, HOG yields 1.64%. EPS for 2012 was $2.75, which is only 2% lower than the 2008 level of $2.80. Dividends are a lot lower however, which allows the company to save up a lot of cash.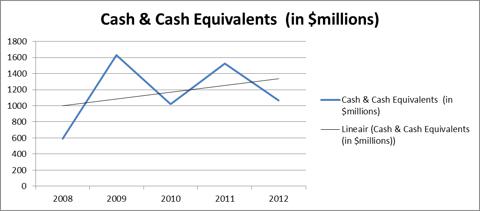 All things considered, I would love to own HOG as a dividend growth stock. Its growing EPS, combined with the low payout ratio gives the dividend plenty of room to grow. HOG's cash has been increasing over the years, while current liabilities have been going down. The stock's price has been very volatile, with a beta of 2.15 (Google Finance), so patience may pay off. I will buy HOG on any significant drop in price.
Disclosure: I have no positions in any stocks mentioned, but may initiate a long position in HOG over the next 72 hours. I wrote this article myself, and it expresses my own opinions. I am not receiving compensation for it (other than from Seeking Alpha). I have no business relationship with any company whose stock is mentioned in this article.