Share price of Michael Kors (NYSE:KORS) rose substantially by 43.8% in the past 12 months. At $59.11, the stock is trading close to its 52-week high of $65.10 just achieved recently. There are 3 compelling reasons to support my view that a significant price upside remains despite the solid price appreciation in the past year.
1. From a relative valuation perspective, KORS shares appear to be priced reasonably based on the company's solid financial performance relative to its peers (see chart below). Consensus estimates on average predict KORS' revenue, EBITDA, and EPS to grow at 2-year CAGRs of 45.6%, 64.6%, and 65.9%, respectively. Those estimates are overwhelmingly above the averages of 8.0%, 6.3%, and 8.9%, respectively, for Coach (NYSE:COH), which is KORS' closest comparable company. On the profit side, KORS' various profitability margins underperform those of Coach, but the difference is not significant. It is noted that KORS' capital return metrics are quite comparable to Coach's. In terms of liquidity, KORS' free cash flow margin is below Coach's benchmark, but the company's current and quick ratios are much higher than Coach's level, reflecting a highly liquid balance sheet.

As such, despite the relatively weaker profitability, KORS' robust growth potential, healthy capital return, and excellent balance sheet condition should bolster a solid stock valuation which commands a large premium over the peer average level. The current valuations at 14.2x forward (next 12 months) EBITDA and 26.8x forward (next 12 months) EPS together represent an average premium of 118.4% over Coach's trading multiples. Given the fact that KORS' 0.81x PEG is slightly lower than Coach's 0.85x level, the stock's premium valuation multiples appear to be completely reasonable (see chart above).
2. KORS' forward P/E multiple has been trending down over the past 12 months and is currently trading at its 1-year bottom level even with the following positive fundamental developments (see chart below):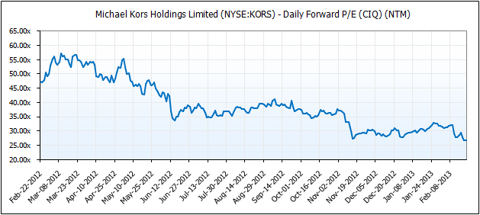 i) KORS' capital return measures including ROA, ROIC, and ROE have all seen a notable improvement over the past 12 months (see chart below);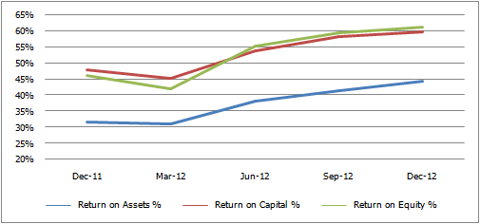 ii) The company has also been able to sustain a steady gross margin and lift both EBITDA and net profit margins significantly over the same period (see chart below);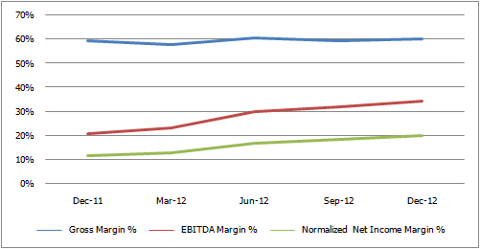 iii) KORS' consensus revenue, EBITDA, and EPS estimates for fiscal 2013, 2014, and 2015 have all experienced multiple upward revisions over the past 12 months (see charts below); and


iv) The company's revenue and EPS performance has consecutively exceeded market's expectations over the past 5 quarters.
3. According to Thomson One, analysts' average target stock price is $75.09, representing a solid upside of 27.0% from the current share price. It should be noted that even the lowest price target is at $70.00, still largely above the market price.
Kimberly Greenberger, a research analyst at Morgan Stanley, wrote in a research note dated February 13, 2013 (sourced from Thomson One, Equity Research):
"KORS is a top retail growth story with high estimate achievability in our view. We expect strong upwards EPS revisions to drive the stock higher. The company continues to capitalize on the unique advantage created by founder Michael Kors' fame. Our outlook calls for a 24% 5-yr sales CAGR driven by rapidly expanding revenues across geographies, channels, and categories. We forecast a 35% bull case EPS CAGR and believe the likelihood of KORS' bull case playing out is higher than that of any other stock we cover."
Bottom line, given the continued strong growth momentum and the reasonable valuation level, KORS is a buy and should be worth your consideration.
All charts are created by the author except for consensus estimate charts, which are sourced from Capital IQ, and all financial data used in the article and the charts is sourced from Capital IQ unless otherwise specified.
Disclosure: I am long KORS. I wrote this article myself, and it expresses my own opinions. I am not receiving compensation for it (other than from Seeking Alpha). I have no business relationship with any company whose stock is mentioned in this article.