On Tuesday, February 26, Wells Fargo's (NYSE:WFC) preferreds will begin trading ex-div. This means that if you purchase them on Monday you will still receive the dividend while any Tuesday buyers will not. In 2012, Wells Fargo issued two new preferreds - the 5.20% Series N in August and the 5.125% Series O in November. The Series N made its first dividend payment in December while the upcoming payment will be the first for the Series O. The 5.20% Series N closed on Friday at 25.48 while the Series O closed at 25.27.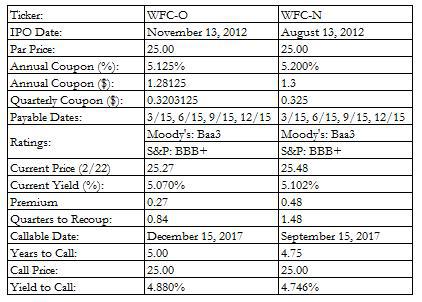 Ratings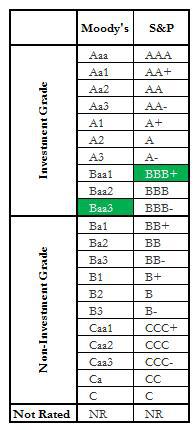 Wells Fargo's preferreds have investment grade ratings from both Moody's and S&P.
Wells Fargo Capitalization Ratios

By all three capitalization ratios, Wells Fargo is and has been a "well capitalized" financial institution.
Price History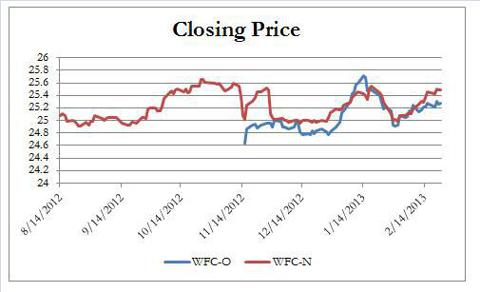 Since WFC-O was issued in mid-November, the two positions have traded relatively on top of one another. Given their very similar profiles this is not surprising. Recently, though, WFC-O has leveled off a little bit while WFC-N has continued to trend higher.
Premium
The current premium on WFC-N is $0.48, which will take two quarters to fully recover. WFC-O, however, has a premium of $0.27 which will be fully recovered in this dividend payment.
Current Yield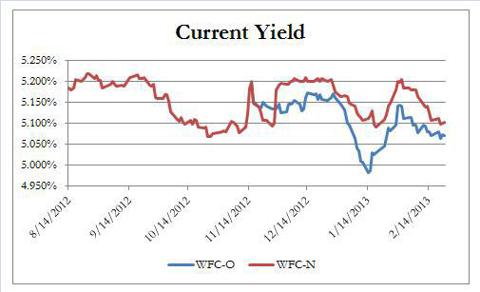 Like the price chart, the current yield of WFC-O and WFC-N have been very close to each other since WFC-O was issued.
Accrual Period
Because this is the first dividend payment for WFC-O, the accrual period is mid-November to mid-March, whereas the accrual period for WFC-N is mid-December to mid-March. With a longer accrual period, WFC-O actually has a larger dividend payment then its normal dividend payment. WFC-O will pay $0.4093 per share (versus the normal $0.3203125) while WFC-N will pay $0.325 per share.
Larger First Dividend Payment
Incorporating the larger dividend from this upcoming payment for WFC-O paints a very different current yield picture when compared to WFC-N.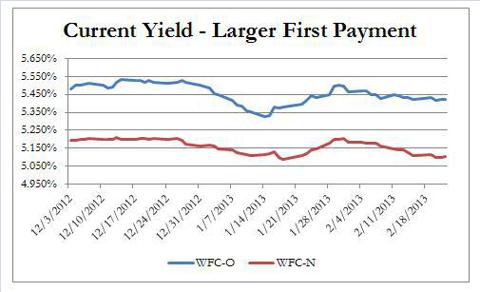 *The above chart uses a one year dividend payment for WFC-O of 1.3702375 ($0.4093 for one payment, $0.3203125 for three payments) and $1.30 (four payments of $0.325) for WFC-N.
Final Thoughts
Wells Fargo is regarded as one of the top banks and there are some very unique opportunities within their latest preferred. When looking at WFC-O, it trades at a smaller premium to WFC-N, offers a larger dividend this upcoming quarter, and has a comparable current yield when the larger upcoming payment is not incorporated. If you are comfortable with the underlying credit of Well Fargo, WFC-O offers a very unique opportunity if you purchase the preferred before Tuesday, February 26.
Risks of Preferreds: Prior to investing in any bank preferreds, it is recommended that potential investors make sure they understand the risks and nuances associated with the asset class. An overview of these risks is available in Navigating The Risks Of Buying Bank Preferred Stocks.
Ticker Reference Table: To help find preferred stocks on your trading platform, please see our Preferred Reference Table.
Disclosure: I am long WFC. I wrote this article myself, and it expresses my own opinions. I am not receiving compensation for it (other than from Seeking Alpha). I have no business relationship with any company whose stock is mentioned in this article.
Additional disclosure: This article is for informational purposes only, it is not a recommendation to buy or sell any security and is strictly the opinion of the author. Investors are strongly encouraged to do their own research and discuss potential investments with an investment professional.