By MaoTong Xu
Advanced Micro Devices (NYSE:AMD) has a full range of microprocessor products including CPU and APU and sells them for servers, desktop PCs and mobile devices, including mobile PCs and tablets.
Microprocessor Business
Due to the shrinking PC market, AMD suffered from a 20% decline in Computing Solutions division sales and 10% in GPU sales in 2012. The stock is traded around $2.60, much lower than its 52w high of $8.35. As the second largest player in the CPU and GPU manufacturing industry, AMD is more severely affected by the dreadful PC sales than Intel (NASDAQ:INTC), which only experienced a 6% drop in PC chips sale. Microprocessor unit market share of AMD dropped below 17% for the first time in several years. In the fourth quarter of 2012, the company implemented a restructuring plan designed to improve the Company's cost structure by laying off 14% of the workforce. AMD expects the restructuring action which costs $90 million will result in operational savings of approximately $190 million in 2013. Therefore the restructuring may cause cash flow problem for AMD.
Financials
Net revenue for 2012 was down 17.4% to $5422 million while the gross margin dropped from 44% to 22% due to write-off. Also we can see a significant decrease of cash and marketable securities from $1,765 million by the end of 2011 to $1,002 million by 2012. The company recorded a nearly 30% less of net receivable and an 18% more of inventories. It is obvious that AMD is making much less sales than the previous year.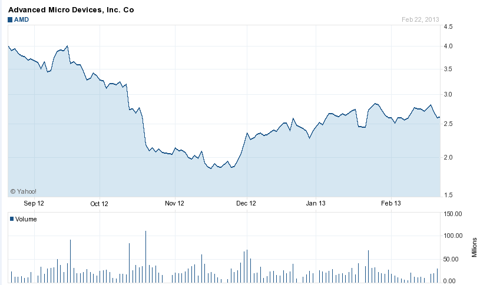 Windows Tablet
AMD APUs for mobile PC platforms consist of AMD A-Series APU, the AMD E-Series APU for everyday performance, the AMD C-Series APU for HD internet experiences, and the AMD Z-Series APU for Windows-based tablets. Chip makers have gone into another old school market share fight for tablet. While AMD announced that its Z-60 battery life is able to last for 10 hours of use, Intel Clover Trail and Nvidia (NASDAQ:NVDA) Tegra family claimed the same capability. But AMD does make an effort to tap on Window 8 tablets by introducing its latest Temash APU with Turbo Dock hybrid technology, which can strengthen performance when the tablet is docked. At the same time, Nvidia presented the world's first quad-core processor. Another powerful competitor is Qualcomm (NASDAQ:QCOM), with the near monopoly in the production of LTE chipsets. With its new quad-core chipsets, Qualcomm has started to expand from smartphone and Android tablet market into Windows 8 tablet market. On the other hand, Qualcomm holds a large number of patents in 4G LTE baseband, making it hard for AMD to enter the smartphone market. Similar smartphone chip manufactures stepping into the tablet market include Marvell (NASDAQ:MRVL) and MediaTek that both developed their quad-core chipsets while Samsung (SSNFL.PK) tends to use its own in-house manufactured chipsets. From a technology standpoint, AMD is in an unfamiliar market with no particular advantage.
The real problem is whether Windows 8 tablets can beat the already popular Apple (NASDAQ:AAPL) iPad and Google Android (NASDAQ:GOOG). Please note AMD has claimed that it has no interest in Google Android tablets.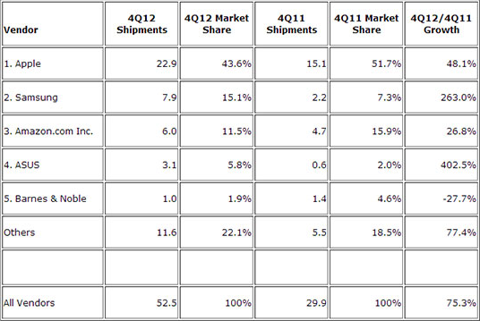 According to IDC, the iPad (in all its shapes) is still the most popular tablet - by a long way. Apple claimed a 43.6% market share for the last quarter, shipping 22.9 million tablets. Among the top five venders that account for 52.5% of total shipments, only Samsung and Asus have recently introduced Windows tablet. However, Samsung adopted Qualcomm CPU and Asus uses Intel Atom CPU. AMD is apparently not the top player in the tablet market.
Computing Solution - Server Processor
In March 2012, AMD acquired SeaMicro, Inc., an energy-efficient, high-bandwidth microserver company to accelerate its strategy to deliver more advanced technologies and expand the server market, which can be the next focus of AMD. At the end of 2012, the company launched the AMD Opteron 3300, 4300, and 6300 Series processor based on "Piledriver," the next-generation x86 multi-core architecture. The Opteron server processors are designed for cloud providers, web hosts, and small- and medium-sized businesses to achieve cost effectiveness and balanced performance. 3300 and 4300 chips are relatively inexpensive with prices ranging from $174 to $501, while the higher-end 6300 is priced from $575 to $1,392. According to PassMark performance ranking, AMD's FX-8150 Eight-core wins the best CPU value (CPU mark / price) with a score much higher than Intel Core i7-3770.
AMD's SeaMicro unit is probably the most passionate and nimble unit inside AMD during the decline of PC, and received significant attention when AMD CEO Rory Read said that microservers would be one of the key pillars of AMD's restructured business in 2013 and beyond. He claimed that 40 to 50 percent of AMD's future business will not be focused on PCs. Instead, he will aim half of AMD's business in three areas: At servers, which will leverage AMD's own CPUs, "third-party" CPUs, and will count on SeaMicro's server fabric to provide custom solutions. Microserver might be the last promising sector for AMD to expand.
Gaming Console
Another area for AMD to thrive will be APUs and GPUs for the gaming, industrial and communications market. Sony (NYSE:SNE) announced on Feb 20th its next-generation PlayStation 4 featuring eight-core AMD "Jaguar" CPU and the desktop-level Radeon GPU. The new PlayStation will be available for the holiday season 2013 and many people think it will be the turnaround of AMD. Indeed, AMD holds a dominant position in game console CPU and GPU. AMD products are adopted by all major game consoles including the Wii U, the PlayStation 4, and the rumored Xbox720. However, the situation is mostly due to the low margin on game console graphic chips so that Intel does not bother to compete. The overall game console sales is most likely uninspiring as Nintendo (OTCPK:NTDOY) recently cut Wii U sales forecast by 1.5 million. The release of PlayStation 4 at the end of this year and Xbox 720 can possibly boost AMD revenue in short term but will not sustain for the survival of the company.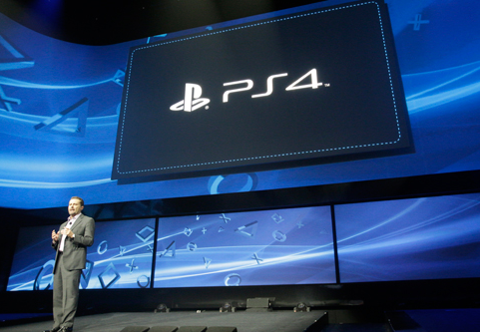 Conclusion
The survival of AMD in the long term depends on mobile device, microserver, and game console CPU and GPU. However, since the company has yet to hold a strong position in the mobile platform, AMD's growth will be heavily constrained by the existing major players such as Intel, Qualcomm, and Nvidia. The game console market as a whole is declining as people are shifting towards social and online games. Gaming will become a niche instead of a broad stream of revenue for AMD. Microserver is the last growing sector where AMD has technological advantages and the company is paying a significant amount of attention to become the dominant player. I believe Windows tablet and PlayStation 4 are not possible to turnaround AMD. My opinion is to sell.
Disclosure: I have no positions in any stocks mentioned, and no plans to initiate any positions within the next 72 hours.
Business relationship disclosure: Capital Traders Group is a team of Proprietary Trading and Equity Research Analysts. This article was written by MaoTong Xu, one of our Equity Research Interns. We did not receive compensation for this article (other than from Seeking Alpha), and we have no business relationship with any company whose stock is mentioned in this article.