Every once in while, a stock declines and gives investors a chance to buy on the pullback. While impatient investors often just buy even if a stock is trading at or near the top of the recent trading range, patient investors are sometimes rewarded when a stock comes back into the lower end of the recent trading range or what I call the "buy zone". Buying pullbacks at the right time can lower your cost basis but it can also limit the downside, if you buy a stock that is trading back down near key support levels. With this in mind, here is a closer look at a high-yielding stock that just hit the buy zone and may have bottomed out: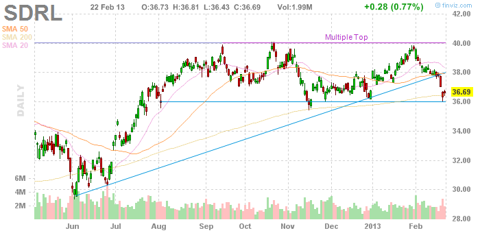 As the chart above shows, Seadrill Limited (NYSE:SDRL) shares have been in a trading range of between roughly $36 to $40, since August 2012. In late January, this stock rallied towards $40 again, but in recent days it has seen a pullback to just over $36. This appears to be another solid buying opportunity since the stock has had strong support around the $36 level for many months. This is one reason to consider buying the stock now but there are also a few more reasons why Seadrill looks interesting now:
Seadrill owns and operates a fleet of drillships, jack-up rigs, semi-submersible rigs and tender rigs which are used by the oil and gas industry in many parts of the world. Unlike some companies in this industry that have much older equipment, Seadrill has a modern fleet and this allows it to charge premium rates while reducing risks since mechanical failure can be costly and time consuming. Seadrill has been expanding its fleet of rigs and this could allow the company to grow profits and the dividend.
After a major slump from both the global financial crisis that started in 2008 and then the oil spill in the Gulf of Mexico, the offshore drilling industry now appears poised for a multi-year rebound. Some industry observers expect the growth to continue as demand for energy rises due to a rebounding global economy and from increases in energy uses from emerging market countries. As traditional oil reserves dwindle, companies must increasingly look offshore in order to replace the reserves and that is another reason why the offshore drilling industry should prosper in the coming years.
Seadrill is committed to paying a substantial dividend to shareholders. The company has been steadily increasing the dividend over the past few years. For example, in 2009 the quarterly dividend was 50 cents, but now it is 82 cents per quarter or $3.36 per share on an annual basis. That puts the dividend yield near 9%, and as earnings grow, the dividend could be poised to rise in the future. With the stock at the low end of the recent trading range, investors who buy now might not only receive a generous dividend, but also have a chance at capital appreciation if the stock rallies back to nearly $40. Since many of Seadrill's rigs have long-term contracts, the risks to this stock appear to be limited at current levels, unless of course, another financial crisis or a big drop in oil occurs.
Here are some key points for SDRL:
Current share price: $36.69
The 52 week range is $31.37 to $42.34
Earnings estimates for 2012: $2.54 per share
Earnings estimates for 2013: $3.09 per share
Annual dividend: $3.36 per share which yields about 9%
Data is sourced from Yahoo Finance. No guarantees or representations
are made. Hawkinvest is not a registered investment advisor and does
not provide specific investment advice. The information is for
informational purposes only. You should always consult a financial
advisor.
Disclosure: I have no positions in any stocks mentioned, and no plans to initiate any positions within the next 72 hours. I wrote this article myself, and it expresses my own opinions. I am not receiving compensation for it (other than from Seeking Alpha). I have no business relationship with any company whose stock is mentioned in this article.