The S&P 500 (NYSEARCA:SPY) has been on a tear since bottoming in the middle of November last year. Despite a minor correction in mid-December, year-to-date the return has been over 5% in one and a half months, and a more than 16% return over the last year! It is little wonder that fund flows have been showing money flowing out of bond mutual funds and back into equity mutual funds. But are retail investors once again buying when they should be selling?
It is obvious to everyone now, the 800 pound gorilla in the room is the Federal Reserve. And not only our central bank but almost all other central banks are massively easing as well. The Fed is scheduled to purchase MBS of $40B per month. The balance sheet will expand by $480B over the next year. It is believed that $480B will have about the same effect as a -50bp cut in the fed funds rate. In addition $45B per month of Treasury securities are being purchased per month. The annualized pace is more than $1 trillion.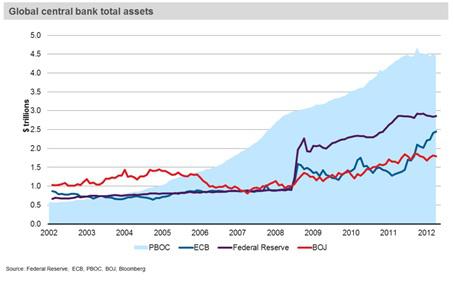 But even though the recovery may be based on liquidity from our central bank rather than true organic economic growth, should we not still attempt to profit from it? Also, maybe all of this liquidity is beginning to spark a fire. Let's look at a few traditional measures and early indicators of economic health. First, the housing market is key to the health of the U.S. economy. Housing starts are a strong economic contributor and they have staged a remarkable and ongoing recovery. Below is a chart of Housing Starts overlaid with Houses Sold, percent change in 1 year.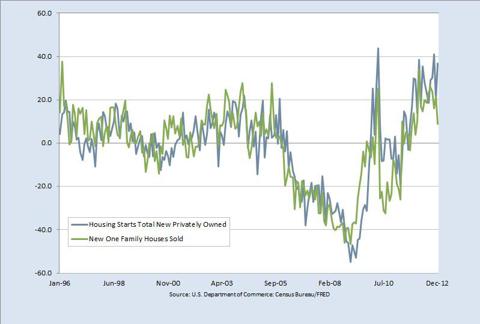 St. Louis Federal Reserve President James Bullard gave a speech February 14, 2013 in Starville, Mississippi in which he indicated that the current stance of U.S. monetary policy is "considerably easier than it was in 2012." In the speech he reiterated that the FOMC has promised to maintain the near-zero policy rate into the future, that the Committee has promised to maintain an "aggressive" asset purchase program, and that the Committee's outright asset purchases are a more "potent tool" than the "Operation Twist" program.
Finally, let's take a look at the latest S&P 500 earnings and estimate report.

With over 87% of companies reporting, over 75% have either beat or met expectations. Financials scored a strong second with more than 78% of companies either beating or meeting expectations.
The weight of the evidence indicates maintaining a long position in a proper asset allocation geared to your personal risk tolerance.
Disclosure: I am long SPY. I wrote this article myself, and it expresses my own opinions. I am not receiving compensation for it (other than from Seeking Alpha). I have no business relationship with any company whose stock is mentioned in this article.