Thesis
VOC Energy Trust (NYSE:VOC) units have plunged in price over the past four months and are now trading at a discount to their intrinsic value, as measured either by projected distributions or the PV-10 value of VOC's energy reserves. We believe that the price decline was caused by an overreaction to a temporary reduction in the quarterly distribution. As distributions increase, the units will likely trade higher. An investor purchasing units at $12.50 has the potential to earn income from both ongoing distributions and unit price appreciation.
Background
Vess Oil Company is a midsized energy company based in Wichita, Kansas that was founded in 1979. In order to finance its growth, Vess issued two publicly traded royalty interest trusts. The Company issued units in the MV Oil Trust (NYSE:MVO) in January 2007. And in May of 2011, the Company issued units in VOC. VOC's offering was underwritten by major Wall Street firms, including Raymond James, Morgan Stanley and RBC Capital Markets and priced at $21 per unit. We generally do not believe in purchasing new issues for a variety of reasons, including the fact that the purchaser usually indirectly pays the underwriting fees. In the case of VOC, the underwriting fees were $1.35 per share. Even the net price of $19.65 per unit appears a bit rich, given the PV-10 value of the underlying properties. The aggressive offering price may be partly explained by retail investors looking for ways to put capital to work in a very low interest rate environment.
Intrinsic Valuation
As each royalty trust is unique, it is important for an investor to look at exact terms of the trust in the prospectus. Unfortunately, many investors simply look at the previous 12 months and current quarter distribution to determine its value. One metric that is important to reference is the PV-10 value of the properties. The SEC mandates that oil and gas companies publish their PV-10 value as calculated according to FASB 932 in the prospectus and annual filings. PV-10 can be used by investors as a guide but is not definitive. Actual realized values could differ materially. For example, FASB 932 PV-10 assumes stable energy prices for long periods of time. Large increases or decreases in energy prices would obviously influence an investor's actual return.
Given that VOC has 17 million units outstanding and the May 5, 2011 IPO price of $21 per unit, the total enterprise value at IPO was $357 million. The PV-10 disclosed in the prospectus was $208 million as of December 31, 2010. The greater than 50% premium to PV-10 that the IPO was priced at can be partially understood in several ways. First, private markets' values for royalty interests are currently greater than PV-10 because of the low interest rate environment. In addition, VOC is potentially entitled to more than the 8.5 MMBoe of energy used in the PV-10 calculation. VOC was given a term net profit interests in various oil fields located in Kansas and Texas. Importantly, the net profits interest terminates on the later to occur on: (1) December 31, 2030, or (2) when the Trust receives 8.5 MMBoe in respect to the Net Profit Interest. Therefore, if the properties underlying VOC 's net profit interest produce more than 8.5 MMBoe of energy before December 2030, VOC will receive 80% of the proceeds.
Extrinsic Value or Market Value
Following the IPO, VOC's units traded as high as $24 in 2011 and 2012.VOC has made the following distributions:
Jan 28, 2013 0.26
Oct 26, 2012 0.46
Jul 26, 2012 0.60
Apr 26, 2012 0.69
Jan 26, 2012 0.44
Oct 27, 2011 0.56
Jul 28, 2011 0.86
Total Distributions: $ 3.87
The Crash
Following VOC's October 18th, 2012 earnings release, VOC's unit price declined by 25% in 15 trading days and have since fallen an additional 10%. Over the same time period, energy prices were essentially unchanged and the total amount of energy owed to VOC was also unchanged. While it is generally impossible to determine exactly what moves a publicly traded security, here are some factors that we believe are behind the dramatic decline:
The royalty trust universe was overvalued in the summer of 2012. Yield starved investors were simply looking at the historical dividends to determine market price, without regard to the underlying terms of a given trust. On July 16, 2012, Whiting USA Trust I (NYSE:WHX) was trading at $18 per unit, and WHX was distributing around $.70 per quarter. Shane Blackmon published on seekingalpha.com a thoroughly researched column on July 17th that demonstrated why WHX's distributions would cease by 2015. He explained that WHX 's royalty interest was similar to an interest only strip of a bond. WHX was owed a certain quantity of oil, and once the quantity was delivered, all distributions would cease. In the five trading days following Shane's article, WHX's units declined by 50%. By December 31st, WHX's units had lost more than 70% of their market value.
Following Shane's piece, the Intelligent Investor columnist for the Wall Street Journal Jason Zweig published an article August 24th that was critical of the entire energy royalty sector. He argued that many of the trusts routinely traded above intrinsic value as income investors blindly search for yield. He was particularly critical of the largest royalty trust, BP Prudhoe Bay (NYSE:BPT). In the two weeks after his article was published, BPT lost 30% of its value. Over that same time period, energy prices were unchanged as were estimates of BPT's oil reserves.
Given these dramatic declines, the public market became overly sensitive to negative information. In our opinion, while the public markets had overvalued certain royalty trusts by last summer, by the end of December it was undervaluing many of them. Against this difficult trading environment for royalty trusts, one can begin to understand the market reaction to VOC's third quarter earnings release.
On October 18th, VOC reported its quarterly results. VOC announced that the distribution for the quarter was only $.46, $.10 less than the third quarter distribution in 2011. The reduction was due to withholding for one-time charges associated with one failed well in the Kurten Woodbine Unit. In addition, VOC announced the future distributions would also be impacted. Specifically, the Trust was responsible for $3.2 million in total costs in connection with the failure and had only withheld $1 million from the third quarter distribution. In the fourth quarter, an additional $2.2 million would be withheld. The market reaction was surprising. The units lost a total of $107 million in market value ($6 per unit or over 30%) as compared an actual liability of $3.2 million.
VOC's units traded up a bit in early January along with other royalty trusts. However, following the January 17th earnings release, the units declined in price by 10%. The fourth quarter distribution was lower than the third quarter because of increased costs. Specifically, expenses were higher because: (1) the already disclosed costs associated with the failed well; (2) VOC pays certain taxes in the fourth quarter; (3) VOC had expenses associated with developing two new oil wells that had yet to begin producing.
VOC's production, revenues, and operating expenses are shown below.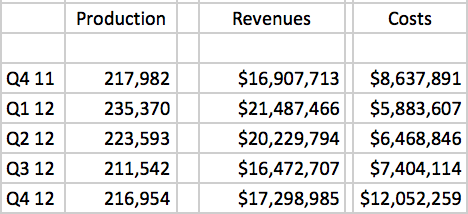 As shown in the chart above, production in fourth quarter 2012 was actually up over third quarter 2012, and essentially unchanged from fourth quarter 2011. Importantly, production is generally stable each quarter and should slightly increase next quarter given a new well. Costs in fourth quarter of 2012 as compared to fourth quarter 2011 did increase from $8.6 million to $12 million. Most of the increase ($2.2 million of the $3.4 million increase) can be explained by the failed well.
We do not believe that one failed well will have a long-term impact of future distributions. Aside from this one well, VOC has interests in 105 other producing wells in Kurten Woodbine. Even if this one well had been larger than others, it would've still been a fairly small percentage of Kurten Woodbine's total production. Also, the Kurten Woodbine property only accounts for 34% of VOC's PV-10 reserves. To summarize, the failed well was 1 in a field of 105 that accounts for only a third of VOC net profit interest.
The terms of VOC's net profit interest affords it an additional margin of safety. Both the third quarter 10-Q and the January 17th earnings release clearly affirmed the total reserves that support VOC's net profit interest in spite of the problem with one well. But if somehow this one well was able to impact or poison the whole Kurten Woodbine field (the nightmare scenario), an investor is still protected. VOC is owed a specific minimum quantity of energy. Therefore, VOC's distributions are not directly tied to only production from Kurten Woodbine. If there are continuing problems at Kurten Woodbine, VOC can earn revenue from its net profit interests in other fields located in Texas and Kansas.
Conclusion
We believe that the market has overreacted. VOC may not be worth $19. But we do think VOC is worth at least its PV-10 value of $15.17 per unit that was stated in the December 31st, 2011 10-K filing. Again, when it went public, VOC sold at a significant premium to PV-10. Given a $12.50 unit price and VOC's stable production history, there is a significant 20% upside with little downside. And until the units revert over time to their PV-10 value, an investor should collect annual distributions representing over 15% of their cost basis.
Risks
As with any investment, there are risks to investing in VOC. Risks include the following:
A long-term decline in energy prices would reduce future distributions. VOC has hedged some of its production through 2014. After that, VOC revenues will fluctuate with oil prices.
Vess Energy is a relatively small and unknown energy producer. VOC is dependent on Vess operating the fields in a fiducially prudent and responsible manner.
President Obama has repeatedly called for higher taxes on energy producers. The units would be negatively impacted in the unlikely event the president were actually successful in reducing or eliminating the tax treat for depletion. The president has generally focused his proposals on large producers, not small producers such as VOC.
Disclosure: I am long VOC. I wrote this article myself, and it expresses my own opinions. I am not receiving compensation for it (other than from Seeking Alpha). I have no business relationship with any company whose stock is mentioned in this article.
Additional disclosure: Montrose Capital Group LLC is a private investor focused on reactive event driven investments. Montrose is in the business of actively buying and selling securities and other financial instruments for its own account. Montrose currently maintains an effective long position in the VOC. The presentation is not investment advice or a recommendation or solicitation to buy or sell any securities. Please consult your own advisor. Investing in VOC involves risk, including the severe loss of principal.