The last time I wrote at length about the Canadian economy, I was looking forward to a strong 2012 performance partially based on optimistic projections from the Conference Board of Canada. While I ended up investing in individual Canadian-based stocks, I thought of iShares MSCI Canada Index Fund ETF (NYSEARCA:EWC) as the way to play the strong Canada thesis. Just five months later, in April, 2012, I noted that EWC had printed a major topping pattern. EWC remains well off its post-recession peak from 2011, and it has yet to break through the lower peak that formed in early March, 2012.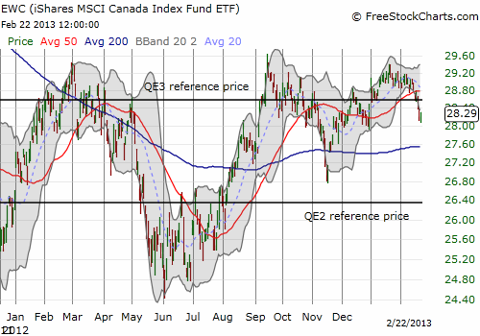 Click to enlarge
EWC has struggled to break 2012 highs
Source: FreeStockCharts.com
The lines for the QE2 and QE3 reference prices indicate where EWC traded the day before the U.S. Federal Reserve announced its respective programs of quantitative easing. The small benefit from QE2 lingers, but QE3′s impact is already waning.
Not only has EWC struggled to break 2012 highs, but its 6.8% performance in 2012 was just half of the 13.5% gain logged by the SPDR S&P 500 (NYSEARCA:SPY). That under-performance seems set to continue as concerns grow about Canada's slowing economy.
In 2012, the yield curve for Canadian government bonds flashed a major warning signal. In particular, the gap between 2-year and 5-year bond yields fell dramatically from March to May following a more steady decline in 2011 (note the coinciding peak in EWC in April, 2012). Fast forward to today, a few days before Canada provides GDP estimates for the fourth quarter, and consensus expectations are set for anemic 0.7% quarter-over-quarter growth. On Friday, February 22nd, Canada released dismal retail numbers showing a monthly decline of 2.3%, a drop that was far larger than the forecasted 0.3% decline. The 0.7% year-over-year decline was the worst since December, 2009. It all adds up to a high likelihood that GDP for the fourth quarter will be even weaker than feared. The Canadian dollar (NYSEARCA:FXC) dropped in response. The U.S. dollar soared against "the Loonie", at one point to levels last seen June, 2012.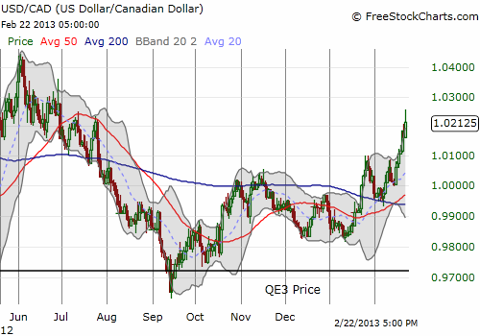 Click to enlarge
The U.S. dollar has steadily risen against the Canadian dollar since QE3
Source: FreeStockCharts.com
While the recent run-up of the U.S. dollar against the Canadian dollar has been notable, even more remarkable is the steady appreciation in USD/CAD ever since the U.S. Federal Reserve announced QE3. I can only make sense of this change by assuming that the market believes that the latest round of easing in the U.S. will eventually force the Bank of Canada to drop interest rates again OR that a refusal to ease will allow Canada's economy to weaken further. The Bank of Canada has left interest rates at 1.0% since last raising them September 8, 2010.
The case for a weaker Canadian dollar is demonstrated in Canada's poor export performance ever since the U.S. dollar began its secular decline in 2000. The Canadian dollar appreciated rapidly against the U.S. dollar after 2002. Within six years, the currency pair dropped to parity, a 31-year low. In recent years, we have become accustomed to USD/CAD trading around parity, but this is a historical oddity. The charts below show the historical trends in real Canadian exports in goods and services and the USD/CAD currency pair. Note how the strong acceleration in exports came to a screeching halt in 2000. Exports have also yet to fully recover from the destruction of the 2008/2009 recession.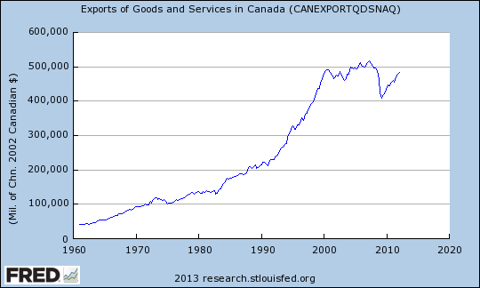 Click to enlarge
Canadian exports came to a screeching halt around 2000 and have largely failed to grow ever since
Source: St. Louis Federal Reserve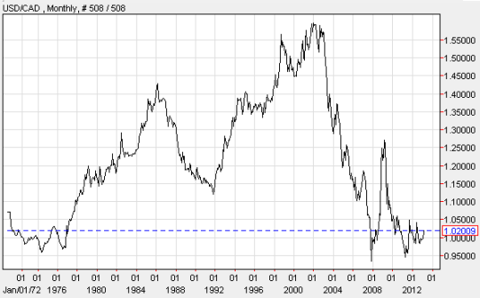 Click to enlarge
USD/CAD has spent most of the past 30+ years above parity. The U.S. dollar was the stronger currency from 1977 to 2002
Source: DailyFX.com charts
I focus here on exports because the Canadian economy is so heavily dependent on exporting goods and services to the U.S. In 2012, the U.S. accounted for 73% of Canadian exports. Moreover, the U.S. accounts for 62% of imports into Canada. Canada is the second largest supplier of imports to the U.S. The strong link is inescapable. The chart below shows the near perfect correlation between the U.S. and Canadian economies on an annual per capita basis.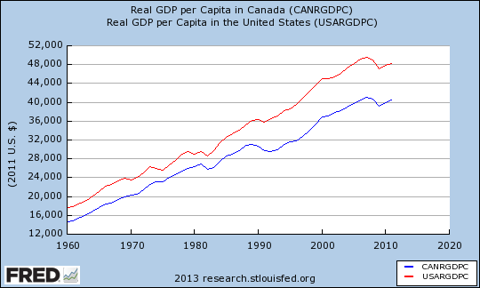 Click to enlarge
Real GDP per Capita in Canada versus the U.S.
Source: St. Louis Federal Reserve
With such tight linkages, the exchange rate between the U.S. dollar and the Canadian dollar becomes an important arbiter of relative success of the two economies. It seems the time has finally come for the Canadian dollar to weaken, perhaps substantially from current levels. The performance of the U.S. economy is of course a main wildcard.
I was caught flat-footed by Friday's run-up as I was resting too comfortably in a small short USD/CAD position. I will be unloading that sometime this week. After that, I will very likely focus on opportunities to trade long USD/CAD.
Be careful out there!
Disclosure: I have no positions in any stocks mentioned, and no plans to initiate any positions within the next 72 hours. I wrote this article myself, and it expresses my own opinions. I am not receiving compensation for it (other than from Seeking Alpha). I have no business relationship with any company whose stock is mentioned in this article.
Additional disclosure: In forex, I am short USD/CAD.