Introduction to Boyd and the Borgata
I'm certain: The Borgata in Atlantic City is going to be Boyd Gaming's (NYSE:BYD) secret weapon. I'm bullish on the Borgata in Atlantic City and that makes me bullish on Boyd Gaming right now -- even if they're in the midst of a downtrend, a downgrade by Goldman Sachs and a revenue decline in Atlantic City.
Boyd gaming owns a 50% stake in the Borgata; Atlantic City's premier casino. Anyone who's ever been there understands why Borgata is the best bar none; "Located at Renaissance Pointe in Atlantic City, Borgata Hotel Casino & Spa features 2,000 guest rooms and suites; 161,000 square feet of gaming; 182 gaming tables; 3,475 slot machines; an 85-table poker room; 11 retail boutiques; 6 acclaimed fine dining restaurants by renowned chefs; 6 casual dining options; a 54,000 square foot spa; 70,000 square feet of event space; 4 signature nightlife experiences; and parking for 7,100 cars. The resort also features Atlantic City's first cosmopolitan hotel experience, The Water Club at Borgata, with 800 guest rooms and suites; a 36,000 square foot spa; 18,000 square feet of meeting space; 6 designer retail boutiques; and 5 heated indoor and outdoor pools."
While I know Boyd is certainly made up of far more than the Borgata -- it's got 15 properties and about $5 billion in assets -- using the Borgata as the litmus test for the corporation as a whole leads me in the bullish direction.
From Boyd's website. "Founded in 1975, Boyd Gaming Corporation is one of the largest and most successful casino entertainment companies in the United States. We currently own and operate 22 gaming properties in eight states - Nevada, New Jersey, Illinois, Indiana, Iowa, Kansas, Louisiana and Mississippi. One of the most respected names in the gaming industry, Boyd Gaming prides itself on offering guests an outstanding entertainment experience, all delivered with the unrivaled attention to customer service that is known as Boyd Style."
Boyd had revenues of $2.34 billion in 2011. Borgata's revenue made up about 30% of Boyd's 2011 revenue.
From Boyd's 2011 10-K press release:
Borgata's net revenues for the fourth quarter 2011 were $176.4 million, up 4.5% from the fourth quarter 2010, while Adjusted EBITDA rose 11.0% to $37.9 million in the same period. The EBITDA growth was driven by a 7% increase in gross gaming revenue, as well as a 110 basis point improvement in operating margins. Borgata continued to lead the market, achieving an all-time record market share of 21.2% in the fourth quarter.

For the full year, Borgata's net revenues fell 1.1% to $730.3 million, while Adjusted EBITDA declined 6.7% to $158.1 million. Full-year results were impacted by heightened competition in the region, as well as the three-day hurricane-related closure of the property over a weekend in late August.
Bearish Recent Trend, Downgrades and Revenue Dips
Here's how Boyd has fared recently: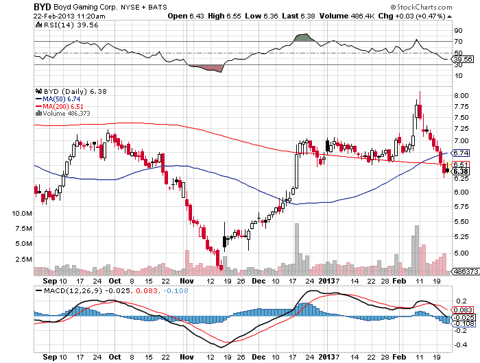 As you can see, the price is enticing as it's off from its recent highs of just above $8/share. You have what looks like the beginning of some consolidation around the $6.38-$6.50 area, as the 200 day moving average is going to be expected to provide some support here. You also have the 50 day moving average crossing the 200 day. Technical traders might want to wait until the RSI continues downward for an entry point -- I like where we are right now.
The stock has clearly been clipped in the face of a Goldman Sachs downgrade of Boyd, but I'm letting it ride on Borgata and Boyd. Goldman Sachs stated:
Boyd is susceptible to competition because 77% of its business is in traditional, regional gaming markets, and demand is struggling given its "core mid/low market consumer." Online gambling "could ultimately be big," Kent and Ahwoi say, but "it could take longer than expected to roll out and will be very competitive, with high promotional activity, which in turn could lead to lower-than-expected margins."
The shares have been trading at a discount to their historical average of 8 times Ebitda, but Goldman maintains that the gambling business is a "more challenged business now than it was in the past." Shares of the company were up more than 12% in recent days, versus a flat return for the Standard & Poor's 500 Index, following news that New Jersey is passing legislation to allow online gaming. Boyd operates the Borgata casino in New Jersey, but Goldman says that while it may benefit, "we suspect the opportunity is much less than expected and will take longer to realize."
Boyd's balance sheet leverage, with 6.5 times net debt to earnings before interest, taxes, depreciation and amortization, makes it more difficult to accomplish a transformative deal like conversion to a real estate investment trust. And an acquirer might not find that debt attractive.
In addition to this, revenue numbers for the Borgata are down 9% according to January 2013 data. Even in the midst of this, with the technical indicators and two catalysts I'll note, I see Boyd Gaming as a value buy right now.
Two Reasons I'm Betting On Borgata to Act as Catalyst for Boyd
1. Revel Casino is Screwed
Revel was supposed to be the big casino in Atlantic City that was going to give Borgata serious competition. Millions watched to see if Revel was going to be the palace to dethrone Borgata's run as top revenue producer in AC (Revel recently placed 11th out of 13 casinos in gaming revenue). With hundreds of millions in grants and support from the New Jersey government and a sizable endorsement from the sizable Governor, it's now found itself in bankruptcy.
Aside from the gaming market declining as a whole, here's a small slice of what went wrong when Revel took on too much debt to begin with:
Revel pushed ahead with construction plans despite warning signs that Atlantic City's good luck was fading. In early 2009, construction on the interior of the building stopped, then started again after they got more cash. Then in April 2012, Morgan Stanley pulled out its stake in the project. The extra money came from N.J. state taxpayers and J.P. Morgan. Since opening, Revel has had tax liens filed against them, extended their line of credit multiple times, and there was threat of foreclosure or tax auction. Their total debt: $1.2 billion.

When Revel started to have financing problems in 2009, they had two options: stop construction completely and leave the building empty, or push on. They pushed on and here we are today
With Revel essentially out of the way (even though Christie is going to continue to throw money at it), the Borgata is going to be defending its title as the premium, upscale casino in Atlantic City. Revel was the first real challenger to take a shot at the title that Borgata has coveted, and it's looking like a first round KO by Borgata.
The instant bankruptcy from Revel is going to:
Scare away more potential business from gaming there -- business that will end up at the other high-class casino in AC
Cast a shadow over Revel's business practices
Create a reputation of being a failure that is going to be incredibl

y

tough to shake
2. Borgata's In-Room Gaming Will Revolutionize Casinos
Welcome to the future. Borgata is leading the charge on in-room gaming, essentially a system that turns your television into a virtual casino. Patrons can load an eWallet account on check-in and enjoy gaming while they're still in bed, waiting to go out, or not presentable to make their way down to the gaming floor.
It's going to be the first of its kind anywhere in the United States.
A recent Borgata press release stated:
Consistently at the forefront of new and innovative technology, Borgata Hotel Casino & Spa today announced its intention to offer Allin Interactive's ITV in-room gaming platform, DigiCasino™, which has been approved by The New Jersey Division of Gaming Enforcement. This will mark the first instance that an Atlantic City casino will offer mobile gaming since the passage of the legislation that was approved and signed by Governor Christie in August. It is also the first time in-room gaming will be offered anywhere in the country and it will be available exclusively at Borgata.

Scheduled to launch on Monday, February 18, Borgata E-Casino will enable adult hotel guests who are MyBorgata Rewards members the opportunity to wager on slots and video poker games brought to them via Allin's interactive high definition television service featured in each of Borgata's 2,000 rooms and suites. This ever-evolving platform has the potential for a myriad of additional games to be added. Customers will be allowed a maximum purchase of $2,500 gaming credits for in-room gaming per 24-hours. The extensive controls to prevent access by minors that is included in the technology will be evaluated during the field trial.
In-room gaming is going to:
Be the first of its kind in the US, which will attract generous media
Make players a revenue source when they're both on the casino floor and now in their rooms as well
Be a trend that, when successful, could easily be adapted in Boyd's other casinos
Conclusion
Considerable risk exists here. Again, Atlantic City revenue as a whole is on the decline, Goldman Sachs has downgraded Boyd as a whole and late 2012 data is showing a small decline for the Borgata itself.
However, supported by its other properties and at its current price, Boyd is a value buy. It's trading almost 20% off its recent highs and it has technical support in addition to the above catalysts that make me bullish on Boyd for the mid to long term.
Good luck to all traders.
Disclosure: I have no positions in any stocks mentioned, but may initiate a long position in BYD over the next 72 hours. I wrote this article myself, and it expresses my own opinions. I am not receiving compensation for it (other than from Seeking Alpha). I have no business relationship with any company whose stock is mentioned in this article.