To all those who sent their request for a report on their portfolio at my website, a big thank you and I hope you received a report that you found helpful.
One thing that stood out from the responses was the number of investors who have portfolios that are highly correlated. Take for example this portfolio with its typical constituents:
iShares MSCI EAFE Growth Index ETF (EFG), iShares MSCI EAFE Value Index ETF (EFV), iShares Morningstar Small Value Index ETF (JKL), Vanguard Small Cap Growth ETF (VBK), Vanguard Small Cap Value ETF (VBR), Vanguard European Stock ETF (VGK), Vanguard Pacific Stock ETF (VPL), Vanguard Value ETF (VTV), Vanguard Growth ETF (VUG), Vanguard FTSE Emerging Markets ETF (VWO).
While they are likely all good securities individually, when put together as a portfolio, they may very well create a time bomb.
Don't Judge A Book By Its Cover
At first glance, it appears like a reasonable portfolio. There appears to be diversification across growth and value stocks. There seems to be geographical diversification. And there is even diversification across fund managers.
But when you calculate the pair-wise correlations among these securities, it becomes glaringly clear that there is quite a bit of positive correlation among them. Look at the figure below which shows the pair-wise correlation between the iShares MSCI EAFE Growth Index ETF and the rest.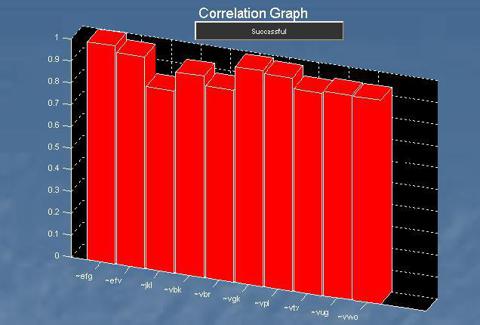 While one would expect the correlation between ETFs of the same focus to be highly positively correlated, the fact is all the ETFs in this portfolio including the ones that have different geographic focus are highly positively correlated.
The average of the pair-wise correlations among all 10 securities is in fact over 91%! In other words, when one security moves down, it is highly likely that all move down together (more precisely, with respect to their averages), and vice versa.
Leaner and Meaner
Your first step towards a better performing portfolio would be to trim the highly correlated securities. Getting rid of the ones which have above average correlation with the rest of the securities in the portfolio leaves us with the following 3 securities which now have a lower average correlation of 84%.
iShares Morningstar Small Value Index ETF
Vanguard Small Cap Value ETF
Vanguard FTSE Emerging Markets ETF
Adding Muscle
The second step would be to add some securities that are negatively or lowly correlated with the trimmed portfolio.
Given that ETF investors are normally investors who do not have the time to monitor a whole bunch of stocks, I have only included 2 out of a possible 12 that have been qualified for inclusion.
The two stocks that have been added are Potash Corp of Saskatchewan (POT) and Western Refining (WNR).
You can naturally choose your own lowly correlated stocks but these come from the Model45 portfolio on my website (you can subscribe for free to see the whole list).
Adding these 2 stocks reduces the average pair-wise correlation of this particular portfolio significantly down to 40%.
Performance Charts
Reducing the average correlation among the securities in a portfolio normally reduces portfolio volatility which in turn leads to better return. Let's look at the portfolio growth of the original, trimmed, and re-structured portfolios to see if this bears out.
As is always the case throughout my articles, we use starting portfolio values of $100 so it is easy to translate to percentage growth. Taxes, commissions, and the use of a risk-free proxy are not included in the calculations. Price data has been sourced from Seeking Alpha on a dividend-adjusted basis. The results are obtained by going back in time to use only the data available as at each review point, calculating the optimal weights, then going forward to compare the performance between the optimized and equal-weights portfolios. The portfolios are assumed to be 100% invested throughout. C.A.G.R. stands for Compounded Annualized Growth Rate, A.D.C.R. denotes the mean Annualized Daily Compounded Rate, and V Ratio is the standard deviation of the Annualized Daily Compounded Rates divided by their mean.
Original portfolio of 10 securities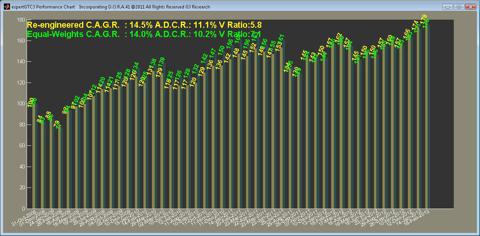 Trimmed portfolio of 3 securities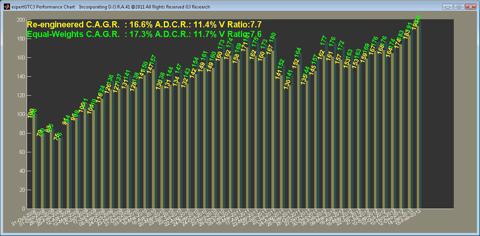 Re-structured Portfolio of 5 securities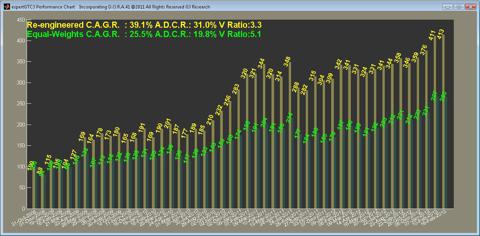 Note: The slightly differing end dates are due to D.O.R.A. choosing optimal rebalancing periods.
Observations
1. Focusing on the equal-weights portfolio (green bars) for now, trimming the portfolio of ETFs from 10 to only 3 did not reduce performance. On the contrary, it improved performance slightly from 14% to 17.3% (C.A.G.R.) / 10.2% to 11.7% (A.D.C.R.) while only increasing the volatility ratio slightly from 7.1 to 7.6.
Having more than a few highly correlated securities in your portfolio offers little diversification benefit and is in fact detrimental to the health of your portfolio.
2. Adding the 2 lowly correlated stocks to the portfolio of 3 ETFs increased the portfolio growth from 17.3% to 25.5% (C.A.G.R.) / 11.7% to 19.8% (A.D.C.R.) and reduced the volatility ratio from 7.6 to 5.1 for the equal-weights portfolio.
In other words, just having a lower correlated portfolio yields performance advantages. Note that the original portfolio was trimmed and the 2 stocks were added on the basis of correlation with no attempt to find the ones with the best returns.
3. Finally, look at the gold bars in the restructured portfolio where the C.A.G.R. and A.D.C.R. have increased significantly to 39.1% and 31%, respectively, with a volatility ratio that reduced even further to 3.3. This is where the power of the D.O.R.A re-balancing algorithm comes into play.
In other words, while you can already reap the benefits of diversification from lowering the average correlation of your portfolio, you can use optimization to maximize your return and minimize your volatility. Diversification and optimization are not one and the same thing.
Conclusion
So the good news is that you can make your all-ETF portfolio better by simply adding in a security with a low or negative correlation coefficient.
What I did in the above analysis was to first apply the correlation filter to the Original portfolio of ETFs to trim it down to 3 survivors. With these 3 survivors artificially intact, I went on to see which of the Model45 stocks would improve overall portfolio efficiency.
The bad news is if the correlation filter were to be applied to the Original portfolio of ETFs and Model45 as a whole, there would be no ETF survivors.
Even so, ETFs have their inherent advantages in terms of tax and transaction costs, and if you must invest in them, it would serve you well to protect the downside by applying some real rather than perceived diversification.
Disclosure: I have no positions in any stocks mentioned, and no plans to initiate any positions within the next 72 hours. I wrote this article myself, and it expresses my own opinions. I am not receiving compensation for it (other than from Seeking Alpha). I have no business relationship with any company whose stock is mentioned in this article.