The evolution of ETFs enables investors to be more strategic about their allocation in global emerging markets (NYSEARCA:GEM). By identifying specific sectors that are likely to benefit from the major trends in the markets, investors can improve their returns. Among the GEM ETFs, the consumer and infrastructure sectors are areas that investors can target. There are three GEM sector ETFs that this article will look at.
GEM Sector ETFs

EG Shares Emerging Market Consumer (NYSEARCA:ECON) is the only large GEM consumer ETF available in the US. The fund gives investors exposure to food & beverage, retail, media and other consumer-oriented sub sectors. The fund's largest country exposures are in South Africa, Mexico and Brazil.
ECON is concentrated with only 30 holdings and follows the Dow Jones Consumer Titans Index. Consumer stocks in emerging markets are not cheap, nor do they pay material dividends, but they offer attractive exposure to growing middle class consumers. It is also a sector that offers limited choices for investors because many consumer businesses in emerging markets are foreign owned. Multinationals have poured into this sector and bought out many publicly held companies already. They must know something.
Infrastructure funds differ
The infrastructure funds are interesting in that they differ significantly. iShares S&P Emerging Market Infrastructure (NASDAQ:EMIF) offers more exposure to infrastructure operators like transports and utilities while Powershares Emerging Markets Infrastructure (NYSEARCA:PXR) is more exposed to the actual builders of the infrastructure like materials producers, construction companies and equipment producers. As a result, PXR is more leveraged to global cyclicality.
EMIF's largest country exposures are in Brazil and China which make up almost 70% of holdings. The fund also has high exposure to Chile. EMIF is concentrated with 30 holdings and offers a higher yield than its peer PXR. The funds exposure to transportation-related companies is uniquely high at over 40%.
PXR is a more diversified fund with over 80 holdings. Its largest country weights are in China and Taiwan and the fund holds western companies with exposure to emerging markets like Caterpillar and ABB.
Infrastructure funds are less liquid
ECON's liquidity is good trading around $6.5m/day. PXR and EMIF are less liquid trading between $0.5m - $1m/day. iShares and Emerging Global Advisors offer smaller funds targeted at other sectors in emerging markets. These funds have failed to generate significant interest because the sectors they follow are already well represented in emerging markets funds like financials, or are available in global sector funds like energy and materials. There are also country-specific sector ETFs but we will look at those later within the context of each individual market.
ECON outperforms, PXR has lagged
A 12-month total return chart shows ECON has been the best performer of the sector strategy group. iShares EMIF has also outperformed benchmark iShares Emerging Markets (NYSEARCA:EEM) while the more cyclically-driven PXR has lagged.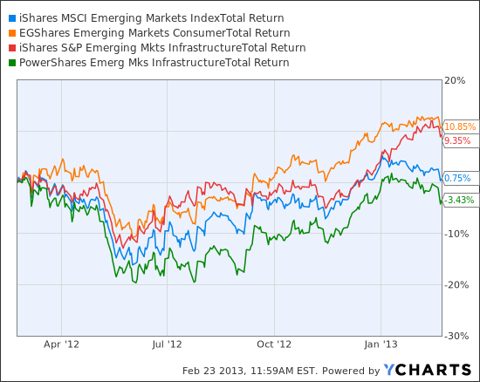 ECON and EMIF merit exposure
Exposure to the emerging market consumer is a good reason to invest in emerging markets. Many markets have relatively young demographics and growing middle classes that will consume and gravitate towards branded goods. Therefore exposure to this segment is important for an emerging market portfolio. ECON ticks that box.
Infrastructure is also a component of the emerging market universe yet can be defined in various ways. EMIF is an interesting fund because it offers unique access to the transportation sector which has very little representation in other emerging market funds and is also a beneficiary of demographic growth. It's exposure to regulated utilities is a risk since governments typically are more concerned with votes than returns at state regulated entities. Nonetheless EMIF's portfolio has demonstrated good relative performance in tough markets and warrants serious consideration. Finally, it's hard to see PXR performing unless we see a material pick up in global growth given its cyclical orientation.
Disclosure: I have no positions in any stocks mentioned, and no plans to initiate any positions within the next 72 hours. I wrote this article myself, and it expresses my own opinions. I am not receiving compensation for it (other than from Seeking Alpha). I have no business relationship with any company whose stock is mentioned in this article.