It might surprise some that BlackBerry (NASDAQ:BBRY) announced recently that its new BlackBerry 10 devices will be rolled out in an effort to "hit all price points". Though it might surprise many more that there are still those who held on to their BlackBerrys and stayed loyal to BlackBerry after its disastrous last year, both financially and product-wise.
According to a statement made by Chief Marketing Officer, Frank Boulben, at the Consumer Electronics Show (CES), the company expects to release at least six new BlackBerry 10 devices in 2013, the first of which is anticipated later this month. The first devices are expected to be an all-touch screen device and one that still sports a full QWERTY keyboard below the screen, which makes more space for browser page displays.
According to the specs, the BlackBerry 10 also comes with an all-new operating system. The OS focuses on a simpler interface with square-shaped, iPhone-like icons that provide more direct access to core functions. The Web browser has been optimized for HTML5 support and allows users to share links and social updates as easily as on Android and iOS phones.
News of these consumer-friendly updates would, for any other company, come as great news, and probably prompt investors to eye the stock as a possible buy (now sitting at around $13.18 per share). However, after four consecutive quarter losses totaling a staggering $255 million, compared with a profit of $329 million last year, it does not instill confidence that the stock is on the upswing. In addition, last year's companywide layoffs, closing of several manufacturing facilities, and revenue falling over 31% to $2.9 billion, are enough to scare off even the most risky of investors.
On the subject of customer base, BlackBerry has a long way to go to maintain, let alone build. Last quarter showed a substantial subscriber base slip, falling 1 million to 79 million. Overall, that number may not appear too devastating. However, it is a crucial indication that any growth it might have been seeing overseas may no longer be enough to offset losses in domestic markets.
BlackBerry also seems to be in a fight for its fee pricing strategy. The company used to be able to charge hefty fees for its secure BlackBerry business services. Now with BlackBerry 10, it is unclear as to whether or not the company has the ability to protect those fees. BlackBerry has already warned that those fees will likely be cut in order to retain and grow its customer base amid the transition to BlackBerry 10.
Service fees are typically more profitable than hardware, so cutbacks there would deal a major blow to BlackBerry's hoped-for return to profitability. Thus, BlackBerry seems to be stuck between a rock and a hard place - being forced to give up a good revenue stream for the possibility of generating (and/or keeping) another one.
5 years ago when Apple introduced the first of the iPhone line. The rest, as they say, is history. Becoming the highest selling phone ever, the five versions of the iPhone have all but dominated the smartphone world. BlackBerry seems to be unable or unwilling to compete with such a force. Apple has happily grown to the rank of Most Valuable Company simply by giving consumers what they want. Not only that, but companies such as HTC are already miles ahead by generating phone lines such as the 'One' series. With support from powerhouse AT&T, which has already started putting the 'One X' into its line of products last year, and supporting the push with one of AT&T's most amazing marketing pushes to date, HTC is positioned to lead Android to a 50% global share of the handset market before the end of this quarter.
Not only that, but companies like Samsung are competing in the trending market of tablets. Samsung has partnered with Google to release the new Chromebook Series. Drawing inspiration from the MacBook Pro, the new Chromebook is cheaper, thinner, and is argued to be more tablet than notebook.
Why is this a positive for Samsung? Because success from this product is a segway into positive promotion of its phone line. Consumers rely heavily on brand recognition for purchase trends - both positively and negatively. That is why BlackBerry is still reeling. Past experience has burned them, while Samsung, which continually puts out great and cost-efficient products, will be on their minds the next time they are shopping for a new phone.
Can BlackBerry's announcement of half a dozen new phones truly bring the stock back?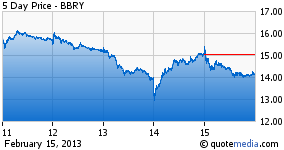 Since leaks of testing and federal reviews of the Blackberry 10, it has seen some positive spikes in stock value over the last few weeks. However, the company seems to be returning to its previous status quo of declining numbers and shrinking share value. The BlackBerry makers, despite having topped investors' estimations of the company's fiscal third-quarter results, showed a 14% drop in stock prices value and fell over $2 to its now $13 within the last couple of weeks.
What is to become of BlackBerry? With a commanding lead by almost every other smartphone manufacturer, HTC's position to lead Android to a 50% global share of the handset market before the end of this quarter, and Apple's juggernaut, iPhone, being the highest selling phone ever, can BlackBerry make a move that will make it competitive once again?
It will take delivery of strong products in a timely fashion to win back consumers. Direction toward narrowing focus and marshaling all its resources can lead to investors seeing potential returns, but only if proper implementation of such a strategy occurs. What also must take place is the company's push in strategic partnerships.
I see little evidence that BlackBerry can deliver on these promises, and in my opinion, should not be the vehicle of choice for investors.
Disclosure: I have no positions in any stocks mentioned, and no plans to initiate any positions within the next 72 hours. I wrote this article myself, and it expresses my own opinions. I am not receiving compensation for it. I have no business relationship with any company whose stock is mentioned in this article.