Darden Restaurants Inc. (NYSE:DRI) is a full service dining company. Its family of restaurants contains chains such as: Red Lobster, Olive Garden, Longhorn Steakhouse, Bahama Breeze, Seasons 52, The Capital Grille, Eddie V's, and Yard House. Darden is in fact the world's largest full service restaurant company. It owns and operates more than 2,000 restaurants. It employs more than 185,000 people. When it forecasts that its third quarter ending February 24, 2013 will see a decrease in blended same store sales for Olive Garden, Red Lobster, and LongHorn Steakhouse of approximately-4.5%, it is time to worry about DRI and about the US economy. When you have seen DRI's Q3 2013 EPS forecast cut from $1.34 three months ago to $1.00 - $1.02 with this latest cut, it is time to think of exiting DRI before the situation worsens.
In the first preliminary reading the US Q4 2012 GDP Growth was negative at -0.1%. This was far lower than the +1.0% many economists had predicted. This was also far lower than the Q3 GDP growth final reading of +3.1%. Subsequent to the Q4 GDP growth preliminary report, the December US Trade Deficit came in much lower than analysts had estimated at -$38.5B. This likely means the actual final Q4 2012 GDP growth number will be slightly positive. While this is good news, it does not change what is likely to be a near term downtrend in the US economy.
Since the end of Q4 2012, The payroll tax cut has been reversed. The social security tax has reverted to 6.2% from 4.2%, and the Medicare tax has risen to 2.35% from 1.45%. Those two changes amount to -2.90% less take home pay for many average Americans. For "rich" Americans the capital gains tax also increased from 15% to 20%. Plus there is also a new ObamaCare (Medicare) tax of 3.8% on the investment income of the rich. All this means that a lot of people will have less money to spend. It means their discretionary spending on things such as dining out is likely to go down. This is in fact what we are already seeing with the recent revision downward of DRI's Q3 2013 guidance. This guidance revision is before any sequester cuts have been made. The sequester cuts, which are scheduled for March 1, 2013, will provide a second hit to DRI directly from the pay cuts (many civilian contractors for the military will get 20% pay cuts) and/or lay offs. Then the sequester cuts will hurt more via the economic multiplier effect of the sequester cuts. If DRI is already seeing significant cut backs in spending on dining, it will see a lot more revenue decreases before 2013 is done.
In the Q2 2013 conference call, the company was already talking about the lagging same store sales. That was before much of the slower October - December quarter's (not DRI's fiscal year quarter's) slow results. It was before the harsher winter weather this year than last. Even in Q2 2013, DRI saw blended same store sales for Red Lobster, Olive Garden, and LongHorn Steakhouse decline by -2.7%. DRI also stated that it would not carry through on its proposal to cut employees hours in order to not have to pay their health care costs. This means that increased health care cost are coming for DRI due to ObamaCare.
DRI has still managed to grow overall sales numbers in both Q2 and Q3 2013. However, this is due to newly opened stores and newly bought chains. For instance, DRI recently bought Yard House, which effectively adds 105 net new restaurants in the 2013 fiscal year. If same store sales continue to decline, DRI is in trouble. With the current trend of -2.7% revenues in Q2 to -4.5% revenues in Q3 2013 for Red Lobster, Oliver Garden, and LongHorn Steakhouse, DRI is in serious trouble with an economy that is slowing, if not falling into another recession.
The five year chart of DRI shows the fall of DRI in the last recession.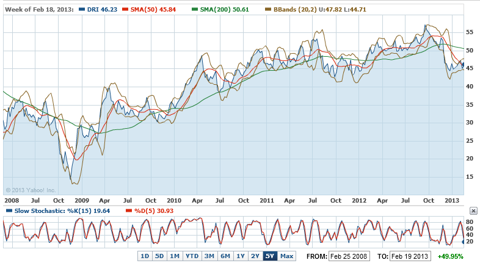 The slow stochastic sub chart shows that DRI is already near oversold levels. Yet the overall market (NYSEARCA:SPY) is still near overbought levels. DRI's 50-day SMA has recently crossed over its 200-day SMA going downward. This indicates a downtrend may be beginning. With DRI's revenues falling, the just starting technical downtrend is likely to continue.
In the last recession DRI hit a low of about $14.30. In the week of September 17, 2012, DRI hit a closing high of $57.21. DRI has since fallen to $46.23 as of the close on Friday February 22, 2013. There is some support for DRI at about $40. There is more support at about $35 and $30. DRI seems unlikely to fall to the previous recession's low, unless the new recession becomes truly terrible. However, a fall to about $30 from its current $46.23 would be a considerable loss of equity for a stockholder. Since the above mentioned fundamentals seem more likely to get much worse than much better in the near future, it is time to take profits in DRI if you own it. If you don't own it, you may wish to think about shorting DRI.
DRI has headwinds already from the extra taxes mentioned above. It will gain more headwinds from the sequester cuts or the substitute that is agreed upon for the sequester cuts. It will experience further headwinds from the expenses of ObamaCare. A hurricane of headwinds can do a lot of damage. This stock's price is unlikely to make progress upward in the near term. If the sequester activates automatically on March 1, 2013, an aggressive trader probably wants to short DRI. An investor in the stock should sell even without that. The upside risk for a shorter is essentially nil.
The 4.52% dividend is a good argument against shorting the stock. The current PE of 13.21 and FPE of 12.60 are also factors weighing against shorting DRI. However, the PE and FPE are becoming ever more questionable as the US economy slows. The new guidance calls for FY2013 EPS of $3.06 to $3.22 (or $3.14 as a mean). This gives DRI a FY2013 PE of about 14.7, and that is before a lot of likely bad news hits (the sequester and ObamaCare).
Further the EU credit crisis has been promising to get worse soon. A few days ago Intesa Sanpaolo CEO, Enrico Cucchiani, said the bottom 20% of Italian companies have seen revenues shrink by 35% to 45% over the last three years. Not many businesses can stay in business when this happens. Further the Italian GDP reading for Q4 2012 was -0.9%. This indicates further shrinking. Other Italian economic indicators have been weak as well. Italy is on the very edge of severe trouble.
Spain is not in much better shape. It has approximately 26% unemployment. Its December 2012 retail sales were down -10.7% year over year. Retail sales in Spain have fallen for 30 consecutive months. Government austerity measures have served to accelerate their decline. Everything is not A-Okay as some people would like investors to believe. This is a worsening situation that will hurt US exports and US businesses as 2013 goes on.
Even in Brazil, where DRI is expanding, the IBC-Br economic activity index rose just 0.26% in December 2012. For FY2012 Brazilian GDP growth was less than 1.0%. Further Brazilian retail sales were down -0.5% month over month in December 2012. This is worrisome; and it indicates there is trouble ahead.
In sum, if you own DRI, it is time to take profits. If you love the stock, you will get a chance to buy it back at a lower price. If you love the dividend, realize that it is not worth the likely 25% to 50%+ drop that the stock price is likely to experience in the near future. If you want to short, don't worry too much about the dividend. In all likelihood you will not have to short for a full year in order to reach your target. The US markets will likely experience a pullback soon. Typical estimates are for a 7%-10% pullback. You could exit at the bottom of this pullback, if you chose to. If there is a US recession in 2013, the eventual pullback will likely be far greater. You could exit your short position at either one of these points. An option to avoid paying dividends for shorting is to use a long term put option spread on DRI, or you could also use straight put options.
NOTE: Some of the fundamental financial data above is from Yahoo Finance.
Good Luck Trading.
Disclosure: I have no positions in any stocks mentioned, but may initiate a short position in DRI over the next 72 hours. I wrote this article myself, and it expresses my own opinions. I am not receiving compensation for it (other than from Seeking Alpha). I have no business relationship with any company whose stock is mentioned in this article.