Great Panther Silver (NYSEMKT:GPL) has recently been recommended in a couple of SA articles (see here and here) as a promising silver producer in Mexico. We decided to have a look under the hood of this company and have formed a diverging opinion. Here are our findings.
Great Panther Silver operates two silver mines, the Guanajuata Mine Complex and the Topia Mine. GPL has just published its 2012 production results and we decided to compare the published data with the guidance given 12 months earlier. The outlook for 2012 contained 2 concrete milestones:
Increase throughput at Guanajuato from 170,000 tonnes to 200,000 tonnes; and
Increase throughput at Topia from 47,000 tonnes to 75,000 tonnes.
According to the 2012 production results none of the two goals have been achieved. Throughput at Guanajuato in 2012 was 174,022 tonnes and throughput at Topia was 56,098 tonnes.
Under-achieving the outlook given at the start of the year has some tradition with Great Panther Silver. Let's have a look back over the past few years.
The outlook for 2010 included metal production of 2.6M ounces (and also a goal of 3.8M ounces by 2012). The actual 2010 metal production was 2.26M ounces (-13%).
In the outlook for 2011 the ambitious goal to produce 3.8m ounces by 2012 was maintained, and the target for 2011 was set at 2.87M ounces. However, the actual production turned out to be just 2.2M ounces (-23%).
In the outlook for 2012 the metal production target was lowered from 3.8M ounces to 2.5M - 2.75M. And again, this goal was not achieved with actual production for 2012 reported as 2.38M ounces (-4.8% below the lower bound of the range).
In its outlook for 2013, the company forecasts a metal production target of 2.4M - 2.5M ounces. Given the low ambition of this target, this might actually constitute the first time since 2009 that Great Panther Silver actually achieves the start-of-the year metal production goal.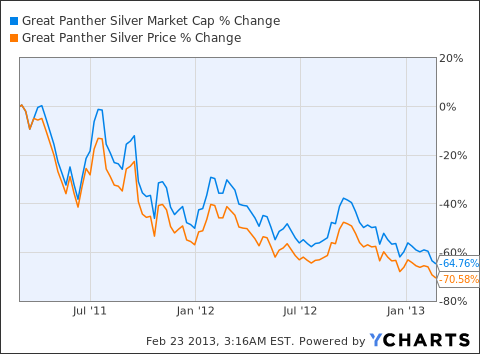 GPL Market Cap data by YCharts
GPL's share price reached a high point in March 2011 and has been on a slide since then losing 70% of its value. Generally speaking, we believe that this decline is rooted in the stagnant production coupled with rising costs; the loss in value per share is compounded by dilution as illustrated in the chart above by the divergence between market capitalisation and share price.
The published data on cost components is scarce, and analysis of annual reports is complicated by a switch in accounting standards in 2011. However, the corporate presentation gives some indication quoting cash costs per ounce for the Guanajuato mine at a very respectable $6.84 per ounce (net of by-products). However, the cash cost for the Topia mine is given at a whopping $22.23 per ounce. The Topia mine contributes 32% of total production and assuming that the quoted cash costs are C1 cash costs it is questionable if this operation is profitable at all.
We also looked at production costs and administrative costs using 2009 as a 100%-basis. As shown in the diagram below, these cost components have been rising significantly while metal production has more or less remained the same for this period. It will be interesting to see how this diagram develops once the 2012 annual report becomes available.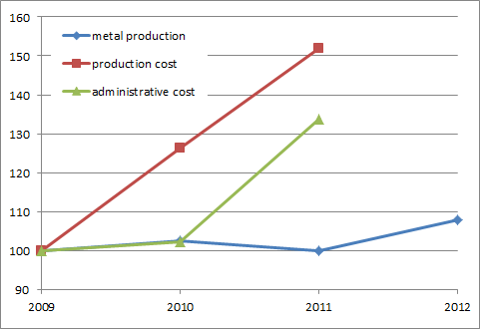 The company seems to be aware of this problem and has underscored its plan to reduce costs in 2013. This is a remarkable change of tune compared to previous years where the emphasis in the outlook statements was squarely on production growth.
This year, for the first time since start of production, metal production targets indicate practically no year-on-year increase. Instead, the company claims that "… the focus for 2013 is to improve and strengthen the operational efficiency of the existing operations and build the platform for more significant growth in 2014." However, no concrete cost saving targets are given and this lack of commitment does not bode well for GPL's performance in 2013, as far as we are concerned.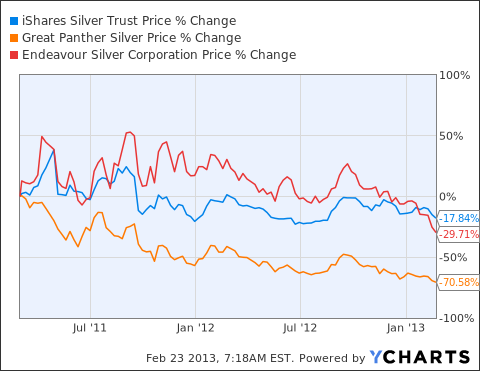 GPL claims that its share price is leveraged to the silver price and "... GPL's share price amplifies changes in the silver price." The chart above shows that since the peak in March 2011 (which coincided with the peak in silver price) GPL has consistently underperformed in comparison with silver. In the same chart we have also plotted the share price performance of GPL's immediate neighbour in Guanajuato, Endeavour Silver (NYSE:EXK). The difference in performance is obvious. EXK has a history of acquiring under-performing mines and turning them around. We are wondering if GPL will be on its radar once EXK is finished with its turn-around of the El Cubo mine.
A significant rise in silver spot prices would certainly constitute a tide that would rise all ships, including GPL. But even presuming such an event, we believe that there are much better investment opportunities out there in the silver mining space. And until silver starts rising again, we suggest that investors consider shorting Great Panther Silver.
Disclosure: I am long EXK. I wrote this article myself, and it expresses my own opinions. I am not receiving compensation for it (other than from Seeking Alpha). I have no business relationship with any company whose stock is mentioned in this article.