There were a lot of interesting nuggets in the January existing home sales report from the National Association of Realtors (NAR). The continuing decline in housing inventory has really caught my attention. NAR reports that inventories are pushing rock bottom levels (emphasis mine):
"Total housing inventory at the end of January fell 4.9 percent to 1.74 million existing homes available for sale, which represents a 4.2-month supply at the current sales pace, down from 4.5 months in December, and is the lowest housing supply since April 2005 when it was also 4.2 months.

Listed inventory is 25.3 percent below a year ago when there was a 6.2-month supply. Raw unsold inventory is at the lowest level since December 1999 when there were 1.71 million homes on the market."
NAR describes a growing supply/demand imbalance that is particularly acute in select markets like the West where sales stalled because of limited inventories. Based on historical data, it seems the on-going drop in inventory is typical coming out of a recession. In fact, the pace of the current plunge in inventories is roughly within expectations when you compare supply peaks and troughs around past recessions. Here is a chart from the St. Louis Federal Reserve showing the monthly supply of homes in the U.S. (relative to the pace of sales):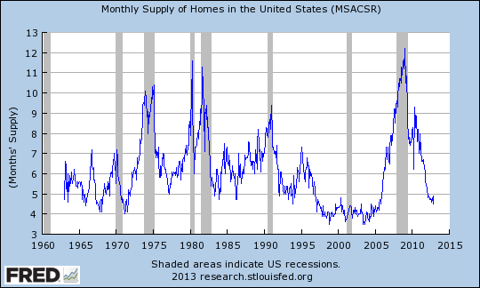 Monthly Supply of Homes In the U.S.
Source: St. Louis Federal Reserve
This past recession sits at a historic extreme, so we cannot expect everything to unfold exactly as expected in the housing market. However, if history provides an approximate model for the current recovery in housing, then we should expect the relative supply of homes to begin climbing within the next 2 years or so. The key ingredient, rising prices, has finally arrived.
Rising prices encourage more sellers to return to the market and encourage more homebuilding. I have discussed in previous posts the many obstacles in the way of increasing supply, particularly relative to today's demand (see for example, "On the Frontlines, the Housing Recovery Is Visible But Needlessly Slow"). However, I now wonder whether inflation expectations are also acting to slow the return of sellers of existing homes. On the margin, for those owners who remain underwater in their homes and have wrestled with the decision to sell, the prospect of rising prices may stall action today. These owners may become more confident that sometime in the "near future" they can finally sell their home closer to what they think it is really worth. If the need for new housing is not pressing, they can decide they can now afford to wait. It is impossible to know the significance of this factor, but it is potentially credible.
Rising prices also motivate buyers to get into the market to either avoid paying higher prices in the future and/or participate in asset appreciation. This dynamic is especially strong if buyers suspect interest rates are also on the rise which appears to be the case now. Here is what Toll Brothers (NYSE:TOL) Co-Founder and Executive Chairman Robert I. Toll had to say during the company's last earnings conference call on February 20, 2013 (from Seeking Alpha transcripts) (emphasis mine):
"After 7 years of trepidation, buyers are reentering the housing market, and household formations are increasing. With low inventories of houses for sale and a limited supply of approved lots, home prices are rising. Buyers who need to sell one home to move on to the next one are more willing and able to make the move. These factors, plus record low interest rates, are boosting the housing market's recovery.

Recently, mortgage rates have ticked up 0.25 point, which means the mortgage market is flashing a "price increase coming soon" sign. This is adding some urgency into customer demand. As housing continues to recover and home prices rise, personal and bank balance sheets get stronger, which should spur additional economic activity and more housing demand."
The potential for pent-up demand can be seen in the St. Louis Fed's Home Affordability Index which sits at an incredible 200. At 200, this index indicates that a family with median income is earning twice as much as it needs to qualify for a mortgage on a median-priced home assuming 20% down. It is a very rough index given the variability of home prices across the country and the variability of incomes within the same housing market, but it provides a ballpark idea of the affordability of homes in general and serves as a proxy for gauging what kind of pent-up demand could be lurking in the market.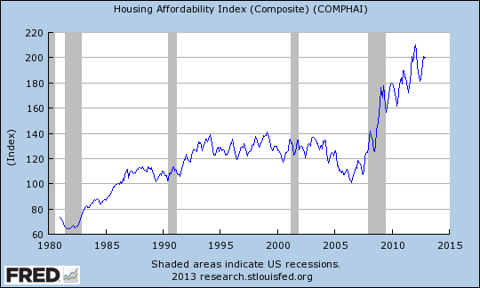 Home Affordability Index
Source: St. Louis Federal Reserve
With inventories and affordability at complimentary extremes, a significant supply/demand imbalance continues to build in the housing market in general. The resolution of this imbalance will likely hold the key to next phase of the housing recovery, and it should look very different from market-to-market. Once the mix of buyers finally shifts away from cash investors and high-income buyers and more toward average first-time homebuyers, the housing recovery should finally hit full stride.
Be careful out there!
Disclosure: I have no positions in any stocks mentioned, and no plans to initiate any positions within the next 72 hours. I wrote this article myself, and it expresses my own opinions. I am not receiving compensation for it (other than from Seeking Alpha). I have no business relationship with any company whose stock is mentioned in this article.