On Thursday, February 21, Linn Energy (LINE) reported its Q4 and full year 2012 results. That same day, Linn Energy, LinnCo (LNCO) (a limited liability company "LLC" that has no assets, whose sole purpose is to own Line Energy units) and Berry Petroleum (BRY) announced the signing of a definitive merger agreement, in which Linn Energy and Linnco will acquire all of Berry's outstanding shares for a total of $4.3B, including debt. This transaction represents the first ever acquisition of a public C-Corp by an upstream LLC or MLP. Shares of Linn Energy have reacted positively to this news, and are now up over 12% since the intraday lows reached on Tuesday related to accounting concerns. Linn Energy currently offers a $0.725 quarterly distribution per unit, however, Linn Energy has plans to raise the distribution to $0.77 per unit the quarter after the transaction to acquire Berry closes. At current prices, units of Linn Energy yield 7.53%.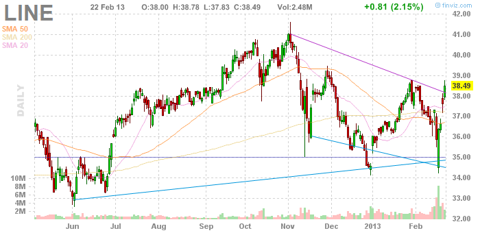 By acquiring Berry Petroleum, Linn Energy will increase its current production by 30% and expand its geographic presence. Berry's assets are similar to what Linn Energy usually acquires, in that they are mature, low-decline, long-life and with stable production profiles. Berry's reserves are approximately 75% oil, which will result in an increase of Linn's liquids exposure, to 54% from 46%.
The financial benefits gained by acquiring Berry are numerous for Linn Energy. For starters, the acquisition is expected to be extremely accretive, increasing distributable cash flow by over $0.40 per unit. This increase in cash flow will allow Linn Energy to increase its distribution without hurting its coverage ratio. Linn Energy plans to recommend to its board of directors an increase in its current quarterly distribution of 6.2%, to $0.77 per unit, or $3.08 per year. The increase is anticipated to take effect in the quarter immediately following the closing of the transaction to acquire Berry, which is estimated to occur on or before June 30, 2013. Due to the significant accretion expected from this transaction, Linn Energy's coverage ratio for the second half of 2013, is expected to be approximately 1.20x including the anticipated distribution increases.
As part of its regular practice of hedging acquisitions, Linn Energy plans to hedge most of Berry's expected production. Berry already has significant oil hedges in place which cover more than 60% of its expected oil production for the rest of 2013 and over the coming months, Berry will hedge additional oil volumes at Linn Energy's direction. Linn Energy plans for Berry to become substantially hedged for multiple years into the future. Linn Energy does not currently plan to hedge Berry's natural gas production due to Berry's consumption of natural gas and its steam flood operations in California, which acts as a natural hedge.
During the Q4 earnings conference call, Linn Energy commented and clarified its hedging policy. Linn Energy strongly reaffirmed the validity of its financial statements. Linn Energy made it clear that it uses mark-to-market counting in its GAAP financial statements. Linn Energy has stated that it believes that the options premiums have no impact on its ability to pay distributions and that it views them as an investment in the business. Below is the full quote from the CEO of Linn Energy Mark Ellis:
I want to comment on some recent confusion that has risen regarding our hedge book and hedging strategy. We firmly stand behind not only our hedging strategy, but also the validity of our financial statements. A more detailed explanation was posted to our website under Presentations last Friday and also filed was an 8-K with the SEC. In addition, we have gone an extra step and increased our disclosure in our 2012 10-K to provide more detail around our non-GAAP metrics.
To be clear, we used mark-to-market counting in our GAAP financial statements, which expenses the option premiums through our income statement. As we think about non-GAAP distributable cash flow per unit, we believe the premiums have no impact on our ability to pay our future distributions and view them as part of an investment in our business or said another way capital.
Conclusion
By buying Berry Petroleum, Linn Energy made stock market history, as this transaction represents the first ever acquisition of a public C-Corp by an upstream LLC or MLP. Linn Energy anticipates that it will greatly benefit by buying Berry. Distributable cash flow is projected to rise, and the coverage ratio is expected to increase. Investors who decided to sell Linn Energy due to overblown "accounting issues" have missed out on a major move in this stock. Units have Linn Energy have gained over 12% since its intraday low this Tuesday. By buying Berry, Linn Energy's management proves that it knows exactly how to create unitholder wealth, and has hit a homerun with this purchase.
Disclosure: I am long QRE, VNR. I wrote this article myself, and it expresses my own opinions. I am not receiving compensation for it (other than from Seeking Alpha). I have no business relationship with any company whose stock is mentioned in this article.