By Paul Carton
Jean Crumrine co-wrote this article.
The tiny signs of stabilization we picked up in our January consumer spending survey proved extremely short-lived.
ChangeWave's February national survey results point to yet another leg downward in U.S. consumer spending going forward. Consumer sentiment has also taken a big hit, with two-in-three respondents now believing the overall direction of the U.S. economy is going to worsen over the next 90 days.
The ChangeWave survey of 2,701 U.S. consumers was conducted February 2-9, 2009.
Grim Spending Outlook
While our January consumer survey contained intriguing signs of a leveling off in the rate of spending decline, the February results show a reversal and represent the worst spending outlook ever recorded in a ChangeWave survey.
Better than three-in-five U.S. respondents (61%) say they'll spend less money over the next 90 days, 4-pts worse than our early January survey.
click to enlarge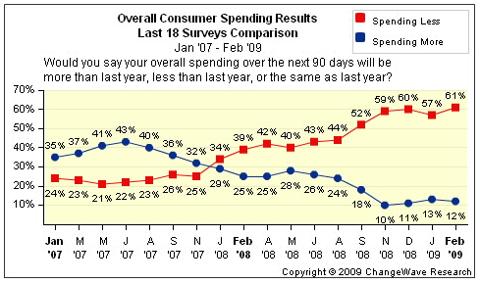 Just 12% say they'll spend more money – 1-pt worse than previously.
A Decline in Consumer Sentiment and Expectations
We also asked respondents about their impressions of the economy, and find consumer sentiment and expectations have turned considerably more negative.
Three-in-five (64%) respondents think the overall direction of the U.S. economy will worsen over the next 90 days – 8-pts worse than a month ago. Only 8% believe the economy will improve – a 4-pt decline to the lowest reading since we began asking this question.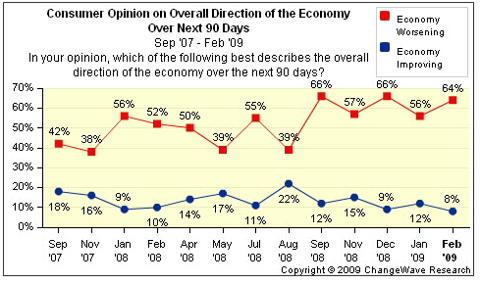 Other sentiment indicators are even less encouraging:
Only 14% say they are More Confident in the U.S. stock market than they were 90 days ago, 12-pts worse than previously. We note that 42% say they're Less Confident, which is 11-pts worse than previously.
Three-in-five respondents (59%) report they are dissatisfied with their personal finances, 1-pt worse than January. Just 4% say they are Very Satisfied.
Worried About Their Nest Eggs
For the sixth consecutive survey since July, Saving More Money (42%; up 1-pt) has risen as a key concern and is now one of the top reasons why consumers are spending less. Reducing Debt (35%; down 1-pt) also remains a top reason.
But the number one reason is Reduced Income (44%; up 6-pts), which has surged 6-pts since January alone.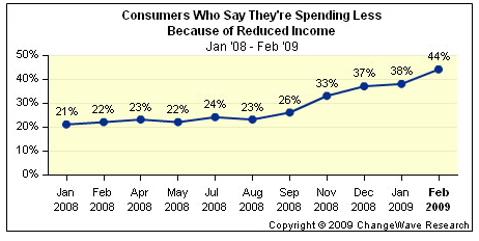 This astonishing jump in such a short time highlights the seriousness of the impact the financial crisis is having on consumers.
Where Is Spending Slowing Most?
New record lows for a ChangeWave survey have been recorded in Consumer Electronics spending and Restaurant spending. Durable Goods for the home have also taken a big hit.
Interestingly, for the second survey in a row we've picked up a stabilizing in Household Repairs/Improvements spending. One explanation: some consumers may have made home improvements their New Year's resolution.
Retail Store Trends
Our latest survey results show the U.S. has hit the point in the recessionary cycle where even the mightiest of retailers are being brought to their knees.
Case in point: Costco (NASDAQ:COST), which has already experienced a significant drop in its growth rate in recent months. Nonetheless, the plunge over the past month (-5) appears particularly unnerving, and is the biggest downward move we've seen so far for Costco.
Wal-Mart (NYSE:WMT) has performed admirably over most of this same time period, but it too appears to be hitting a wall going forward. Only 13% of consumers say they'll spend more at Wal-Mart and 11% less, which is a 4-pt plunge since January.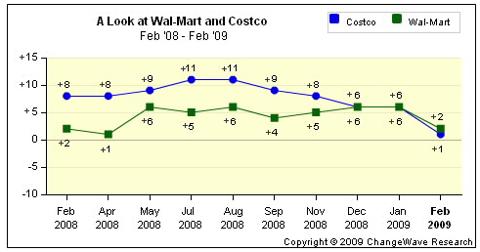 Not surprisingly, the greatest weakness of all going forward is among traditional retailers – led by Macy's (M; -13) and Sears (SHLD; -13). Target (-10) has also taken a huge hit in recent weeks, plunging 3-pts.
Home Entertainment Shopping
On the home entertainment front, even as Circuit City (OTC:CCTYQ) (3%; down 4-pts) sells off its remaining inventory, Best Buy (NYSE:BBY) (38%; unchanged) continues to show few signs of any windfall from the shutdown of its perennial rival. Its market share remains significantly below that of a year ago (-7).
Apple (NASDAQ:AAPL) (9%; down 2-pts) and Target (6%; down 2-pts) have also experienced new declines since January in the home entertainment market.
Amazon (NASDAQ:AMZN) (25%), however, continues to hold its own, up 1-pt from previously.
Tough Times
Our February survey results show an overall spending environment that remains fiercely negative, even as the tiny signs of stabilization we saw last month proved short lived.
Economically speaking, the honeymoon period for the new U.S. Administration and President appears over. Not only are further spending declines in store for the next 90 days, but consumer confidence and expectations for the future have worsened considerably.
After 13 months of recession, U.S. consumer spending is still trending downwards.