Every month CNBC comes out with a list of their top 20 stocks with the highest potential to pop. They view the overall market and find the top 20 divergences on stocks from their current price to their consensus price targets. I have found it useful for finding stocks that are undervalued from an analyst's perspective and have pick up some nice winners in my portfolio from the list. Here is a quick synopsis of the top 5 stocks CNBC believes are undervalued right now.
#5 Apache (NYSE:APA)
I have bull put spreads on Apache for quite a while and they have shown to be profitable while I await a lower entry point. The stock has been stuck in trading range between roughly $75 to $80 for many months and here is not a bad entry point since its seems to have technical support here (See Chart). Low natural gas prices have put a negative tint on sentiment on the stock, but APA is cheap at 94% of book value and just over 7x 2014's projected earnings.
Median analyst price target: $100 a share
Current Stock Price: $75.40
Rating: Buy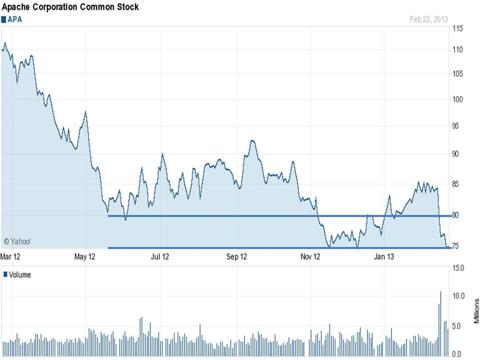 Click to enlarge
(Click to enlarge)
#4 Apple (NASDAQ:AAPL)
I have been buying shares slowly during their decline over the past few months. Once the market's darling, the company has suddenly become a pariah. However, the shares are dirt cheap on a variety of metrics. Let's start with the almost $140B in net cash and short term securities on its balance sheet which amounts to approximately 30% of its market capitalization at these price levels. Subtracting cash, the shares sell at 7x forward earnings and sport a minuscule five year projected PEG (.53). It is also has a 2.3% dividend yield which is quite likely to get a major bump soon given pressure from activists and the company's massive cash flow. By the end of 2013, there will be three kinds of investors. Those that bought at these levels and are smiling, those that tell their friends they bought here and didn't and those that are kicking themselves for not acting.
Median analyst price target: $610 a share
Current Price: $450.81
Rating: Strong Buy
#3 Apollo Group (NASDAQ:APOL)
The shares of this leader in for profit education have been under pressure for quite some time. Stories on growing student debt and the inability of a lot of the company's students to find jobs upon graduation have found their way to the front pages of the NY Times and other prominent publications. That being said, the stock is cheap at just over 5x trailing earnings, 4.5x operating cash flow and it sports a five year projected PEG of under 1 (.75). The company has easily beat earnings estimates for the last six quarters. However, given highly likely possibility of increasing government regulation, reduced funding for the space and more possible headline risks; I would only play the shares by buying out of the money call options or bull call spreads.
Median analyst price target: $25 a share
Current Price: $18.58
Rating: Avoid
#2 Newmont Mining (NYSE:NEM)
One of the world's largest gold miners has had a rough go of it in the market over the last few months along with most of its brethren in the industry. Falling gold prices, rising mining operating costs and strikes throughout the industry has produced very negative sentiment on the sector. The stock is selling at just over 7x 2014's projected earnings. Revenues are expected to rise 8% in FY2013 and 15% in FY2014. The stock also yields a solid 3.2% which should help keep a floor under the stock. Consensus earnings estimates have fallen consistently over the past three months for FY2013 and FY2014. Starting a small position at these levels seems like a good value play but I would avoid a larger position until earnings estimates stabilize.
Median analyst price target: $56.50 a share
Current Price: $40.82
Rating: Moderate Buy
Newfield Exploration (NYSE:NFX)
The stock of this independent oil & gas company has been under pressure recently on the back of a disappointing quarterly earnings report. However, NFX is cheap at just 78% of book value and under 9x forward earnings. The stock is also priced at a low five year projected PEG (.70) and about 3x operating cash flow. Finally, NFX is selling at the very bottom of its five year valuation range based on P/B, P/E, P/S and P/CF. Value investors should consider establishing a position realizing the sentiment on the shares could stay negative for a while as analysts revised their price targets down based on the disappointing quarter.
Median analyst price target: $38 a share
Current Price: $24.92
Rating: Moderate Buy
Disclosure: I am long AAPL, APA, NFX. I wrote this article myself, and it expresses my own opinions. I am not receiving compensation for it (other than from Seeking Alpha). I have no business relationship with any company whose stock is mentioned in this article.