Oil is a resource that the world cannot live without. Although in January demand for oil in the United States was at a 18 year low, value can be found in oil companies.
Apache Corporation (NYSE:APA) is an oil producer with operations around the globe. The company began in 1954 in Minneapolis, Minnesota. The first well was opened in Oklahoma and the company has grown to be a worldwide operation. The company is still growing. Operations include United States, Canada, Egypt, United Kingdom, Australia and Argentina.
Full year 2012 earnings were 1.9 billion dollars, compared to 4.5 billion dollars in 2011. The company can prove itself by creation record earnings even though the average North American oil price was lower than average in the previous year.
Average daily production during 2012 increased to 779,000 barrels of oil equivalent (NYSE:BOE) per day, up 5.4 percent compared with the prior year's production, adjusted for dispositions. Oil and gas revenues were a record $16.9 billion, up from $16.8 billion in the prior year.
(source: Apache Corp.)
Share Information In Comparison To Continental Resources Inc.
APA currently has a market capitalization of 29.5 billion dollars compared to 15 billion dollars for Continental Resources Inc. (NYSE:CLR). APA has an earnings per share of 4.92 dollars, double CLR. APA has 392 million shares outstanding, compared to 185 million shares outstanding for CLR. APA is double the size of CLR when looking at share information. APA and CLR do however have very similar share prices. This is due to the value distributed over a higher amount of shares outstanding for APA. The real kicker is book value though. The companies are relative, the price for each company makes sense when comparing the two. However APA has a book value of 79 dollars, CLR has a book value of only 15 dollars. There is tremendous value in APA in this way.
Alaskan Properties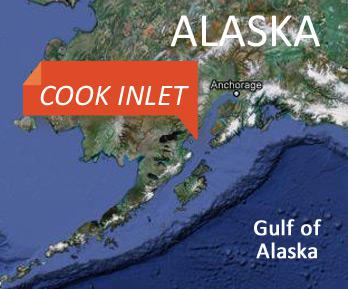 One of APA's many locations around the globe is in Alaska. In the Cook Inlet Basin APA owns 800,000 acres of onshore, tidal areas, and offshore property. The location is in the exploration phase with a total of 1.4 billion barrels discovered with 3-D imaging. The United States Geological Survey has done extensive exploration in the area.
(source: USGS)
APA will be conducting more exploration in the next 10 months to do more mapping of the region. Cook Inlet could be worth up to 54 billion dollars for APA.
For the Cook Inlet region, the USGS estimates that total undiscovered oil resources range between 108 and 1,359 million barrels of oil (MMBO), with a mean estimate of 599 MMBO.
Disclosure: I have no positions in any stocks mentioned, and no plans to initiate any positions within the next 72 hours. I wrote this article myself, and it expresses my own opinions. I am not receiving compensation for it (other than from Seeking Alpha). I have no business relationship with any company whose stock is mentioned in this article. Apache is a long term bet. Do your own research.