Please note that you can click through the charts and diagrams to see larger versions.
After the Blue Nile, Inc. (NASDAQ:NILE) conference call this past Wednesday (Seeking Alpha Transcript), I am following up to my prior article where I stated that:
With this backdrop and assuming that the S&P remains within a range of 800 – 950, I expect Blue Nile stock to trade within a range of $20 – $25.
Blue Nile's stock closed on Friday at $21.22.
In my prior article, I gave analysts expectations for the quarter:
Average Revenue Estimate (Current Quarter): $94.84M;
Average Revenue Estimate (Current Year): $304.35M.
Average Earnings Estimate (Current Quarter): $0.36; and
Average Earnings Estimate (Current Year): $0.87.
How did Blue Nile actually perform?
Revenue (Current Quarter): $85.8M;
Revenue (Current Year): $295.3M.
Earnings (Current Quarter): $0.24; and
Earnings (Current Year): $0.75.
Blue Nile missed on both revenue and earnings, yet its stock held up. Moreover, the markets were weak with the S&P closing on Friday at 770.05.
Given that backdrop, how do I feel about Blue Nile stock price now? I am reasonably comfortable sticking with my prior estimate that the stock price should remain bound by $20 – $25 so long as the S&P remains in the 800 – 950 range. There are four inputs or factors that guide me to this price: one, decimation of the competition; two, current state of the economy, with emphasis on unemployment; three, the impossibility to define a stock valuation rigorously; and four, recent stock prices. Let's look at each of these four items separately to see how they collectively help to form my opinion that NILE should be range-bound between $20 – $25.
In my last article, I referred you to The Wall Journal article No Sparkle for Jewelers on Feb. 14: Recession Pummels Chain Stores as More Buyers Turn Their Back on Bling (subscription required) published on 12 February 2009.
The recession pummeled jewelers hard during the holidays, when usually they earn an average of 30% of their annual revenues, as consumers avoided gems and other premium goods. Sales of luxury items, including jewelry, fell 34% compared to a year ago, according to MasterCard SpendingPulse.

...

Hopes that Valentine's Day, the third-biggest holiday for jewelry sales after Christmas and Mother's Day, would put some sparkle in results are fading. But Market researcher IBISWorld Inc. said it expects jewelry sales for the Feb. 14 holiday to fall 5.1% to $1.48 billion from $1.56 billion a year ago.

Of course, even before December's poor sales, local jewelry stores and regional and national chains had been disappearing at an alarming rate. For all of 2008, 1,140 jewelry businesses closed -- more than half of them retailers -- and the number of bankruptcies rose 19%, according to the Jewelers Board of Trade, a Rhode Island-based credit research and collections bureau for the jewelry industry.
I can only begin to imagine the chaos and mayhem occurring at competitors' offices—executives scurrying about trying to see which leases they can break, how to cover upcoming debt payments, who ordered expansion into what markets and why, and on and on. None of these actions increases the value proposition to the customer.
Now, compare the competitors' situation with that of Blue Nile's. Look at the chart below to see its revenues during the past nine years.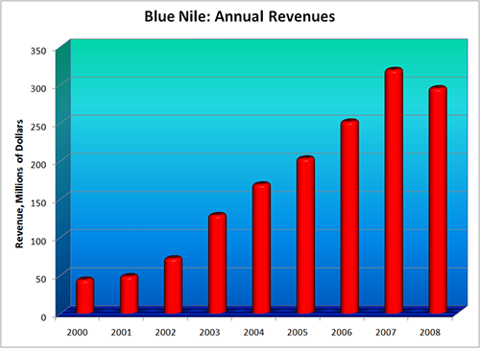 I am going to discuss this chart again later. The reason for showing this chart now is to demonstrate that Blue Nile is still enjoying reasonable revenues.
Blue Nile has no debt, no massive infrastructure to support, and reasonable revenues. Yes, its revenues were a bit light. Its revenue growth against that of its competitors' remains favorable. So while the competition is in crisis mode, Blue Nile's management team is able to focus on its customers and increase the value proposition.
Let's move along to the state of the economy. While much has been written and continues to be written, one graphic below, a heat map of the unemployment by county, sums it up for me. This graphic is sourced from the United States Department of Labor: Bureau of Labor Statistics.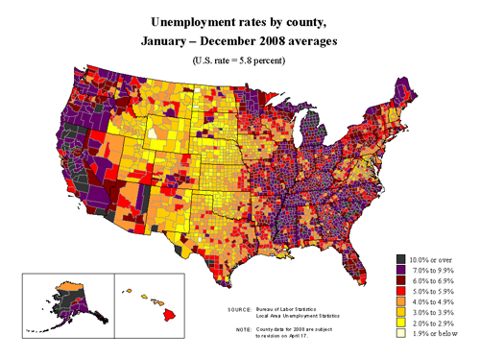 The above picture is likely to get worse before it gets better. I find the revenue chart and unemployment diagram interesting. Obviously, as unemployment rises, jewelers will be under even greater pressure than they are now. The unfolding of the unemployment picture deserves careful monitoring.
Next, let's discuss the inability to define a stock price rigorously. We have already discussed the revenues and unemployment rates across counties. What's a forecast for this year's revenue? Next year's? When will revenues resume their upward growth? At what rate? For how long? What will the competition look like at the end of this recession? How deep will the recession be? Will we see double digit unemployment values? Where will the unemployment be concentrated and for how long? You can knock yourself out trying to answer these questions. They are unknowable. All that we do know is that this recession is mean and ugly. Beyond that, we're groping in the dark.
If we are groping in the dark, how do we employ a reasonable discounted cash flow model or use any other analytical tool with precision? The answer is, we can't.
And finally, let's look at the past year's Blue Nile stock price chart. Using Yahoo! Finance, I created the price chart below.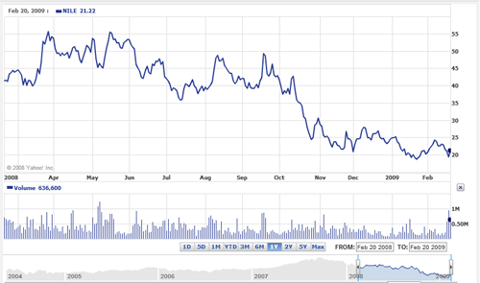 As we see from the chart, the stock appears to have bottomed at around the $20 – $25 level. This is after investors have realized that we are in for a difficult economic period.
Earlier I mentioned that the decimation of the competition, unemployment, inability to define a stock valuation rigorously, and the recent stock prices were all inputs into my loosely defined range of $20 – $25 price target. In my view, there are simply too many important unknowns to have high confidence. With the current economic situation, you could dream up any number of possible valid scenarios to justify any price you wanted. That exercise, however, is wasted energy. When the economy does finally turn around, Blue Nile should move up sharply from here.
Before closing, I am going to address two items raised by the bears. First, the price-to-earnings multiple is high. My response, of course, is it is. We're in the depths of a recession. Try to determine what the normalized earnings are with a realistic growth rate (good luck in that exercise) and then we can talk. As I have already indicated, I believe it is impossible to come up with a reasonable forecast. Next, web traffic has come way down and thus the company is likely to suffer. Media Tech Analyst writes in his article:
Traffic to the site was down in the single digits YoY according to management, which materially conflicts with the 40% YoY decline reported by comScore.
According to Seeking Alpha's transcript, Diane Irvine said:
Yes, I don't think we give a lot of color on that. But I would say in Q4, we saw declines in traffic but those were modest declines, certainly in single digit levels in terms of traffic unlike some published reports but I think had at minus 40% decline or something in traffic.
Marc Stolzman, CFO, elaborated on Irvine's comment:
And so the flip of that – the extension of that conversion is off slightly and when I talked to other people in E-commerce [they] are saying the same thing. Consumers are – traffic is difficult but conversion is the bigger pieces of puzzle where consumers are coming and looking and shopping but don't necessarily have the courage to pull the trigger and follow through on the purchase.
On an apples-to-apples thirteen week comparison, this year's revenues were 73.2% of last year's revenues. If we accept Stolzman's comment that conversion was down, then obviously third party comments on traffic being down 40% is just plain nuts. Moreover, Irvine is on the record indicating single digit level in reduced traffic. Traffic levels are easily verified, and thus I have every confidence that Irvine was truthful and honest in her comments.
Given the unemployment picture, I am surprised that traffic is down less than 10%. Just imagine when things improve and the competition is even weaker than it is now.
In summary, there are too many significant unknowns to have a confident estimate of Blue Nile's share valuation. We do know, however, that the competition are having an extraordinarily difficult time. We also know that Blue Nile's revenues, while down, are reasonable in the face of current unemployment. The unemployment picture itself remains difficult to forecast. In light of all the economic turbulence, Blue Nile's stock appears to have found a bottom near the $20 – $25 mark.
Disclosure: I am long Blue Nile stock.