I like Qualcomm (NASDAQ:QCOM) and I think that the company does a lot of good things in the mobile space, particularly on the modem side. However, I found it interesting that a Qualcomm executive went on record to make the following claims regarding Tegra 4 vs. the Qualcomm Snapdragon:
Nvidia just launched their Tegra 4, not sure when those will be in the market on a commercial basis, but we believe our Snapdragon 600 outperforms Nvidia's Tegra 4. And we believe our Snapdragon 800 completely outstrips it and puts a new benchmark in place.
Of course, many of us believed that these claims were a little questionable given that ARM Holdings' (NASDAQ:ARMH) Cortex A15 is a fair bit more powerful than Qualcomm's currently shipping Krait, as evidenced by the Samsung Exynos 5 Dual in the Nexus 10 tablet. At Mobile World Congress, Nvidia (NASDAQ:NVDA) decided to shoot down the Qualcomm executive's claims that the Snapdragon 600 outperforms Tegra 4 by letting folks actually benchmark the devices.
The results speak for themselves, courtesy of Android Police:
Click to enlarge image.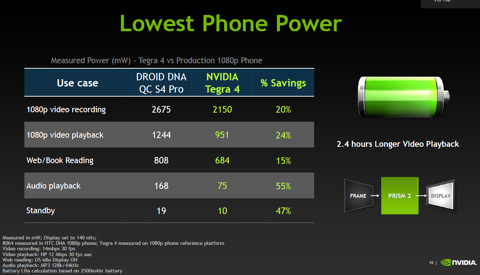 According to Nvidia, power consumption for various tasks is much lower than the Qualcomm S4 Pro solution. However, the real slam dunk for Nvidia is that Tegra 4's performance is actually better than the Snapdragon 600 -- by a lot (benchmarks courtesy of Android Police):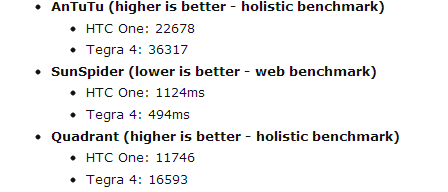 So, what we're seeing here is that the Qualcomm Snapdragon S4 600 provides, in some cases, half the performance of the Nvidia solution. That's a far cry from Qualcomm's proclamation that it "cleans Nvidia's clock."
So What Does This Mean?
What does this all mean for investors? Well, in situations where Qualcomm is at a performance disadvantage and where cellular connectivity isn't a big issue (read: tablets), I see Nvidia scooping up the majority of the Android design wins -- again. Qualcomm is still safe in the phone segment for now since it has a monopoly on the integrated LTE/apps processor market, but Nvidia's "Grey" will be coming by the end of the year and should be able to grab some market share there.
Don't get me wrong -- Qualcomm does great work and is still the king of comms processors. However, the dig against Nvidia was totally unfair, and I believe that the latter company has vindicated itself.
The mobile wars are still in their infancy and, long term, it's still too early to call the winner. But it's clear that Nvidia will be a viable competitor in the next round. If it can bring the Tegra division to profitability over the next year a lot of the uncertainty that weighs the stock down should evaporate, and shares should be allowed to run significantly higher from today's levels as both EPS and the market's multiple move upward.
Disclosure: I am long NVDA and short ARMH. I wrote this article myself, and it expresses my own opinions. I am not receiving compensation for it (other than from Seeking Alpha). I have no business relationship with any company whose stock is mentioned in this article.