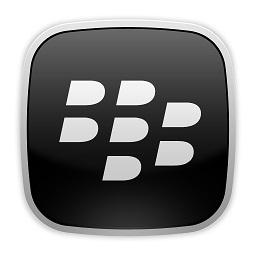 I've tried to stay away from trading BlackBerry (NASDAQ:BBRY) in recent months because I've found it so challenging to come up with an accurate price target. There was just too much uncertainty. If I had decided to trade, I likely would have shorted it which in recent months proved to be a losing strategy. In the past few weeks, clouds have slowly but surely started getting out of the way though and I'm feeling more confident about BlackBerry's vision than I was just a few weeks ago.
BlackBerry's Strategy
At first it wasn't clear, especially after a CEO change (from the dysfunctional co-CEO structure). Now though, everything points to the same direction. The company changed its name to BlackBerry (from Research in Motion). It does not seem to have any intention to sell itself or even part of its business. So what's the plan? Going all in. It finally unveiled its new BlackBerry 10 lineup, even spent a few millions on a Super Bowl ad. The company is betting its entire future on a lineup that will include an upgraded operating system. BlackBerry seems to have decided to ignore the tablet market after failing miserably with its Playbook.
Why Is BlackBerry So Desperate?
It's not that difficult to understand when you look at the company's critical numbers: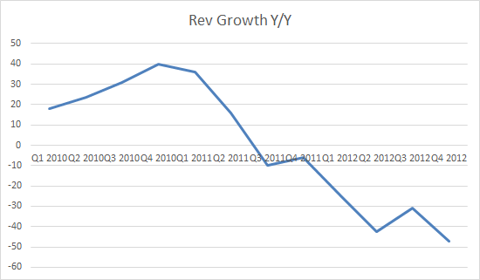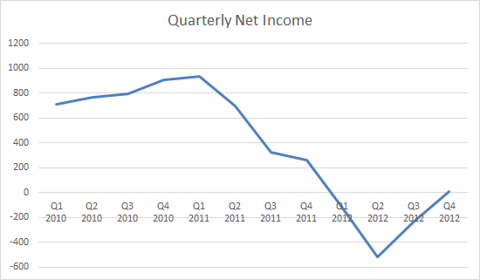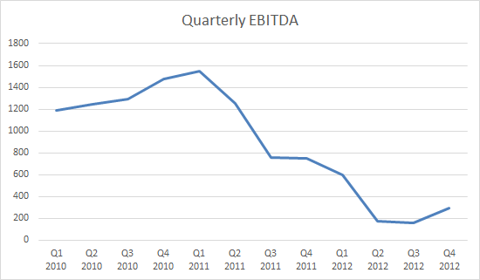 It's not a big surprise that the stock is down 90% or so from its 2008 high…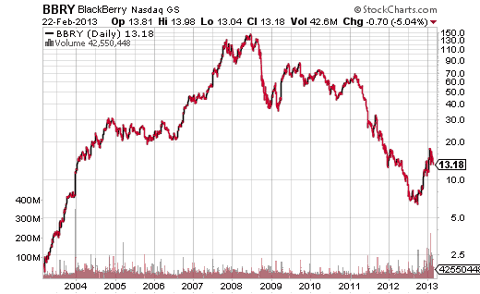 So, yes, the company is going all in because it has no other choice if it wants to survive. And there are promising signs. For one, reviews of its new O/S have been very positive, most saying that it goes beyond expectations and puts BlackBerry "back in the game" in terms of its quality.
So What Now?
Clearly, BlackBerry's biggest strength is its loyal corporate customer base. Its biggest weakness by far is its app ecosystem. Yes, I agree that the number of apps can be irrelevant but having many of the top app developers not want to spend any time on BB apps is a major problem when trying to sell its devices.
I Don't Believe It
At this point, Apple and Android powered devices control the market and offer by far the best experience. For any competitors (BlackBerry, Windows phones or others) to become relevant will require offering something unique. BlackBerry's customer base is largely based in large corporations that are extremely slow to adapt and migrate towards new phones. (government agencies, banks etc). Just pay attention and you will notice that every month, a few huge corporations announce they will either:
switch entirely to Android or iPhones
offer their employees the choice
Now, I have a BlackBerry phone and love it. It types extremely fast (perhaps faster than any other device, laptop included!). But I also got an iPhone because I just wanted to have the "smartphone experience" that I could not get on BlackBerry. I know of many others. What are the odds that such users will switch to 1 phone? High. But I don't know of one person that will switch from Android/iOS to BlackBerry. Not one. You might know some.
Don't Take My Word for It
On Thursday, AllThingsD confirmed that Instagram, one of the top apps in the world said it had no plans to build a native BlackBerry app. Google (NASDAQ:GOOG) has also confirmed it would not be building apps for several of its products (such as Google maps) on BlackBerry. You could argue that Google is focused on Android which is correct. But the company has also invested very significant resources into iOS apps. Both Facebook and Google know that being present in every relevant ecosystem is critical.
That's Just It
If Google, Facebook and others don't think BlackBerry will be relevant, I certainly think they've done their research. A few other major apps that don't even want to put up the work to be present on BB10 include:
Netflix (NASDAQ:NFLX)
Snapchat
YouTube
Pandora
Spotify
Hulu, etc.

So all of these companies think BlackBerry10 won't be relevant a few months from now, and I agree. They're not the only ones either.
I met a BlackBerry engineer who explained to me how difficult of an environment it's been for employees with new layoffs being announced every few months. Many employees have left the firm and as you can imagine, the most talented ones are usually those taking such action. A lot was written about how depressing it was for Facebook employees to see their stock lose half of its value (mostly recovered now). Can you imagine when that percent is nearly 90% from its 2008 highs? Also, former Co-CEO James L Balsillie has sold every single one of his BlackBerry shares. Seems like he's not a believer as much now that he's free to express his views
Another point to note is that while Apple works on devices such as the AppleTV, iCloud, the iWatch and Google innovates with Google Glass, Google Fiber and more, BlackBerry is working on launching a good phone in a decent O/S. This is 2013 -- I think that boat sailed by several years ago.
One Word of Caution
I do expect initial sales of those new devices to be very good. Why? Because millions of BlackBerry users have been pushing off their upgrades knowing that new better phones would be unveiled. All of those users (including myself) will jump on the new phones as soon as possible. That is not the relevant number though. Look for the number of new users that switch to BlackBerry (corporate and personal). I'm betting BlackBerry will go down.
Disclosure: I am long FB, AAPL. I wrote this article myself, and it expresses my own opinions. I am not receiving compensation for it (other than from Seeking Alpha). I have no business relationship with any company whose stock is mentioned in this article.