It is a worthwhile, although subjective, observation that online chatter has transitioned since December from doom and gloom regarding the fiscal cliff to near euphoria over the imminent coming of a new secular bull market. At this moment, contrarian thinking is in order, not for its own sake, but rather because warning signs are beginning to accumulate. If bearish signs are noted and discounted by the market they are not worth acting upon, since the price you are paying has already taken these issues into account. However, at the time of this writing the market does not appear to be adequately discounting these issues and the risk of a correction in the near term is rising.
Exhibit A is a list of macro-economic data, which in the aggregate have weakened over the course of the New Year. The first quarter GDP report came in at -0.1% a figure as weak as any data since the 2008-09 recession. In total, while these data do not necessarily predict an imminent recession, they are consistent with a sluggish economy that is inconsistent with calls for the imminent beginning of a new secular bull market.
Figure 1: Macro Data Remain Weak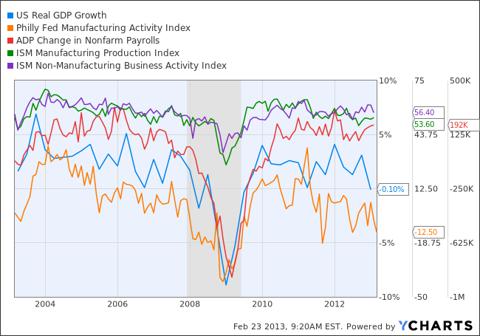 The end of the last secular bear market in 1983 was heralded by a normalization of economic growth after a period of stagflation and high interest rates. The true end of our present deflationary secular bear will become known as interest rates normalize upward and economic growth becomes robust. It is expected based on recent trends that we are not out of the woods yet.
Figure 2: GDP Growth and the Dow Jones Industrial Average from 1978 to 1984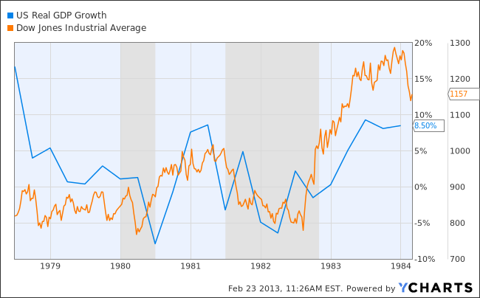 In a previous article, a case was made that outperformance of the most highly levered stocks was a tell indicating that the rally had as much to do with discounting easing by the Federal Reserve as compared to discounting improvement in the real economy. At present this outperformance is in danger of rolling over. What was the cause of this underperformance? Simply by stating the obvious fact that open-ended QE really cannot really be open ended the Fed managed to throw cold water on the rally.
Finally, outperformance of cyclical stocks compared to consumer staples, which prompted my bullish call on the market in September when the S&P 500 traded below 1400 is presently showing signs of weakness. The slow nature of the rollover and its subdued outperformance indicates that a major correction is unlikely. However, a moderate pullback of 5-10% may be in order and higher beta sectors of the market would likely be more exposed to selling pressure.
Figure 2: Cyclicals Are In Danger of Topping Out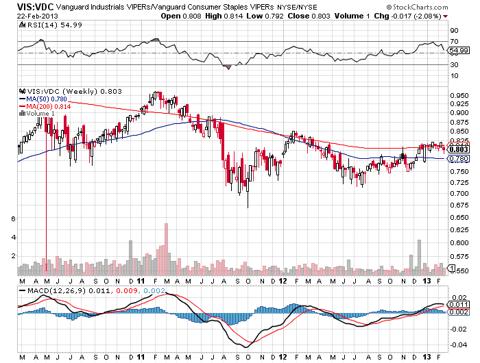 For investors in individual stocks it is not convenient to rearrange your portfolio due to concerns of a coming correction. However, in order to buffer oneself against the vagaries of the market it may be helpful to build a hedging position through selling higher beta (NYSEARCA:SPHB) to mitigate a fraction of your long exposure. During last year's second quarter correction the PowerShares High Volatility fund declined by 23% during a broad market downturn of 9%. As such, the short would effectively be levered 2.5:1 and hedging with 20% of your portfolio could reduce effective long equity exposure to 50% assuming you are fully invested. During the 2011 market crash, the fund was drawn down by 37.5%, while the S&P 500 fell by 19%: again pronounced underperformance. It is my opinion that long low-beta short high-beta is an excellent hedging strategy against a market decline.
Figure 3: PowerShares High Volatility Fund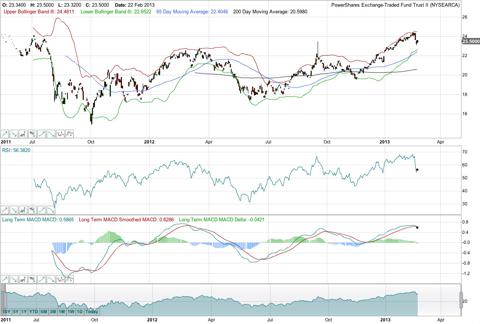 It should also be noted that any period of weakness should present a desirable buying opportunity. Several stocks, which have shown recent weakness and would be good picks during a correction, are: Deere (NYSE:DE), Coca-Cola (NYSE:KO) and Kinder-Morgan Energy Partners L.P. (NYSE:KMP). There are also several stocks in strong uptrends that could also prove timely buys upon any renewed weakness including: The Chubb Corporation (NYSE:CB), Omega Healthcare Investors (NYSE:OHI), The Travelers Companies (NYSE:TRV), The J.M. Smuckers Company (NYSE:SJM) and Union Pacific Corporation (NYSE:UNP).
The last several years have shown the imprudence of chasing rallies as the market has become saturated by investors and funds with very short time horizons who are actively chasing prices higher. Once these speculators have gone long the chance for rising prices is low as weak hands are flushed out of the market at the first sign of a coming downturn. At the very least now is not the time for increasing long equity exposure.
Disclosure: I have no positions in any stocks mentioned, but may initiate a short position in SPHB over the next 72 hours. I wrote this article myself, and it expresses my own opinions. I am not receiving compensation for it (other than from Seeking Alpha). I have no business relationship with any company whose stock is mentioned in this article.