It's time to take profits off the table with your Nokia (NYSE:NOK) investment.
After reaching intraday highs of $4.90 a month ago, the tech giant has retreated 22.7% to close last week's trading session at $3.79.
The Story Run is Over
The stock has had an incredible run over the past half year. After touching lows of $1.63 in mid-July, the stock rallied a money-making 191% in six months. During the run, the stock price took several sessions to relax and regroup along the way, but the trend was blusteringly bullish the entire time. The RSI (Relative Strength Index) hovered at the overbought indicator of 70 much of the way, but the bulls continued charging and the stock continually made new highs. For the bulls who got in close to the bottom and rode the wave, a lot of money was made. But all good things must come to an end. Sad to say, this story is over.
Cold Fundamentals
Nokia has experienced a rapid loss of market share in the mobile phone market which was spurred on by the tremendous global demand of smartphones. Nokia was a master of the 'un'-smartphone; they were a pioneer, a trailblazer, an innovator. When the shift started to smartphones and tablets began to gain momentum eight or so years ago, new innovators jumped into the field. Palm - which after being acquired by Hewlett-Packard (NYSE:HPQ) was written down as a loss - was one of the initial innovators in the field, but the combination of a buggy operating system and bulky hardware was their tragic flaw. The innovation breakthrough came when Apple (NASDAQ:AAPL) launched the initial iPhone in 2007 and has continued suit with companies such as BlackBerry (NASDAQ:BBRY), Motorola (NYSE:MSI), Samsung and HTC. Because Nokia fell behind quickly, they have never been able to regain market share from the companies we now see as smartphone mega-giants.
Nokia's partnership with Microsoft (NASDAQ:MSFT) has been a valiant attempt to regain entry into the market, but has seen limited success because of Widows Phone's lack of consumer appeal. Microsoft's operating system only operates on less than 4% of the smartphones in the world. More than half of those are Nokia phones, but that still only takes up 2% of global usage, and with such a small percentage of the market, Nokia has found it very hard to break through into new uncharted ground.
The Nokia Lumia 920 has been the game-changer for Nokia, and a major catalyst behind the precipitous rise in stock price over the last six months. When comparing the chart to the key dates with the Lumia 920's release, there was a positive trend continuation after the initial announcement and when the product was released and saw ample preliminary success, the stock's rise accelerated into the new year.
Nokia is certainly not dead, and the Lumia 920 is the first product breakthrough that the company has seen in a long while. But there are still many questions to be answered. Will the Windows 8 operating system continue to gain respective market share against iOS and Android as it has done in the past two months? With continued innovation (especially on the Android side), I'm not betting that Windows 8 will hold up. Much of the anticipation and prospective gains are already built into the stock price at these levels, and the recent selloff (22.7% one-month decline) proves that it is a dangerous game to be a long investor in Nokia.
Colder Technicals
This is not a dead stock. I don't project an exorbitant amount of downside. In fact, with approximately 15% leeway, the stock is valued fairly at this current level.
After reaching a closing high of $4.70 on January 11 of this year, the stock went on to see new intraday highs on January 23 before closing lower than the $4.70 level at $4.64. The fact that Nokia couldn't maintain a new high was an incredulous point in the run-up and brought the bears out of the woods to start the sell-off. Since then, the stock has seen a reversal and the formation of a negative trend that has now been supported at three points.
Additionally, momentum has been trending negatively since before the reversal even occurred. After peaking in early December, momentum has trended negatively and continues to touch the trend line and bounce negative again. Finally, the RSI has also been trending negatively since that same time. After spending a few months of bouncing up against the 70 overbought level, it has trended down and is seeing support at the $35 level.
My forecast for this stock is not negative. I believe there is strength at the current price level and want to reiterate that I don't see much downside from here. There is a support level at $3.69, which the stock closed at on December 10. Since then, $3.69 has served as a support on three sell-offs.
'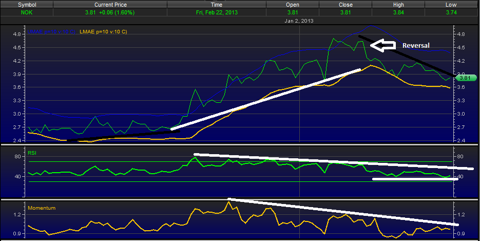 Don't Short Unless You're Crazy
Nokia is more than a devices company. They have more products than the Lumia 920. In fact, over 35% of their revenues come from a much less publicized segment of their business, Nokia Siemens Networks. NSN is the world's fourth largest telecoms equipment manufacturer, and they're doing gangbuster business. While Nokia's product line struggles, NSN's profitability continues to increase and be the major contributor to keeping earnings from dipping significantly lower.
Nokia isn't going much lower. It won't retouch previously-seen lows from earlier this year. It won't even get below $3.30. But it also is not going much higher than its current level. There might be some volatility between $3.30-$4.00, but the stock price is poised to settle into this trading range for some time now, until they have more major product breakthroughs, continue to perform exceedingly well with current products like the Lumia 920, or have an outstanding breakthrough in market share in the Chinese market. Even with price subsidizing from China Mobile (NYSE:CHL), high sales figures are already forecast and built into the current price level of Nokia's stock.
This story isn't dead, but it is over for now. Take profits off the table and wait for the next ride. There will be more to come - just not yet.
Disclosure: I have no positions in any stocks mentioned, and no plans to initiate any positions within the next 72 hours. I wrote this article myself, and it expresses my own opinions. I am not receiving compensation for it (other than from Seeking Alpha). I have no business relationship with any company whose stock is mentioned in this article.