Back in September (2012) I wrote an article (A Bargain In Chesterfield: Two Outlet Centers For The Demand Of One) in which I explained the competitive battle that was beginning to emerge with two dominant mall sector REITs. That contest - heating up in the St. Louis suburb of Chesterfield, MO - has since evolved into a gun slinging contest with two formidable REIT players, both firing bullets across the second-ring city with a population of around 47,484 (2010 census). Chesterfield ranks as the 14th largest city in Missouri.
The two cowboys - Simon Property Group (NYSE:SPG) and Taubman Centers (NYSE:TCO) - have both dug into the trenches and both are continuing to wage war on the prize of being the dominant outlet owner in the Chesterfield frontier. As I wrote in September:
Clearly the two mall giants are competing on the same turf and perhaps for some of the same tenants. It will be interesting to see how this is played out but for now construction crews are busy working feverishly on both sites. Taubman has announced an opening on August 2, 2013 and Simon has announced its opening for September 2013.
With just a few months away from opening, Simon and Taubman are both working feverishly to "win" and with egos and walls rising to the sky, the two developers are starting to sense the "contentious" environment continuing to unfold. As I previously explained:
If both projects get built, I suppose consumers in Chesterfield will have plenty of options for finding a bargain. I'm just not sure how investors will benefit from owning real estate in a market that appears to be soon over-supplied with an abundance of outlet space. I guess the best location wins and maybe we can learn from Walt Disney when he said "the difference in winning and losing is most often, not quitting."
Nobody Is Backing Down
As I reported back in September, Simon plans to construct a 350,000 facility (St. Louis Premium Outlets) anchored by Saks Fifth Avenue OFF 5th (NYSE:SKS) and Taubman plans to construct a 450,000 square foot project (known as Taubman Prestige Outlets Chesterfield). As stated in a press release, Taubman's project will include:
Its Phase One development will include approximately 310,000 square feet and approximately 80 stores. An additional 140,000 square feet and approximately 30 to 40 stores are slated to open with Phase Two. Situated on 49 acres and with a line up of premier fashion retailers, Taubman Prestige Outlets Chesterfield will be a shopping destination for locals and visitors alike. Its open air design, dog friendly environment and access to the levee fitness trail create a unique retail experience for shoppers.
In a Twitter feed (and as shown in a picture below), Taubman's Chesterfield project is well underway: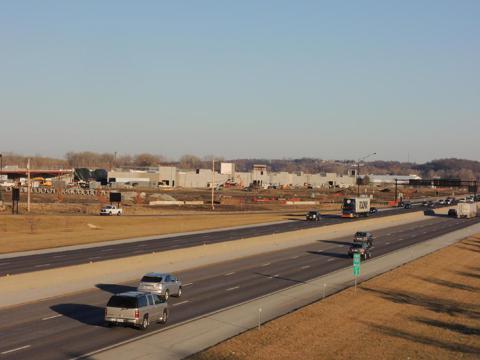 Click to enlarge
Here is an aerial view (from another Twitter feed):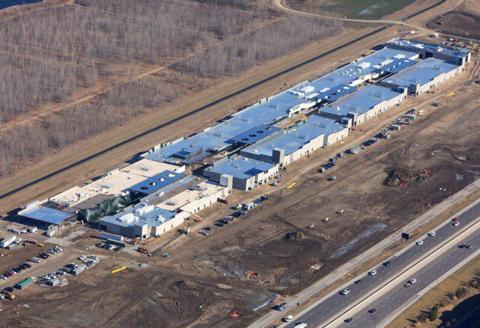 Click to enlarge
Taubman Centers: I'm Your Huckleberry
In the shootout at the OK Corral, Doc Holliday said:
I'm your huckleberry...
That phrase likely had ties to Arthurian lore as the legendary knights of the time would often come to the service of a damsel by lowering his lance and then receiving a huckleberry garland from the lady that he was defending. In other words, Holliday could have been responding along these lines:
I'm Your Champion.
During the latest earnings call, Robert "Bobby" Taubman, CEO of Taubman Centers explained the competitive projects in Chesterfield:
We've said stabilized returns would be reduced if both centers were built, and they will be. The range of income for 2013 is in our guidance. Given how contentious this situation is, we are not in a position to comment any further.
However, Taubman continued with comments as he argued that the Chesterfield market is underserved and he believed that his namesake project as well as Simon's new project would fill a void in the market. Still, he repeatedly described the situation as "contentious," and added:
There is no question that one individual project would have been very successful. It would have been one of the best outlet malls in the United States. Now it's going to have to share that market. So if you have to share it, it's never as good as having it alone.
During the earnings call, analysts suggested the outlet mall business may be too competitive for the company, given the strength of Simon and Tanger Factory Outlets (NYSE:SKT) in that sub-sector. Taubman replied:
We hope to build a handful of these things. That's what we talked about all along. We think it's an absolute natural extension of our capabilities. We think it's very synergistic with the retailers and the leasing execs that we talk to all the time. Retailers are encouraging us to do it. It diversifies our product type; it augments organic growth. At every level it makes sense for us to be involved in it. It is a very competitive environment. … But we're hopeful that we will find locations that will be less competitive over time than this one has proved to be.
Later in the earnings call, Lisa Payne, Taubman's vice chairman and CFO, took on the Simon project directly.
What surprised us here was that, given the strength of our site and where we were in our process, that somebody would actually build on what we saw as a very, very inferior site with very bad access. So, when we look back and say, 'What could we do differently?' I guess we underestimated our competitor, but we also didn't think that they are going to do something that was building bad real estate. And, you know, shame on us, maybe, but in fairness, we really did analyze the situation and did not think that anyone would build on that site.
Michael Bilerman, an analyst at Citi Investment Research, noted the two companies' varying forecasts for their St. Louis projects. As he explained:
I'm just curious, because you talked about having the better site, and you got up quicker, and that's what gave you the confidence to move forward as you did. But you look at the return that Simon is quoting, [and] on their return it doesn't appear to have any impact at all from competitive pressures. And so I guess, do you feel like … they're just too big, and they have too much sway with the retailers, that it's almost anti-competitive? Is that what you're accusing them of?
Taubman said he could not comment on Simon's reporting, but added,
He's an $85 billion company and it's a $100 million-plus project, and it's lost in the rounding.
Taubman continued:
Look, both of us are going to open up these projects in August, and life will go on, and they won't be as good if only one project was built, as I said. But life will go on. It's in our guidance. And, you know, they're both going to be OK. They just aren't going to be as great as they could be if there's only one.
Bilerman pressed,
(They) actually give out projected returns on their developments, and it's still a 10 yield. So, they're still forecasting a solid return even though on an $80 billion base it won't do much. I'm just trying to gain a little bit more perspective of … why they're being successful over you, and if there is something else going on?
Payne then said,
It sounds like you actually believe the 10.
Bilerman countered,
It's in that 8-K, just like your returns are in 8-K. I assume public companies are not trying to flip one by the street.
Taubman ended the call by saying:
Just you figure out how to audit it.
There's No Winner in Chesterfield
The legendary gunslinger Doc Holliday survived many shootouts and alongside his good friends, Wyatt Earp and Earp's brothers, they continued to wage "big bets" that made history. During his travels, Holliday became known as a fierce gambler, often becoming hot headed and even impulsive.
I would not compare the legendary Doc Holliday with Bobby Taubman. However, I would compare the Chesterfield showdown as a gamble that both REITs have waged with no clear victorious outcome. Simply said, there is not enough demand in this underserved outlet market to support 800,000 square feet of selling space.
It is clear that the outlet sector is becoming more competitive today as Tanger, Simon, and Taubman have all been developing new projects aimed to fill a void in many towns across the nation (and Canada). As evidenced by the success of Tanger (19 years of dividends paid and increased), the industry is certain to become even more crowded in the pursuit of the consumer demand for more bargain dollar deals. In the words of Tanger's CEO, Steven B. Tanger:
In good times, people love a bargain, and in tough times, people need a bargain.
I am beginning to think that Simon's ego is as big as his market cap. Simon, the "big bad" mall giant - perhaps more of a modern day Goliath - has a market cap of around $49 billion. Maybe Taubman (with a market cap of $4.9 billion) - the modern day David - can wrestle down Goliath and one day claim victory by saying:
I'm your huckleberry

Click to enlarge
Source: SNL Financial
Disclosure: I have no positions in any stocks mentioned, and no plans to initiate any positions within the next 72 hours. I wrote this article myself, and it expresses my own opinions. I am not receiving compensation for it (other than from Seeking Alpha). I have no business relationship with any company whose stock is mentioned in this article.