The Dow Jones Industrial Average recently is mere pennies above 14,000, but investors are growing increasingly nervous. The 'sequester cliff' is around the corner and defense spending is on the chopping block. As a result, many investors are pursuing high yielding equities because of their generally strong financial position and ability to generate income. Last week the Federal Reserve minutes revealed that some governors favor a policy in which the rate of bond repurchasing will slow. If the demand for bonds decreases, then interest rates will slowly start to rise as the bond prices fall. Of course, interest rates will increase in the future but the question is when? It certainly appears that this new normal includes negligible rates for the near future. Rather than settling for a negative return after inflation, I suggest high-yielding equity securities.
This week there are 11 candidates, six of which have been analyzed below based upon SA readership criteria. Most of the equities this week are either financial services firms or utility related companies. One unusual industry in the high yield space is recreational, which includes an amusement park and television broadcaster. Yields are spread fairly evenly this week but one stock is the clear winner with a 12% yield. Two-thirds of the opportunities are small-cap, thus there is additional risk. I prefer that my ex-dividend candidates have market caps greater than five billion dollars but that is not a requirement. Two of the opportunities go ex-dividend today with another four going ex-dividend tomorrow so time is of the essence.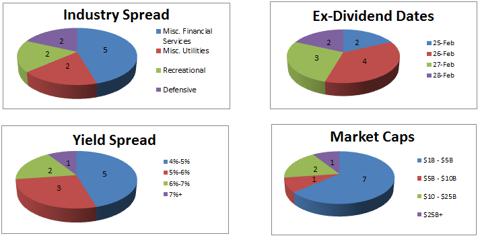 For details of the strategy and my screener details, please consult my methodology on the topic (last modified 1/21/2013). In brief, the screen focuses on relatively stable equities with a concentration on liquid companies at affordable valuations. This is summarized below:
Dividend Yield ≥ 4.0%
Ex-Dividend Date = Next Week
Market Capitalization ≥ $1B
P/E Ratio: 0-20
Institutional Ownership ≥ 15%
Ideally Modest YTD S&P 500 Underperformance
Minimal European Exposure
After applying this screen I arrived at the equities discussed below. Although I envision these as short-term trading ideas, (i.e. less than three month holding period), you still need to exercise caution. Depending on your belief in the investment hypothesis, you may decide to only hold long enough for the dividend or to make the stock a longer-term holding. The information presented below should simply be a starting point for further research in consultation with your professional financial advisor before making any investment decisions. My goal is to present new companies to you and provide a brief overview of their recent developments; this should not be considered a substitute for your own due diligence.
Prospect Capital Corporation (NASDAQ:PSEC): 11.76% Yield; Ex-Dividend 2/26
Prospect Capital is a specialty finance company that operates primarily in the private equity and specialized investment categories with a focus on secured lending. The firm prefers to make small investments ($5-$50M) in small-to-mid-size North American companies. Private equity companies are attractive dividend producers because they frequently revitalize or capitalize existing businesses and are able to return excess cash quickly. These can be volatile firms because their ventures often do fail but once they have successful investments, they can pay above-average dividends.
Prospect reported another strong quarter of earnings in February and net investment income increased 172% year-over-year as the company continues to experience phenomenal growth. The current portfolio yield appreciated from 13.3% last quarter to 14.7%, highlighting how profitable these investments are for Prospect. This indicates that not only is the high dividend payment safe but that an increase is possible. In early December, Prospect increased the dividend payments by 8.2%. In June 2010, Prospect began distributing dividends monthly rather than quarterly, which accounts for the large perceived dividend decrease from $0.40 to $0.10. Private equity investments are complex due to the scale and diversity of their operations, so I strongly recommend that you read the earnings release for further details of investment activities. The company has been very active recently and has closed six deals in 2013 thus far with a value of $143M. One potential negative for Prospect is that it will need to replace the income generated by its Energy Solutions Holdings, Inc. investment, which generated "significant dividend and interest income" in 2012. This risk is mitigated by the $400M investment pipeline that includes "secured investments with double-digit coupons, sometimes coupled with equity upside through additional investments, diversified across multiple sectors."
The stock has been under pressure recently due to dilution concerns relating to the company's $384M net stock issuance ($11.10 per share before fees). Dilution is never good for a company, but Prospect has a history of raising capital to meet investing requirements. I am confident that the $300M in capital will be deployed profitably and investors would be wise to take advantage of the drop in the share price. The P/E is around nine and the yield is approaching twelve; therefore, I am bullish on Prospect Capital's future. This valuation is consistent with the depressed multiples of other financial services companies. I continue to reiterate that I would be comfortable buying Prospect under $11.50 and I believe there is still value here despite the five percent gain in the last quarter.
In January, Prospect announced that it would be diversifying its investments into the real estate market with three investments totaling $50M. President Grier Eliasek stated that "while our initial real estate investments have been in industrial and multi-family residential properties, Prospect is interested in all types of direct and indirect real estate investments, including properties owned by private equity-owned companies." Prospect might be late to the game, but I believe this diversification will ultimately improve the quality of the company.
Baytex Energy Corp. (BTE): 6.08% Yield; Ex-Dividend 2/26
Baytex Energy is an oil and gas company that engages in the acquisition, development, and production of oil and natural gas in Western Canada. In recent years, Baytex has also been expanding its presence in the United States. As a Canadian publicly listed corporation, there may be special tax considerations for United States shareholders depending on their unique situations. Despite its natural gas interests, more than 75% of revenue is derived from heavy oil with light oil accounting for nearly 20%. Todd Johnson wrote a very comprehensive overview of Baytex in which he concludes, "I believe Baytex is a long-term winner in the Canadian monthly dividend oil sector. I prefer the company's focus upon internal funding and monthly dividends." The stock has been volatile since that point and the yield has generally stayed between 5.8% and 6.2%. The monthly dividend has remained at twenty two Canadian cents per share since late 2011 and I view future growth as unlikely given the 110% payout ratio; however, the payout as a percent of funds from operation (FFO) is closer to 60%.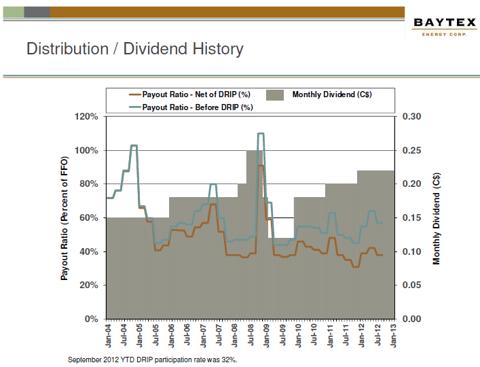 (Source: February 2013 Corporate Presentation)
Baytex announced an acquisition in October 2012 of 46 sections of undeveloped oil sands leases in the Cold Lake area of northeast Alberta for approximately $120M. This acquisition is consistent with Baytex's focus on heavy oils. Overall Baytex appears to be a solid dividend opportunity but there may be storm clouds on the horizon. Demand for pipeline capacity is outstripping supply and those companies without refining capabilities, such as Baytex, may suffer. Earnings are estimated to drop almost thirty percent going forward if demand stays at this level. This is a critical situation to monitor if you are considering a long position in the company and the stock has dropped nearly eight percent in the last quarter. With current and forward P/Es of 18.2 and 30.6, respectively, I would personally avoid the risk involved in Baytex.
Lorillard Inc. (LO): 5.35% Yield; Ex-Dividend 2/27
Lorillard is one of the "big tobacco" companies with brands including Newport, Kent, and True. I have profitably invested in both Altria (MO) and Philip Morris (PM) over the years and the investment hypothesis is very similar. U.S. cigarette volume is declining, but tobacco is still a strong worldwide seller. Furthermore, declines in cigarettes are being partially offset by demand for smokeless tobacco and other products such as eCigs (electronic cigarettes). Tobacco companies are both mature and safe, which presents the opportunity to return money to shareholders via dividends and share repurchases. Lorillard recently announced a solid quarter, which had revenue growth and expanding market share in eCigs. The dividend was also increased 6.5% as Lorillard continues to be very shareholder friendly.
For these reasons, I hold PM in my "Great Recession II" portfolio. Lorillard is currently notably cheaper (12 forward P/E) than both Altria and Philip Morris, thus I would consider this as one of the better potential investments in the industry. The stock dropped four percent on Friday as an anti-tobacco regulator joins the FDA as the head of the Center for Tobacco products. This is not good news for tobacco stocks but I believe concerns are overstated.
Lockheed Martin Corporation (LMT): 5.22% Yield; Ex-Dividend 2/27
Lockheed Martin is an advanced technology manufacturing company that specializes in defense and other related fields. Lockheed is the company behind the F22 fighter plane, as well as anti-missile defense systems. The company has the distinction of being the largest provider of IT services and training to the United States government.
The stock has essentially remained in a range between the high $60s and low $80s since the first quarter of 2009, but has been on a roller-coaster ride recently. In April, LMT set a new 52-week high of $92 before tumbling back into low $80s two months later only to set a new high. I wrote in August that Lockheed would have difficult pushing above its 52-week high of $95 but would have support in the low $90s due to its P/E of ten and high yield. Lockheed did barely surpass $95 before falling back into the eighties. I am still not completely sold on Lockheed due to the looming sequestration cliff but the five percent yield should provide some cushion from further declines. With the super committee's failure to make a decision, defense spending is facing $600B in cuts.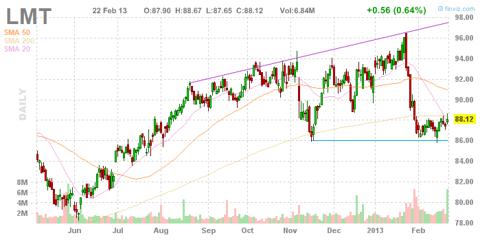 (Source: Finviz.com)
Due to the nature of operations, Lockheed is highly leveraged to government spending and Goldman estimated that the company has 97% exposure to "government agencies." Despite the potential decline in government spending, investors with a tolerance for risk can collect a respectable dividend that has been exhibiting respectable growth in the past decade. Not only does Lockheed have a strong yield, the company is dedicated to repurchasing shares and repurchased over $400M in 2012. Long-term Lockheed is a solid bet, but I do not like the firm for dividend capturing in this political and environment. To make matters worse in the short term, the F-35 Fighter was ordered grounded by the Pentagon due to safety concerns.
Sun Life Financial Inc. (NYSE:SLF): 4.92% Yield; Ex-Dividend 2/25
Sun Life Financial is a Canadian financial firm that offers financial management solutions, including financial planning, insurance, and asset management. The company had a very tumultuous 2011 but 2012 earnings were able to reverse the negative trend. The stock has jumped nearly 35% in the past year as the market believes that the worst is in the past for SLF. The stock is now trading less than five percent away from its 52-week high and the forward P/E recently pushed past 10.0.
The dividend is a little on the low side for what I expect out of a financial company in this market but it is average. The payment has held steady at thirty-six Canadian cents per share paid quarterly. Overall I consider Sun Life fairly priced and I would look towards one of the other ex-dividend opportunities presented this week. As mentioned with Baytex above, there are special tax considerations to be aware of if you are a US investor purchasing SLF.
Integrys Energy Group, Inc. (TEG): 4.80% Yield; Ex-Dividend 2/26
I wrote a detailed explanation of how I analyze utility companies recently and in brief, I focus on the number of customers and geographic locations. Larger companies enjoy scale benefits and are able to profit more from smaller rate increases. While geographical differences exist for regional utilities, the underlying business is essentially the same: a stable, cash-cow business that returns most profits to investors via dividends and share repurchases.
Integrys services one million customers in the Midwest U.S. Integrys primarily operates in the regulated utilities markets but has one non-regulated subsidiary. TEG does not have the most solid financial position, as its current ratio and debt-to-equity ratio are both less than one. Unlike many of its peers, TEG is actually growing revenues thanks to higher utility rates. Even before Hurricane Sandy it was rare to find a utility that was revising earnings estimates upwards, but Integrys did exactly that after reporting third quarter earnings. A positive potential catalyst is the planned acquisition of Fox Energy for $440M. The Fox Energy Center is intended to operate primarily on natural gas, which should lower the cost component mix for Integrys. The deal is expected to close in April 2013 and be financed with debt (initially short-term, then long-term). The tenuous financial position introduces additional risk with this utility but the 4.8% dividend yield compensates for the risk assumed. The yield has slipped from 5.2% due to the inexplicable 8.5% rally this past quarter. Note that Integrys reports earnings on February 28 so all dividend capturers should exercise caution.
The information presented has been summarized below. I make no warranties regarding the information in the chart as industry classifications are frequently imperfect. Yellow and red represent "avoid" and "consider" classifications, respectively.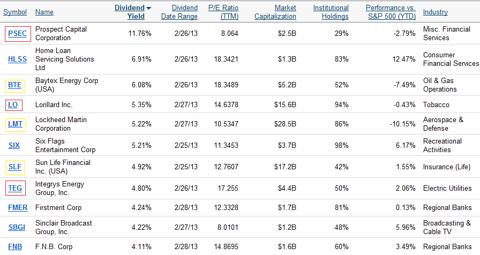 Please refer to profile page for disclaimers.
Disclosure: I am long PSEC. I wrote this article myself, and it expresses my own opinions. I am not receiving compensation for it (other than from Seeking Alpha). I have no business relationship with any company whose stock is mentioned in this article.
Additional disclosure: Please refer to profile page for disclaimers.