General Motors (NYSE:GM), with a current market capitalization of $34.54 billion, has brands which include Buick Chevrolet, GMC, Opel, Cadillac, Daewoo, Holden and Vauxhall. Recent earnings from the company have been a positive surprise for the market, with sales growth of 10.8% and income growth of 62.5%.
Global Trend - Fuel Efficiency
GM is one of the pioneers in making fuel efficient engines which are becoming increasingly popular due to higher fuel prices. The company's presence in high growth and energy deficient markets like India and China is likely to boost its fortunes multi-fold. It has invested significantly in research and development of new models from its global manufacturing hubs at low costs. This has been backed by able and efficient product and after-sales support. Due to such steps, the company is enjoying robust sales and annual revenue of about $151.84 billion, surpassing most other competitors. It also boasts one of the best operating margins in the industry of around 5.2%. Net income has turned around appreciably since the recession of 2008, and stands at about $5.44 billion.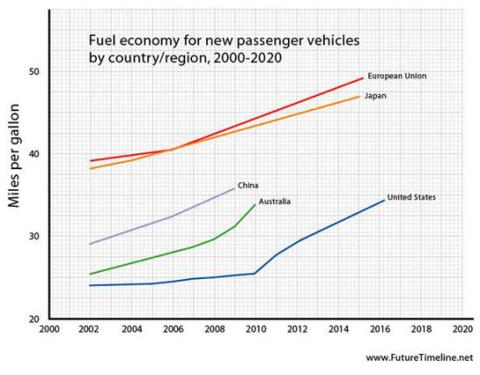 GM sold over 2.5 million vehicles in China in 2012, an 8.3% increase from 2011. In the U.S., GM sold 2.5 million, marking a 13% gain. China and the U.S. are GM's two largest markets, and these countries are both seeing fuel economy for passenger vehicles rise, due to a greater number of drivers demanding better fuel economy.
Other Positives
The factors that favor GM in this sector is its low price-to-earnings multiples. With a P/E ratio of about 6.62, the company betters the industry's average of 12.61 by some margin. It also has one of the lowest price/earnings to growth ratio of 0.48, making it an attractive growth story for long-term investors. Further, within the industry, GM is one of the companies which has shown positive growth in its business over the last one year or so wherein other major competitors have failed. One of the greatest investment wizards, Warren Buffett, has also recently increased his stake in the company, which can be construed as a major positive for the stock.
Financial Accounting
Another factor which favors the company was its ability to reduce other costs towards maintaining liquidity, financing sources and cash flow. The company has managed to refund most of its outstanding loans, including that from the US Treasury resulting in higher profitability under reduced interest liabilities.
North America
The profits from North America, its main interest, beat the street to $4.9 billion (though less than 2011 record profit margin of $7.6 billion). This is accompanied by an increase in profit by about 39% by its financing business. The company's focus on China is also seen as a potential growth area since there is a trend of increased sales in that country over the past years. There are also reports that the company is proposing to acquire a one-third stake in Japanese auto giant Isuzu.
Grey Area
Europe continues to be an Achilles' heel for GM due to the ongoing European financial crisis. The company's financial report shows that its European business has had a net loss of $1.8 billion in comparison to a $700 million loss a year ago. The revenue too dropped 20% from its European division. But, even then the results were better than the predictions by most analysts. The company has, however, shown confidence in breaking even in Europe by 2016.
Competitors
GM's competitor, Ford (NYSE:F), on the other hand has better sets of statistics as far as its financial figures are concerned. It has an extremely low P/E of 2.15 making its valuations ideal for investment. The price/earnings to growth ratio is also extremely low at 0.83, but higher than GM's 0.48, indicating a good growth prospect albeit a tad slower than GM. Ford has also been focusing on China. It has set up an assembly plant and is likely to enhance its production capability by almost double due to increased demands. However, Ford posted a sharp 20% fall in profits to $1.6 billion in the first quarter of the year from $2.0 billion in the same quarter of 2011. This decline is much steeper than the one that GM reported. Hence, the earnings for the next quarter are to be watched prior to committing oneself for investing in the company.
Another GM competitor to watch is Toyota (NYSE:TM). The company has been recovering from recalls and natural disasters in Japan and Thailand that had beleaguered it in the past. It has commenced marketing new models of fuel-efficient cars like the Corolla and Prius Hybrid. This Japanese auto manufacturer is expected to forecast profits in the coming quarters in excess of General Motors' expected earnings. The company managed to beat analysts' forecasts by improving margins, volumes and its forecast for fiscal year 2013. Analysts expect the company to improve its net profit next year by as much as 200% as it overcomes the aftermath of the Japanese earthquake, tsunami and floods in Thailand last year. However, the valuation of yen vis-à-vis that of the dollar is likely to dent into its profits. The current valuations of the company are also very steep with its trailing twelve month P/E of 34.68 against an industry average of 12.61. Hence, in my opinion, even though Toyota looks like a good prospect for future investments, at current levels the stock is expensive and GM is a better bet in today's market.
Conclusion
Going forward, GM, being one of the most trusted names in the American household, is sure to capitalize on the growing confidence in the market. With newer innovations and a global economic turnaround, the sales of motor vehicles will rise. The operating margins for this industry are currently very low, owing to the ongoing financial crisis in the world over, but the situation is likely to reverse very soon, thus benefiting the industry as a whole and GM in particular. The revenue and profits are likely to balloon in the near future and investors looking for gains in the long-term horizon should have this company in their portfolio.
Disclosure: I have no positions in any stocks mentioned, and no plans to initiate any positions within the next 72 hours. I wrote this article myself, and it expresses my own opinions. I am not receiving compensation for it (other than from Seeking Alpha). I have no business relationship with any company whose stock is mentioned in this article.