Citigroup (NYSE:C) shares have risen better than 60% off of their lows seen last summer to trade near $43 today and optimism regarding the company's prospects abounds. Shares tested and then broke out above $39 near the end of 2012 and have marched ever higher since. A rosy outlook for Citi (and all banks') future has shares climbing ever skyward, as seen in the two-year chart below, but is this price action warranted? While Citi's fundamentals have unquestionably improved over the past couple of years from a battered, bailed-out bank to one that is right-sizing its business and earning profits again, caution is warranted before going long after a 60% rise in shares. In addition, since seemingly everyone is bullish, should you follow the crowd?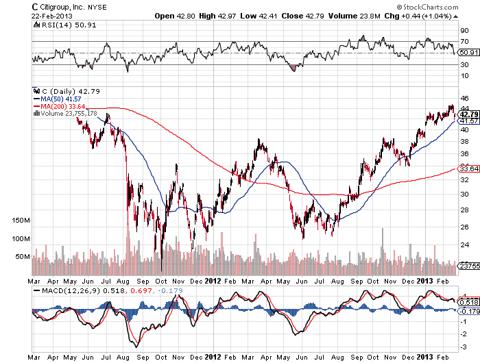 One analyst who is bullish on Citi shares is Guggenheim's Marty Mosby, forecasting 30% gains for Citi this year. His bullishness is predicated upon the company trading above tangible book value and the Federal Reserve finally allowing Citi to return capital to shareholders in a meaningful way. I agree wholeheartedly that once the Comprehensive Capital Analysis and Review, or "stress test" results are release in a few weeks that Citi, along with perhaps Bank of America (NYSE:BAC) will be allowed to begin returning capital to shareholders via larger dividends. I think share repurchases are probably going to have to wait until next year but given the capital Citi has built and the fact that the company's prospects have improved so dramatically, I think a dividend increase is very likely. This could be a major catalyst for Citi shares to trade over tangible book value, as Mosby points out.
Oppenheimer analyst Chris Kotowski suggests caution in the place of outright bullishness predicated upon the Federal Reserve allowing Citi to raise its dividend. Kotowski suggests that while the Federal Reserve will most likely allow Citi to raise its dividend, it is expected to be a very slow process instead of a one-time event where Citi, for instance, would triple its dividend. I think Kotowski is probably conceptually right although he may be a bit too pessimistic. Given that Citi has such improving prospects and capital reserves, management is no doubt itching to return some capital to shareholders to prove Citi has moved past the financial crisis once and for all. The Fed will most likely find that Citi is in a great position with liquidity, reserves and asset quality with improving fundamentals and deem that restricting capital distributions is unnecessary at this juncture.
Famed value investor Whitney Tilson counts Citigroup among his top five holdings, according to his 2012 annual report. Citi joins other financials AIG (NYSE:AIG), Goldman Sachs (NYSE:GS), Howard Hughes (NYSE:HHC) and Berkshire Hathaway (NYSE:BRK.A) (NYSE:BRK.B) in Tilson's top five holdings. Tilson's tilt toward financials is clear in his annual letter and this is ostensibly based on the industry's improved fundamentals and the big banks' ability to finally return some capital to shareholders. I have a feeling that the pending CCAR results have something to do with Tilson's overwhelming bullishness towards financials right now, and rightly so.
Famous bank analyst Dick Bove, now of Rafferty Capital Markets, also suggests Citi has about 30% upside this year. Bove suggests that several factors are in play for Citi shares to rise; among them:
Significantly raised dividend.
Excess capital and solid liquidity.
Asset quality returning to normal levels.
Low loan-to-deposit ratios that could fuel earnings growth.
Improving housing market.
Higher capital expenditures by businesses.
Bove has done a great job laying out the bull case for just about any bank, but Citi in particular has a great opportunity to benefit from these trends as the company has been divesting non-core assets and readying itself to be a bank again.
Citi has been trying to turn itself back into a bank since the financial crisis proved that the company had become so large and complex that it was unmanageable. In the face of a deteriorating economy, Citi fell apart to the point where a government bailout was necessary. Citi management has clearly learned from its past sins and new CEO Michael Corbat was at Citi for the whole ordeal. As a lifer at Citi and its subsidiaries, Corbat knows the business well and is well positioned to lead the company going forward. Some examples of Citi divesting its non-core assets include:
Offering up for sale its Brazilian consumer finance unit, which focuses on low-income borrowers.
Planned spinoff of Citi Capital Advisors, an alternative asset manager.
The company is exploring its options for its private equity business as other banks shrink or exit the business altogether.
Selling half of the company's stake in a Mexican airline.
In addition to refocusing the business on being a bank, the company has recently purchased $7 billion in credit card receivables from Capital One (NYSE:COF) for no premium. This portfolio of Best Buy (NYSE:BBY) receivables also comes with the retailer's branded credit card business going forward. This is a core activity for Citi as it has the most robust retail credit portfolio in the business and the BBY line only strengthens its position. More importantly, it suggests that Citi is in fact refocusing its efforts into becoming a bank again and operating in its core business lines.
Citi has been through a very rough patch in its history, the most challenging the company has ever experienced. After shares famously traded for less than one dollar during the depths of the financial crisis, the company has rebounded by focusing on its core business and raising capital levels to ensure that a 2009-style meltdown in the economy won't bring the company to accept a government bailout again. As industry tailwinds work for Citi in the coming years and the company is allowed to return capital to shareholders, increasing earnings should serve to boost Citi shares in the coming years.
Normally, I don't like to follow the herd into a name that has overwhelming bullishness as that is typically a reliable indicator of froth in a particular security. However, the bullishness is warranted in Citi, in my view, given the macro tailwinds in the banking industry, the fact that Citi is refocusing on actually operating like a bank, and the potential for a large amount of excess capital to be returned to shareholders following the release of the CCAR results. Summing all of these factors points to a glowing outlook for Citi shares in the near and medium terms.
Disclosure: I have no positions in any stocks mentioned, but may initiate a long position in C over the next 72 hours. I wrote this article myself, and it expresses my own opinions. I am not receiving compensation for it (other than from Seeking Alpha). I have no business relationship with any company whose stock is mentioned in this article.