I remember when a good friend of mine, who had initiated a position in Hewlett Packard (NYSE:HPQ) at $17 started buying with both hands when the stock hit $12 on the Autonomy acquisition shenanigans. He pointed me to the high EPS that the company expected to achieve in 2013, and further pointed out that the dividend wasn't bad either. My response to him was simple,
"I don't trust management."
Well, he's laughing all the way to the bank as every share he owns has rocketed to well above his cost basis and I'm stuck thinking that maybe I should have had a little more faith in Meg Whitman and her team.
HP's Tablet Strategy Makes Sense
It's clear that tablets/hybrid will be a major part of the compute continuum going forward. People like thin and light, and people like touch screens. The days of the big, bulky laptop are more or less over for non-professional/gamer types, and the race is now all about who can do the sleekest, thinnest, and longest-lasting-on-a-charge device. The hardware will go behind the screen, and I expect that every notebook that actually sells a year from now will be a hybrid.
So, HP is doing the sensible thing and embracing both Google's (NASDAQ:GOOG) Android and Microsoft's (NASDAQ:MSFT) Windows 8 for different segments of the market. Clearly, for productivity use, Windows is the staple of the corporate world and anything else just isn't going to fly. That's why for these markets, HP is selling an Intel (NASDAQ:INTC) Atom based, full Windows 8 device known as the "ElitePad". These aren't "Core" based tablets, so the performance and power characteristics are about in-line with the ARM (NASDAQ:ARMH) based devices, but they still run full Windows 8 (and people are wondering why the Surface RT is a stillborn).
For the consumer market, it seems that the 7" tablets are in-vogue because they're cheap, reasonably powerful, and very portable. It makes no sense to put full Windows 8 on such a device, so HP is following the hip crowd into the Android space with a $169, 7" Android tablet called the "Slate 7". It's cheap, it runs Android, and it looks pretty nice, too: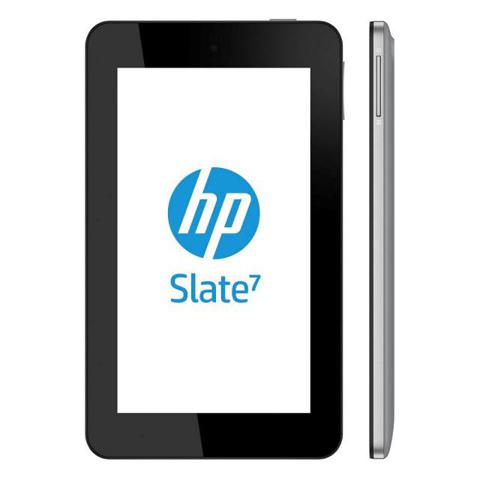 So, HP is pursuing a strategy that makes sense from a product perspective. However the real question is whether there's any money in these things.
HP Is Probably Just Trying To Please Investors
HP's main profit driver has never been the consumer PC business, so without the brand equity in the tablet space that it has in the equally low-margin PC space, it's hard to really see the rollout of these devices as really moving the needle. I can see the case for the professional/corporate Windows 8 devices: ASPs are higher, and HP is a brand that corporate customers trust. Even with a slim gross margin, total margin dollars should probably come out okay on these things.
The 7" Slate, though? That's just for show. HP is trying to make itself look like it's "in tune" with the hip, Apple (NASDAQ:AAPL) crowd by putting this thing out, but in reality it will be received as yet-another 7" Android tablet from a corporate PC vendor that, quite frankly, doesn't exactly resonate with consumers the way "Google" or "Apple" does. Low gross margins, low ASPs, and questionable potential sales lead me to believe that the team at HP is just paying Wall Street lip service by releasing this thing. Who can blame them? Wall Street punishes companies for not following the trendy -- if perhaps completely unprofitable -- ventures that others got to first.
Conclusion
HP's tablet lineup makes sense, and it's done right. At the high end/enterprise, it's pushing full Windows 8 machines with Intel processors. A double win for IT departments who wouldn't think of having anything else. The 7" Slate? Yeah, that looks good too, but don't expect it to move the needle much. It's there just so HP can have something to show at MWC and perhaps to affirm to the market that it's really not dead.
But hey, shouldn't the fairly massive EPS guide have done that already?
Disclosure: I am long INTC. I wrote this article myself, and it expresses my own opinions. I am not receiving compensation for it (other than from Seeking Alpha). I have no business relationship with any company whose stock is mentioned in this article.
Additional disclosure: I may short HPQ puts or buy shares of HPQ common stock at any time. I am also short ARMH.