EVENT AEIS Scheduled To Report Q4 Revs, Q1 Guidance Mon 2.23.09
CAUSE Expect Guidance Below Street Due To Weak Semi Equipment, Flat Panel, Solar End Markets
IMPACT Negative For AEIS
ACTION Continue To Avoid AEIS, Semiconductor Equipment
click to enlarge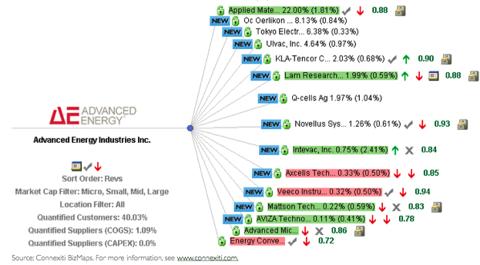 Click to enlarge
SUPPLY CHAIN EVENT TRACKER
1.23.09 Competitor MKSI guides Q4 revs -11.1% below Street expectations
1.22.09 Supplier MSCC guides FQ2 revs -16.1% below Street expectations
1.28.09 Customer LRCX guides FQ4 revs -28.4% below Street expectations
1.29.09 Customer KLAC guides FQ3 revs +2.3% above Street expectations
2.2.09 Customer AMAT guides FQ1 revs -7.2% below Street expectations
2.3.09 Customer IVAC guides Q1 revs -55.0% below Street expectations
2.3.09 Customer AVZA guides FQ2 revs -39.5% below Street expectations
2.4.09 Competitor MKSI guides Q1 revs -25.1% below Street expectations
2.4.09 Customer NVLS guides Q1 revs -33.9% below Street expectations
2.4.09 Customer MTSN guides Q1 revs -39.6% below Street expectations
2.9.09 Customer VECO guides Q1 revs -26.6% below Street expectations
2.10.09 Customer AMAT guides FQ2 revs -21.3% below Street expectations
2.12.09 Competitor ENTG provides no guidance; Q trending "pretty much in line" with major customers
EVENT: EXPECT Q1 GUIDANCE BELOW STREET. AEIS is scheduled to report Q4 (Dec) revs and Q1 guidance Monday 2.23.09 after the market close. The Street currently expects Q4 revs of $66.9M, vs. management guidance of $66-72M (midpoint $69.0M). AEIS has not yet provided Q1 guidance, but the Street is expecting revs of $57.5M (-14.1% Q/Q). Based on numerous supply chain data, we expect Q/Q guidance of -30% Q/Q or more.
CAUSE: NEGATIVE SUPPLY CHAIN DATA. Semiconductor companies have slashed CAPEX, and 2009 semi CAPEX spending is now projected to be down -50% Y/Y. Conf call commentary has been dismal; LRCX's in particular was one of the most negative in recent memory. LRCX management expects the current environment to persist for "at least" the next 6-8 Qs. AMAT's commentary was not much better. While AEIS has diversified its end markets—its exposure to semiconductors is roughly half what of 2007's 68%—growth markets to which it diversified (i.e. solar at ~20%) are also declining.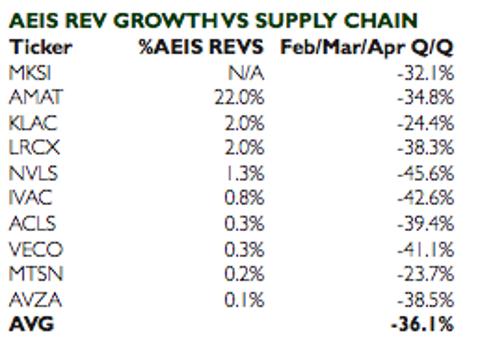 Click to enlarge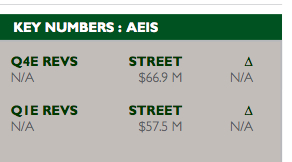 IMPACT/ACTION: CONTINUE TO AVOID AEIS + SEMI EQUIPMENT. As of the time of this writing, AEIS is trading at roughly $7.80, a 31%+ premium vs the Nov low of
$5.94—while business conditions have deteriorated significantly since then. As the table above shows, the avg rev growth guidance for the Feb/Mar/Apr Q for companies in AEIS's supply chain is -36.1% Q/Q, while Street expectations for AEIS are much better at only -14.1%. We expect AEIS to guide significantly below Street expectations on Monday, and would not be surprised to see a number of $42-47M vs the Street's $57.5M. For more information, see our BizMaps here.