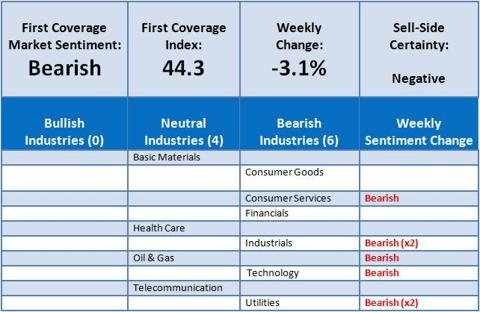 No mas!
Eerie shades of Roberto Duran filtered through the institutional sell-side last week as they did their best impersonation of a boxer refusing to come off his stool one more time. Lesson learned: getting pummelled by the same opponent time and time again eventually will leave one more educated if not more dedicated to a cause.
Last week, the institutional sell-side threw in the white towel. After a year that started up, floated down, and now sits almost 15% off year-to-date, the sell-side finally raced for the exits demonstrating capitulation, while almost falling over themselves in their singular, unified advice to their buy-side clientele to get short in this market and prepared for another leg down.
First Coverage Sell-Side Sentiment declined over 3% last week. To put that move in context, we've included a table below that indicates the week-over-week changes in market sentiment since the start of the year.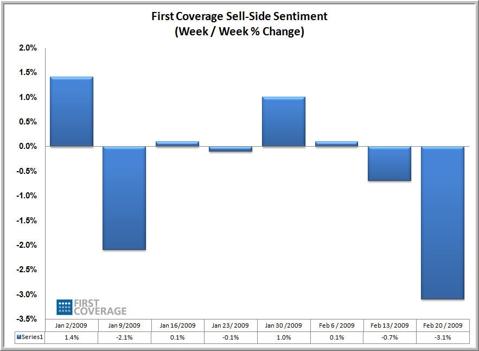 Most weeks, as shown in the chart above, sell-side sentiment doesn't move all that much. The beauty of following sentiment is that when it does change, it is indicative that something, some data point somewhere broke (in this week's case) the collective back of the sell-side. Last week, we had more than enough negative data to pick from. Soros and Volcker are calling this even worse than people believe. The Fed is lowering the GDP forecast for 2009. Unemployment expectations rising. All the while, almost 50% of America is now concerned about losing their jobs.
Whatever the single cause was over the last 18 months, once sell-side sentiment does move in either direction, it has been a very predictive indicator that everything from the way professionals are thinking about this market to the way news will be interpreted to the odds for a dramatic move in the indicated direction have shifted, as well.
Since the start of 2009, we have had one other occasion with a substantial weekly downward move. This occurred back on January 9th. Over the next 11 days the market fell 10%. Prior to this current decline, the second largest 2009 shift in negative sentiment was a mere 0.7%, which occurred two weeks ago and preceded the recent 6% decline in the broader market.
So, again…what does a decline of 3.1% mean? Well, first we can focus on what it doesn't mean. It doesn't mean that the recent bail-out-stimulus-TARP-mentality of the government is instilling anyone on the sell-side with a sense of the warm fuzzies. It doesn't mean that the more-detailed Geithner description of the bank bailout plan on Tuesday is going to be met with a positive reception by the sell-side. It doesn't mean that the individuals who make up the professional sell-side and independent research providers are feeling any better when they go home at night to their families or come into work with their peers. It doesn't mean that 'Time Heals All,' and in fact, in this case, it demonstrates quite the opposite… time combined with ambiguity eventually succumbs to depression (and not the economic definition but rather the one that needs a prescription to bounce back from).
What does a decline of 3.1% mean? It means that the sell-side believes we have definitely not seen the bottom and the worst is yet to come.