The last week's action in precious metals was sensational, with gold (NYSEARCA:GLD) and silver (NYSEARCA:SLV) dropping by 2.82% and 4.65%, respectively. Platinum and palladium (NYSEARCA:PALL) suffered even worse fates, as we predicted. The coming weeks' action in precious metals is getting murkier, as short positions on gold have skyrocketed, but we believe the longer-term trajectory is now downwards due to gold ETF withdrawals.
The following chart shows Managed Money gross short positions on gold.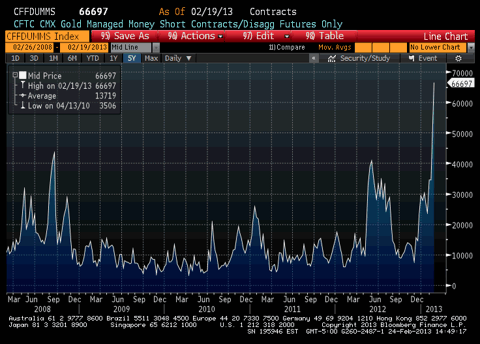 Click to enlarge
(Click to enlarge)
As can be seen, not only did gold gross short positions rise to a new record, they actually rose by nearly 20,000 contracts (or $3.1 billion in dollar terms) in just 1 week. It is clear that the futures market is skewed towards the short side, but that does not necessarily help us make a contrarian buy call as easily as it would be in other futures-traded commodity markets. While futures traders are highly leveraged and can cause volatile swings in prices, the real medium and long-term drivers of the gold market are gold ETF holders.
The following chart shows the dollar value of gold ETF holdings over the past 5 years in yellow and the total dollar value of Managed Money net long gold futures exposure in white.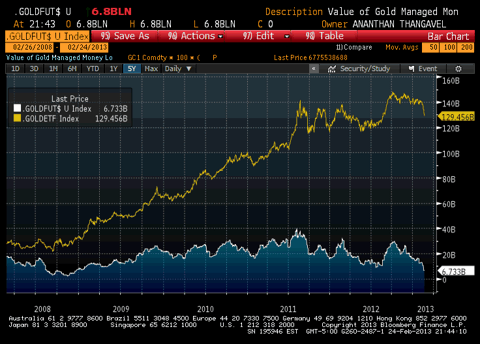 Click to enlarge
(Click to enlarge)
As can be seen, the amount of gold controlled in dollar terms by the ETF market absolutely dwarfs the value of gold held by futures speculators, even when gold was in a speculative mania in early fall 2011. The action in the ETF market is much more important for the long-term value of gold than the futures market.
The following chart shows the dollar value of gold ETF holdings over the past 5 years.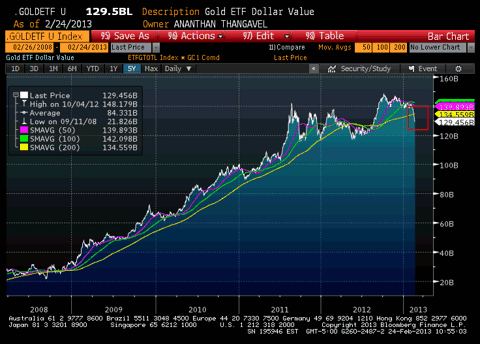 Click to enlarge
(Click to enlarge)
As can be seen, the amount of gold held by ETFs has absolutely exploded over the past 5 years, from below $20 billion to nearly $150 billion at its peak. What is remarkable is that ETF holdings had actually risen since the price of gold collapsed off its speculative bubble in 2011, and ETF holdings stayed stable at their all-time highs even in recent months as gold drifted lower, but the past week saw gold ETF holdings careen by over $5 billion as shown by the red box.
However, there is clearly plenty of room for more money to come out of gold ETFs, with holdings still at $129.5 billion. In fact, even with gold gross short positions among futures speculators at a record high, the 66k short contracts comprise only around $10 billion, or 1/13th of the present ETF holdings. We can see that the speculative futures market is actually not nearly as important as gold ETF holdings.
The fact that the recent fall may be predicated by ETF holders starting to liquidate is significantly more worrisome than at any other point during gold's recent troubles. While the liquidation of gold futures traders caused significant price corrections over the past 1.5 years, gold still never lost more than 20% from its blow-off top to its recent bottom. It seems that gold ETF investors were continuing to add money to gold even while the price was falling or stagnant supported prices. If this trend is now reversing and gold ETF investors are leading the way down, we could be in for much greater losses.
Because of the importance of the ETF market on gold prices (and thereby all other precious metals), we cannot say with certainty that gold will experience a short-term rally even though futures short sellers have all run to the same side of the boat. However, we do feel more comfortable proclaiming that if gold were to experience a bout of short-covering, that it would be an opportunity to sell from higher prices, not to buy in anticipation of a further rally. While nearly every manager is unanimously recommending gold as an investment, prices continue to fall, and now it appears that even longer-term ETF holders of gold are starting to liquidate as well. If such a trend continues, prices could fall by a very large magnitude, especially if the long-term support level of $1500-$1525 is breached.
Trade Recommendation
Gold may be vulnerable to a short squeeze in the short term, but it appears that the medium and long-term direction is downwards. The following chart shows gold.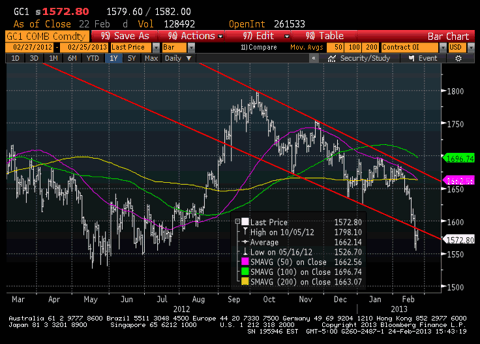 Click to enlarge
(Click to enlarge)
As can be seen, after breaking below the low barrier of the downwards channel, gold actually capped its rally on Friday directly at the same barrier, using old support as new resistance.
Gold traders could sell short gold at a price of $1572.80 or better, using a stop of $1590, just above the low barrier of the trend. Given the possibility of a short squeeze, gold rising to the $1600-1625 level is certainly possible, although if the dollar begins to break out to the upside, which we believe is likely, then gold could accelerate downwards before any kind of bounce.
Disclosure: I have no positions in any stocks mentioned, and no plans to initiate any positions within the next 72 hours. I wrote this article myself, and it expresses my own opinions. I am not receiving compensation for it (other than from Seeking Alpha). I have no business relationship with any company whose stock is mentioned in this article.