Despite the fact that 2012 was a tough year for mortgage REIT industry, American Capital Agency (NASDAQ:AGNC) and Annaly Capital Management (NYSE:NLY) were able to post strong results. Fed's announcement of QE3 in Sep 2012 caused prices of mortgage REITs to plummet. The purchase of Agency mortgage backed securities by the Fed caused their prices to rise, yields to fall, and spreads earned by mortgage REITs to narrow. Regardless of all these difficulties and 30-year mortgage rates hitting an all-time low, AGNC and NLY were able to satisfy their stock holders with a solid performance.
AGNC vs NLY
Let's now compare the performance of AGNC and NLY based on various metrics to see which outperformed the other during 2012.
((i))Core EPS
Over a span of 15 months, core EPS of AGNC remained much more volatile than that of NLY but recovered well from negative 0.88 in the Q212 to positive 2.37 in Q412 which was phenomenal. The primary reason behind such an improvement was the structural improvement in the company's asset portfolio. A greater proportion of AGNC's fixed rate assets were comprised of securities backed by lower loan balance mortgages and loans originated under the HARP program which had favorable prepayment attributes and therefore lower risk of prepayment relative to generic agency securities. EPS of NLY during the same period remained pretty much unchanged giving AGNC a clear lead over NLY.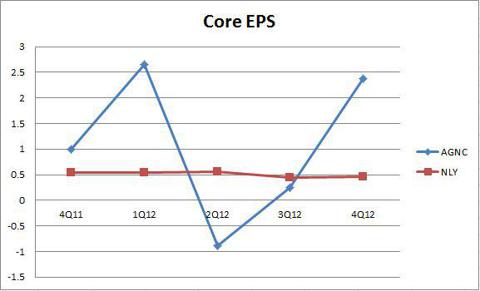 Source: Company Reports
(ii) Dividend Payout
A comparison of dividend payout ratio over many quarters helped me conclude that NLY was better than AGNC in terms of dividend payout, not on an absolute basis but in terms of relative volatility. NLY's payout ratios have relatively remained stable as compared to AGNC which have fluctuated a lot, adding to investor skepticism.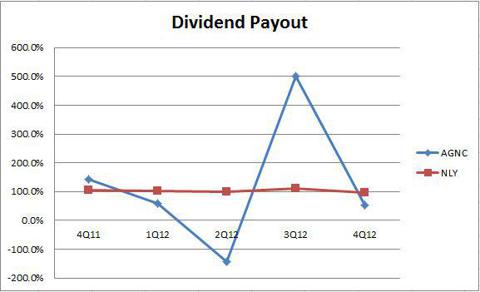 Source: Company Reports
(NASDAQ:III) ROE
Since the beginning of 2012 difference between ROE of both companies increased, AGNC's ROE was more volatile as compared to that of NLY but an interesting point to note was that since Q212 ROE of AGNC consistently improved whereas the ROE of NLY remained almost flat, ROE of NLY had remained virtually flat for last many quarters relative to AGNC. This consistent improvement in AGNC's ROE should help in improving investor confidence in future.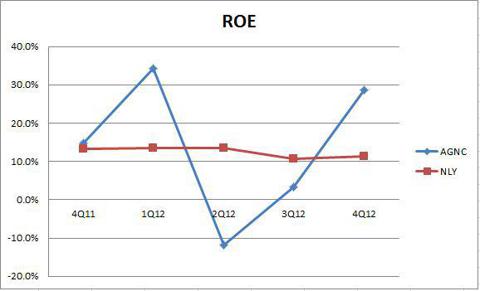 Source: Company Reports
(iv) Constant Prepayment Rate
Prepayment rate is a key determinant of earnings volatility, lower CPR means more stable earnings. In terms of CPR, AGNC had a clear advantage over NLY. AGNC ended 2012 with an average CPR of 10% which was way lower than that of NLY which stood at 19%. Another point to note is that AGNC has one of the lowest CPR within the Agency mortgage REITs.
((v)) Net Interest Spread
Cost of funds have remained stagnant over the last many quarters for both AGNC and NLY, which means that the prime driver of spreads has been the yield on earning assets. AGNC stands out with an average spread of 1.8% over the last five quarters as compared to NLY which stands at 1.4%. The average spread between both is just 40 bps but a point to note here is that since Q212 NLY's net interest spread have continued to narrow whereas the AGNC's net interest spreads have continued to recover, giving AGNC a clear advantage over NLY.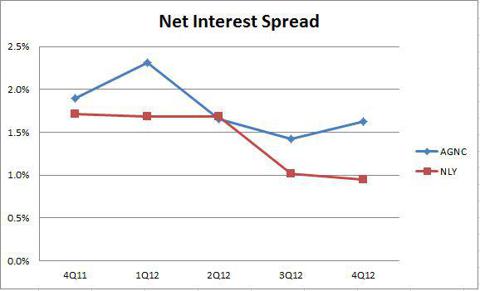 Source: Company Reports
(vi) Valuation
The chart below shows that the growth in NLY's book value remained stagnant whereas AGNC was able to grow value for its stock holders in a consistent fashion. Therefore on a valuation basis AGNC was able to beat NLY during 2012.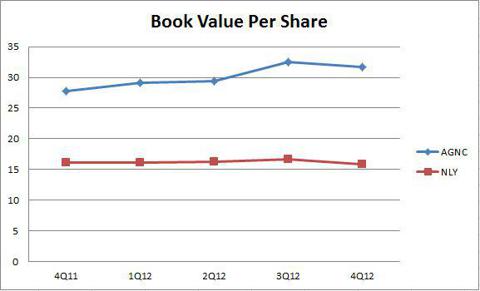 Source: Company Reports
Conclusion
Despite my previous recommendations to buy both AGNC as well as NLY, the tilt should be more towards AGNC. The reason behind such a conclusion is based on hard core facts as I have discussed throughout the article and also the way in which the portfolios of both the companies are structured, relative to each other.
AGNC is expected to benefit from purchase of Agency MBS on a forward settlement basis via the TBA dollar roll market and a large proportion of its fixed rate assets have lower risk of prepayment. On the other hand NLY's recent decision to pursue aggressive diversification by acquiring Crexus Investment Corp will improve yield on earning assets going forward.
In totality, during 2012:
1. AGNC beat NLY in terms of EPS.
2. AGNC had a higher ROE than NLY.
3. AGNC had a lower CPR than NLY, means more stable earnings in the future.
4. AGNC had an improving net interest spreads whereas NLY's net interest spread has narrowed further.
5. Comparing AGNC's and NLY's current portfolio structure and assuming that 30-year mortgage rates will keep moving higher, I believe AGNC is in a better position to benefit from it.
Based on my analysis I would recommend you to buy AGNC.
Disclosure: I have no positions in any stocks mentioned, and no plans to initiate any positions within the next 72 hours.
Business relationship disclosure: This article was written by analyst at Dividend Pros covering U.S Financials.