Other than the bottom in gold back in late 2008, the managed-money funds rarely make big bets against gold -- until now. During the last three weeks, it appears that these funds played a major role in the rote 8 a.m. "selling" in gold futures. The impression was that there was selling. Not exactly, as in fact these managed-money funds have ramped up a record naked short bet against POG. It should be noted that when managed money made smaller bets in 2008, 2009, July 2010 and July 2011, gold had some substantial subsequent runs. The hedge funds had already greatly reduced holdings in the GLD ETF (see chart) at the end of 2012, and are currently reduced to an even barer minimum.
One really wonders how these fund Boyz were tricked into a short bubble of 66,000 gold future contracts (6.6 million ounces, or $10 billion), including 40,000 in the last three weeks, much of it during the Chinese New Year. Additionally, the small specs have played along, adding 9,300 short contracts in the last two weeks. The short data from the COT shown is through last Tuesday. On Wednesday, it was reminiscent of the 1943 Battle of Kursk [background here], when Germans deployed their last tanks in an attempt to crack a weak hole in the otherwise solid line (in this case, gold holders). Between Feb. 13 and Feb. 22, managed-money funds had some success. About 1.5 million ounces (roughly 3.5%) were also spooked out of the GLD ETF. Except now the funds and small specs are hung out to dry in a gold-short bubble.
Meanwhile, physical gold in China has been trading well above the Comex paper market, and there have been rumors that certain central banks have aggressively stepped up purchases. Many gold supporters think gold has regressed into a synthetic market that is divorced from reality. I agree. One theory is that the Kursk-like attack was by design, created by bullion dealers to flip their synthetic shorts on the funds and weak holders who sold. By Friday, the short-seller offensive seemed to run out of steam as POG pushed back over $1,580 off the sub-$1,560 lows. It remains to be seen what 8 a.m. Monday will bring, but I sense a stall for the paper manipulators.
Chart source: Got Gold Report
During this last week, I doubled my holdings in certain gold stocks, up to 13 percent of my total capital. If the Kursk scenario of "selling" keeps going next week, I'm going to 15 percent. I posted on some of the names I've been using here. Near the close Friday, I picked up a half of a position (position is defined as 1%) in new producer Detour Lake (OTCPK:DRGDF) at 18.77.
Detour Lake [snapshot] has started production on what will be the biggest gold mine in Canada: 350,000 to 400,000 ounces anticipated for 2013, then gearing up to 600,000 to 650,000 ounces at 24.6 percent IRR at $1,600 POG. Its future cost of production profile is shown in the first chart. What is remarkable about this situation is that the company just finished constructing a $1.5 billion state of the art modern plant and is now producing. Sure there are sometimes hiccups in start ups, but this mine is standard open pit in a safe mining jurisdiction, with experienced management, with the best equipment available.
Really though, one of the biggest risks of owning a gold stock is mine development and construction, which is already under Detour's belt. Only in a silly season period like this one would that aspect be ignored. John Paulson holds 15 percent of this name, and it seems he is also a target of the Kursk short sellers, who are trying to force a distress sale liquidation. There are no signs of this, despite the hype and rumors.
With Detour's enterprise value of $2 billion, an investor can immediately reap the benefits of production from a $1.5 billion world-class, long-life plant and mine. The other element of the valuation ($500 million) covers a gold deposit that has current measured and indicated resources of 23.2 million ounces with an additional 5.7 million ounces in the inferred category. According to Detour's investor report, the strike length is over 4 kilometres and the deposit remains open to the west and at depth. The company has recently consolidated the area and now controls over 540 km2. Discovery cost to date at the Detour Lake property is incredibly low, less than $10/oz of gold in reserves (see chart 2). There is no way to replicate Detour Lake for $2 billion. It would require investment and time at a multiple of this valuation.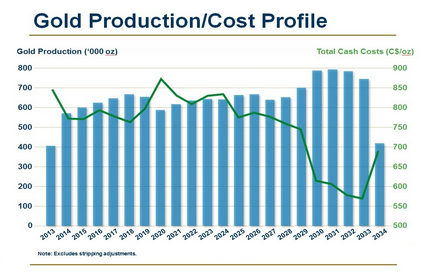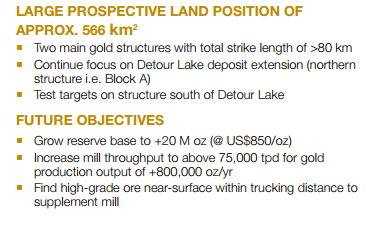 Disclosure: I am long OTCPK:DRGDF. I wrote this article myself, and it expresses my own opinions. I am not receiving compensation for it (other than from Seeking Alpha). I have no business relationship with any company whose stock is mentioned in this article.