The numbers out of China last night were on the strong side, especially considering the week-long holiday they had and the effect that usually has on their numbers. The news immediately turned the sentiment in Asia bullish, and this, coupled with the news out of Japan that the governing party is looking to successfully put their man in place at the Bank of Japan, really stoked the animal spirits. There continue to be a lot of 'ifs' in the narrative here, but they do appear to be working themselves out and becoming reality rather than hopes.
Chart of the Day
Has gold bottomed?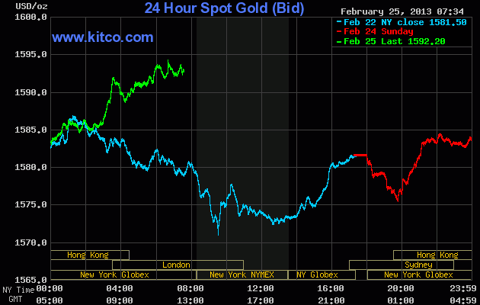 Click to enlarge
Chart courtesy of Kitco.com
We have no economic news due out today.
Asian markets finished higher today:
All Ordinaries - up 0.71%
Shanghai Composite - up 0.50%
Nikkei 225 - up 2.43%
NZSE 50 - up 0.28%
Seoul Composite - down 0.46%
In Europe markets are higher this morning:
CAC 40 - up 0.50%
DAX - up 1.08%
FTSE 100 - up 1.19%
OSE - up 0.78%
Technology
Friday was a day for technology as shares in Hewlett-Packard (NYSE:HPQ), Texas Instruments (NYSE:TXN) and Aruba Networks (NASDAQ:ARUN) pushed higher. Tech focused investors and funds fared well, while the rest of the market was less sure of its direction.
Looking at HP, they were the leaders of Friday's rally, as shares rose $2.10 (12.28%) to close at $19.20/share on volume of 133.3 million, and for good reason. They reported earnings which did not disappoint and appear to have the ship turned around and at least on the right track to once again building shareholder value, although we must note that over the years HP has been one of the worst at deploying their cash for investors and would probably be best served to increase their dividend once operations are normalized.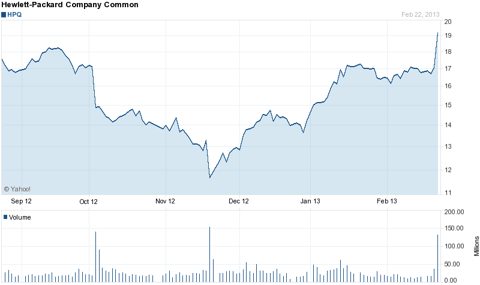 Click to enlarge
Chart courtesy of Yahoo Finance.
The stock moved above its 200 day moving average as investors seem to buy into Whitman's turnaround, although it is still in the very early innings. The results were strong and the conference call (transcript located here) also left investors and analysts alike feeling bullish about the road ahead.
Texas Instruments is another one of those large tech companies which has seen better days as it pertains to growth. For all the negative points one can make about the company and their ability to grow (how they compare to others and their overall industry growth rate) we would simply point to the transformation that the company has undergone from a high-flying tech outfit to a mature cash cow which effectively returns cash to shareholders and is probably one of the best in the industry at utilizing their cash in the best interests of their shareholders. Shares moved higher by $1.70 (5.23%) on Friday to close at $34.18/share after the company announced that they were raising, for the 10th consecutive year, their quarterly dividend and it would be by 33%. That in-and-of itself would be great, but the icing on the cake was that they once again increased their stock repurchase program by $5 billion as well. As Chief Financial Officer Kevin March said during the conference call, the company has reduced their overall share count by 36% over the past 8-9 years. Not many other tech companies can say this as they use shareholder cash to buy back shares while at the same time issuing options to employees which washes out whatever good was done. The conference call can be found here, and we recommend this for our more conservative readers.
One of the new kids on the block, so to speak, had a nice surprise for investors and saw shares power higher on the back of their quarter and news that revenues for next quarter would also increase. (Note: It is necessary to distinguish the revenue raise here, as it pertains to the company's previous estimates, which in fact now brings their numbers in line with those of the Wall Street analysts.) We are talking about Aruba Networks, which saw shares rise $4.60, or over 22%, to close at $25.40 on above average volume of 20.6 million shares. Investors pushed shares as high as $26.78 during the session, which was a new 52-week high, but that was very early in the day and shares tapered off before leveling out. The wireless network gear maker saw a boost as Wi-Fi build-outs continue to occur at a growing rate and the growth seems to be across the board, in both the governmental and corporate worlds. If the company can string together another quarter or two of numbers such as these, then we could see Aruba become one of the must own stocks of 2013, however that is a big if. For those interested, the conference call is located here.
Retail
One of the stronger performers in the retail sector as of late has been J.C. Penney (NYSE:JCP), which has seen shares rise dramatically in recent sessions. There was of course a big short interest here, but not a whole lot has changed to chase them off, unless of course it is due to the bears having moved on to easier money. There is of course the ongoing legal proceedings regarding Martha Stewart wares, but that hardly seems to fit the bill, and Bloomberg did report on Friday that Penney would be able to raise billions under a credit line which was revised (see article here). This allows Bill Ackman to increase his stake and the company to raise more cash via share sales and new debt instruments, however it does also raise the stakes with the feud that has been brewing with Carl Icahn, who as readers will remember is locked in a battle with Ackman over Herbalife. These are interesting times to say the least in the investing world, especially as it pertains to the 'whales'.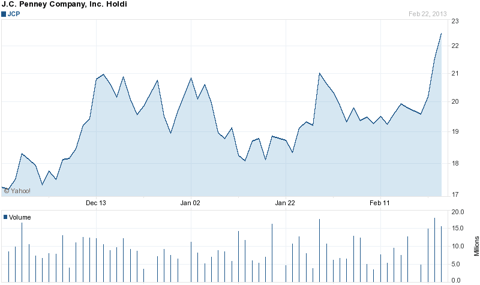 Click to enlarge
Chart courtesy of Yahoo Finance.
Looking at the other end of the spectrum is Coach (NYSE:COH), which hit another 52-week low on Friday as shares fell $0.83 (1.74%) to close at $46.79/share on volume of 5.9 million. Readers will remember we highlighted the company when they reported their latest quarterly results, which missed expectations due to North American retail outlets disappointing and margins being hurt. The company's market share in North America also fell to its lowest level (handbags) as competitors stepped up pressure, but looking at the situation now it seems that the company should be finding support around these levels and we would not be against deploying some speculative capital at these prices.
Disclosure: I have no positions in any stocks mentioned, and no plans to initiate any positions within the next 72 hours. I wrote this article myself, and it expresses my own opinions. I am not receiving compensation for it (other than from Seeking Alpha). I have no business relationship with any company whose stock is mentioned in this article.